The Texas Trip Flea Market Adventure
[smartads] At the end of the last post I was in the process of renting a U-Haul to empty out our storage and bring it all to the flea market to sell.  The only available truck was their largest, a 17 foot truck, and since I haven't driven a vehicle of any kind for over 2 years, I was unsure of being able to navigate this huge vehicle in the turns.  The guy at the rental place suggested a test drive and we were just getting ready to start when I ended the post.  Here is what happen.
Not too much happened.  I just wanted to make it a little suspenseful.  He seemed to think that I did well enough during the test drive, but I paid the extra $14 for insurance anyway, just in case.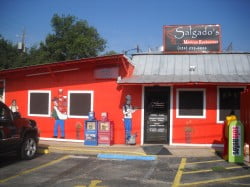 Since it is so hot here during the day, I parked the truck in a large parking area and walked up the road to my parent's apartment.  We decided to wait until later in the evening to start.  Around 7:00pm we decided that it was long enough, although the sun was still shining brightly.  We figured it wouldn't be too much longer that it would start cooling down a little bit.  Our storage unit was one of the 10×25 units and it was packed full.  So full in fact that when we opened the door, some of the things had to be held to keep them from falling to the ground.  When I say "we" I mean Lita, Mike (my brother) and myself.  I couldn't contact any of the younger ones (son, nephews) to assist.  At least they didn't respond to my messages or phone calls.  Lita helped in the arranging of the items and some of the smaller, lighter things, but Mike and I did all the heavy lifting and loading.  Mike is not in great shape, but he is not one for lallygagging around once he gets started.  I had a hard time keeping up with his pace.
We finally finished around 0045.  That was including taking 3 about 15 minutes breaks.  We put everything on the truck that we wanted to, although some things were still left in the storage.  Those were things that we planned to give to the relatives, instead of selling them for way less than their value.  Besides, some of those things we will still be able to use when we visit.  Our sofa and loveseat are the 2 biggest items we will be able to see and use.  Plus we gave them some shelves that they needed and are using.
We still have some things that we want to bring here and they are in the small storage rooms of my parents and my brothers.  They said their units were already full, but Lita thought different.  She had me remove everything in the units, put our stuff in the back, then put their stuff back in.  My parent's storage was easy and they even still have space for more things now.  My's brother really did have his packed good.  Since he did help load/unload his and he needed to get rid of some things in there anyway, it all worked out pretty good.  Although he could still get some things into his unit, it is more full than the other.  Of course he has a bicycle in his that takes up a lot of room.  If he would get rid of it, he would have plenty of room.  He never rides the bike, it has 2 flat tires, but he insists on keeping it.  I wish he would start riding it for exercise though.
At this point of the trip, I more or less had stopped putting things in my notes on a daily or even weekly basis.  I basically missed the whole month of June really.  We really didn't have too much going on, except a few things at the flea market.  Yes we are finished with the selling of our things at the flea market.  I will get you caught up on any of the interesting things that happen there.  Mostly it was just sitting around hoping people would show up to buy things.  We were not asking too much for most things, so they were not so hard to sell once people got in there.
We started selling things at the flea market at the beginning of June and we went every weekend for that entire month.  Our final day was on 1 July 2012, as Sunday.  We did have a lot of things left over on that last day, but not as much as I figured we would, thank goodness.  Most of what we had was clothes and really a bunch of junk if you want to ask me.  Some of the things that we decided to keep are what is in my parent's and brother's storage rooms.   We really only had 2 expensive items and Lita ended up selling those to someone outside the flea market.  She even got the price she wanted for them, both of those prices being slightly higher than what she paid for them.  Our very first sell was for $5, a pair of pruners, and the guy paid for it with 5 of the little gold dollars.  We took that as a sign of good luck.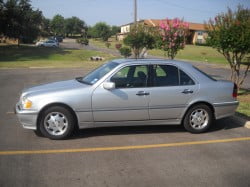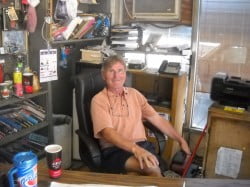 One of the interesting things that happen during the selling of things was that one day a guy said that he would give us $1 for a box that was on top of our pile of things.  We had boxes packed to the ceiling.  We said okay.  Neither of us knew what was in the box, but it turns out it was mostly clothes and a few knick knacks.  After that he and the family he had with him started paying $1-$2 for boxes of things, but they wanted to look through them first.  They ended up buying about 10 boxes.  That helped get down the inventory.
Also the first Sunday we were there, a guy and his wife helped us look through the heavier, larger boxes.  They were looking for things also, but as they took them out they gave them to us and we put them on a shelf or table to sell.  They really helped me out a lot because that was a lot less work I had to do.  Plus they also bought quite a few things.  I think they ended up buying about $30 worth and they had it all packed in the back of their pickup.  I helped them load it in their truck.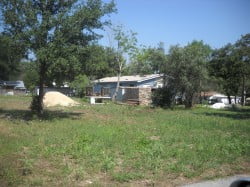 Some of my relatives came by and we let them have what they wanted.  We figured it's better to let them have it instead of maybe having to throw it or give it away later.   We tried so hard to give away the clothes because there was so many of them, but it's even hard to 'give' away.  At first we were offering them for $1 a bag.  I'm talking the large trash bags, not the little bags you get at the grocery stores.
The best thing that happen at the flea market was this old couple that came by to buy things.  They not only bought all the material that Lita had and a few more things, but also offered to help us on our final day to haul whatever was left over.  They ended up coming back a couple more times before the end and bought more things.  Even when Lita tried to 'give' them things, they insisted on paying for them because they knew what we were doing it for.  On the final day they did come by and took the remainder of the clothes and many other things, all of which will be going to The Salvation Army.  They even offered to buy us lunch a couple of times, which we refused, and they did bring us a few bottles of water on that final day.
Overall we did pretty good.  It wasn't what we were hoping, but I think our expectations were a bit high.  Besides we didn't sell a lot of the larger things like sofa, loveseat and shelves, that I told you we gave to my relatives.  We made more than double what the rent cost us there, not including the 2 expensive things that Lita sold outside the flea market.  So we were happy with the final results.
It was so hot there and I was so tired at the end of the day, that I was so glad when it was over.  On that last day we cleaned up and got our security deposit back.  We cleaned it better than it was when we got there.  We did have somethings to throw in the trash that I wish we would have sold, but it couldn't be helped and we were out of time.  Besides, we hadn't used those items in over 2 years and if we didn't need them, they were unnecessary.  We keep what we wanted already.  Lita did a thorough search through things too.  The storage was my biggest concern, and least of the things I was looking forward to, so I was so glad when it was over.
Lita's biggest concern was her social security.  I know that I have already talked about that some, but I will tell it all in the next post.  I will probably also go into the medical appointments and problems with our living arrangements.  Stay tuned for further adventures.
http://bellcountyfleamarket.com/
http://local.yahoo.com/info-18942647-mufflers-more-belton#reviews
http://www.tdtnews.com/index/entertainment/show/89588?title=Ready+to+ride
Salamat Y'all
Interesting Knowledge:  All the genetic material in the sperm and egg cells that produced the Earth's present population could fit into a space the size of an aspirin.