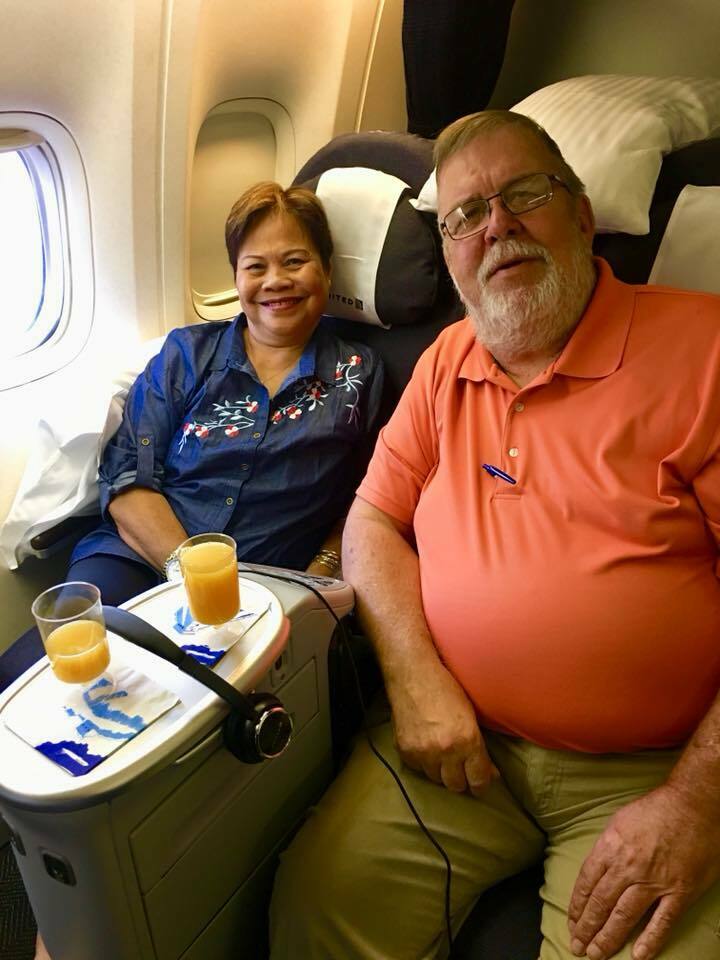 [smartads]
Just in case you need to catch up on any of the parts or just want to re-read some of them, here they are:
Part 1    Part 2    Part 3    Part 4     Part 5     Part 6
Quick Recap:  Our friends were on the way to pick us up at the Travis AFB passenger terminal.  It was late, like 2030 (8:30 pm) and their trip there was supposed to take about 2 hours.  That's all fine and good, we don't mind waiting, except the terminal closes at 2200 (10 pm) and they were going to boot us out when it closed.  It's freezing cold outside an not much shelter from the cold wind.
Quick Note: The feature picture is of Dorie & Larry Jackson (no relation).  It is them that came to pick us up and then let us stay at their house.
Back to the present: A Tech Sergeant (E6) came by and told us that we could stay until they arrived.  That made us and the older couple happy.  When it got to be 2210 (10:10) a Master Sergeant (E7) came by and told us that we need to all leave so they can close.  We told him what the E6 said.  He said that the E6 was only a reservist and there for temporary duty only.  We didn't know, but we explained to him what was going on and he finally conceded to let us stay until 2230.  We all thought the older couple's ride should up and they went outside, but it turned out to be our ride.  It was hard to see through the window into the dark where they parked.
Before we left, I mentioned to our friends about the flight that popped up.  Of course, they are disappointed because they wanted us to stay for a day or two.  I said, well we still have the next 6 hours before we need to be back.  We decided to go out to eat at Denny's.  That's good, it's been a long time since we've been to Denny's.  As we were leaving, I noticed that the older couple did not even bother to go back inside.  They just walked to the corner to try to hide from the wind.  I hope their ride showed up pretty quickly after we left.
Before we could eat at Denny's we had to find one first.  None of us were familiar with this area and we got a little lost, but none of us had much else to do anyway, so it didn't matter much.  We did eventually find it and we all had a great meal.  We hang out there for a little longer than necessary, drinking more coffee and chatting more.  It wasn't crowded and the waitress didn't seem to mind.  We were just waiting until it was a good time to head back to the terminal.  I had a couple of good pictures of us at Denny's, but I can't find them now.  Probably if I would have done this post shortly after it happened, then I would have had the photos.
[smartads]
When we did get back to the terminal, I went in and found out that the newly scheduled flight, had been canceled.  Great, now we can spend a few days with our friends at their house.  We still had the 2-hour drive to their house and we are all starting to get tired.  The wives could sleep there in the back seat, and I think they did.  I stayed up and talked with Larry because I didn't want him to fall asleep.  It all worked out because we made it to their house alive and without incident.  
Our flight is for Sunday, 24 Sep at 1555 and it is now Friday night, so we had a little a while to hang out.  Of course, things don't always go as planned, and you will learn about that in the next, probably last post.
Salamat Y'all