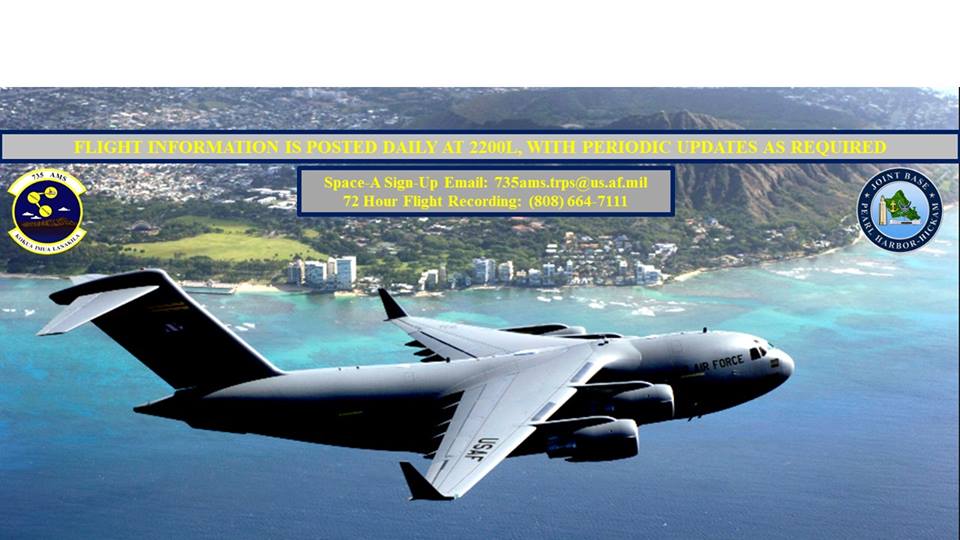 [smartads]
The journey continues.  We made it to Hickam AFB Hawaii at 0840 local time with all 12 passengers.  We have a layover until 0412 the next day when we will continue on to the final part of the mission, Travis AFB CA.
In case y'all need to catch up on the previous 5 posts of this adventure, here at the links:
—
Part 1     Part 2     Part 3     Part 4     Part 5
—
So we are at Hickam for the night.  The whole terminal is under construction and they have tents outside for the terminal and for the USO, big tents.  Renovation until December 2017 is what I was told. 
There were no rooms available on Hickam so, at first we were going to just try to hang at the terminal or the USO.  The both close that night.  Then we considered just hanging around at the picnic tables until the morning.  We actually wasted most of the day, just hanging around.  Then we decided that we should try to get a room, someplace.  I finally found a place with one room left.  It was at Arizona Hall on Pearl Harbor.  It did not have a/c, but there was a ceiling fan.  It's only for 1 night, so I booked it, $67 per night.
Next, we needed a ride there.  It's not really that far, so I called a taxi.  Thing is, we wanted to stop at a Subway Sandwich Shop before going to the room.  The driver was not sure of where there was one, but he asked a couple of people and we finally found one, actually on Pearl Harbor, on the way to Arizona Hall.  
Made it to Arizona Hall, checked in and had to walk to the room.  It wasn't very far, but Lita is not a big walker.  Of course, the room was on the other end of the building.  Nice enough room, very cozy.  We ate our sandwiches, took a shower and went to sleep.  I scheduled a wake-up call for 0200.  Our roll call was at 0410, but I didn't want to be late.
We were there by 0240 and they opened the doors at 0250 for another flight that was leaving.  They just kept it open after that.  Our friends in California, Larry & Dorie, were informed about the arrival of our flight.  They have to drive about 2 hours to get to the base to pick us up.  They just said call when you arrive.
We board the plane, but then we had to deplane because it had a flat tire.  The had to unload the plane, fix the tire and then put the load back on.  That turned out to be about a 3-hour delay.  We did get out after that though and arrived at Travis AFB CA around 2000 (8 pm).  So now I need to call to let them know we arrived, but neither the wifi or the computers at Travis were working.  Figures.  A SMSgt (Senior Master Sergeant) let me use his personal wifi to call. 
[smartads] 
I did get in touch with Dorie and they started in our direction.  About a half hour after I called, a flight going to Kelly AFB TX (our destination) pops up on the screen.  It has a scheduled roll call for 0500 the next morning.  Of course, it's not guaranteed, but I don't know whether to call them back or not.  I didn't want them to drive the 2 hours to get us, go to their house for 3 hours and then drive 2 hours back.  That's not fair to them, but it's also not fair that they were on the way already.  Besides, I'd have to find a way to call them again.  I decided not to call and we could just hang out and talk until the morning flight.
It's getting close to closing time at the terminal, 2200 (10:00 pm) and they kick everyone out at that time.  It freaking freezing outside, but if we had to, we would. It was us and an older couple still there.  I think he was a retired General because he got VIP treatment during the trip.  They were waiting for their ride too.  So, would we all get kicked out at closing time?
You'll find out in my next post.
Salamat Y'all