Calbayog, Samar, as Waray Music Capital
[smartads] It is easy to connect Calbayog City in western Samar with people in the seven arts.
Distinguished filmmaker Chito Roño is from this place. So is visual artist Raul Isidro.
Calbayog became a city on July 15, 1948, with a territory that included the former towns of Calbayog, Oquendo and Tinambacan by virtue of Republic Act 328 signed into law by President Manuel Roxas.
Show-biz personalities from Calbayog City include singer Nonoy Zuñiga, actress Tessie Tomas, entertainment writer Ricky Lo, TV host Boy Abunda (from Catbalogan and Borongan).
The most surprising thing is that, while Manila-based orchestras continue to struggle for financing, Calbayog City has managed to have a youth orchestra based in Christ the King College.
Unknown to many in the music circle in Manila, Samar composer José Cinco Gomez is considered the music icon on the island.
The island has its share of memorable songs, such as "Calbayog Ko," "Lupad Alibangbang," "An Iroy nga Tuna" and "Handum"; and native dances such as "Tiyadot," "Aragoniza," "Jota Calbayoguen" and "Curacha," the latter figuring in the acclaimed Chito Roño film.
Soul of Samar
For now, I can say that the music odyssey of José Gomez reflects the soul of Samar.
Described by an American SVD father as "the music man of Samar" in an article in the Leyte-Samar Studies journal of Divine Word University of Tacloban City, Gomez was born on Feb. 27, 1911, in barrio Tabok (now barangay Obrero) of Calbayog—the eldest among seven children of Licarion Camilon Gomez and Benigna Camilon Cinco.
His early studies were at Colegio de San Vicente de Paul (now Christ the King College). His musical output included church hymns, guerrilla marches, graduation marches, and more than 5,000 songs, only 500 of which were properly copyrighted.
Please continue reading at Inquirer Lifestyle News through the link below.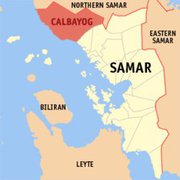 http://lifestyle.inquirer.net/13495/calbayog-samar-as-waray-music-capital