Zine Entry #65 – Brown Outs Galore 2
[smartads]
According to my last post Zine Entry #64 – Brown Outs Galore we have been having a lot of brown outs recently.  Well after those many outages we went for about a week with none, but they sure made up for it.  First things first though, you will read all about that in a few paragraphs.
I know that I have already mentioned Scott to y'all.  The guy that came to save my computer.  Well this is the time frame that he actually showed up to help me.  I don't remember if I mentioned it, but it's almost like a brand new computer and if it wasn't for the internet being so dang slow, I'd really be elated about the whole experience.  Scott was able to do something that the people here told me could not be done because it was not compatible.  My front panel that has a couple of USBs and a place to plug in my headphones/speakers was not reconnected.  It was not reconnected because when I got my new motherboard, it was so much more advanced than my previous one, they said, it was no longer compatible.  Scott had it hooked up in just about 15 minutes.  It's been working great since then.  I feel compelled to insert his business page here again.
He made sure everything was working properly, got rid of the crap that was about useless and even gave me some good software that I didn't even know existed.  He even organized the things on my computer, which I suck at doing.  In addition he gave me a lot of movies and even more music.  A couple of things of music he gave me are like the greatest hits of rock from the late 60's to the early 80's.  Just the era that I love and 264 songs for just that, not including all the other songs.  Again I say that I "highly" recommend him for your computer needs.
Really early on 27 Dec (0300), Jun and his family went back home.  I'm sure they had to get back to work and most likely are still trying to get caught up after their home was destroyed in the typhoon.  Bebie is still here and probably will stay until 4 Jan 2014.  I'll bet that she is hoping her newest granddaughter is born before she goes.  She needs to get back to work at the school in Tambis.  Cathy is about ready to pop so I would not be surprised if it was born before she left (it wasn't).
Okay, here we go again.
27 Dec – 11:18pm – brown out.  It lasted until 0700 (28 Dec).  According to the Samelco website the power went out at 0003, wrong.  I corrected them on that.  They also said that the outage was due to a tripped line on the Ormoc-Babatngon 138kv line.  I don't know what that means, but that's what it said.  So you would think they would fix the problem, right?  Not!
28 Dec – Another brown out 11:45pm until 0405.  The same reason as the one yesterday.  Okay so maybe they thought they could reset it and they were wrong.  So now they are sure to fix it right?  Wrong!
29 Dec – Brown out.  0932 until 9:32pm (exactly 12 hours?).  Yes, it was the very same problem.  Surely they would have figured it out by now.  No!
30 Dec – Yep, you guessed it another brown out.  This one went from 0805 until 9:45pm.
31 Dec – Probably to no surprise by now, brown out.  This one at least was short.  The lights went out at 0200 and when I woke up at 0400 to go pee, they were back on.
Sometimes I wonder if they actually know what they are doing.  It's no wonder there are so many problem though.  If you could see the way they have wires from pole to pole and the big jumbled mess it is in.  I can tell you that if they were an electric company in the US, they would have long been out of customers and out of business.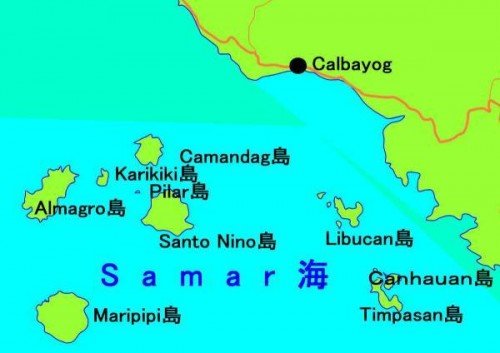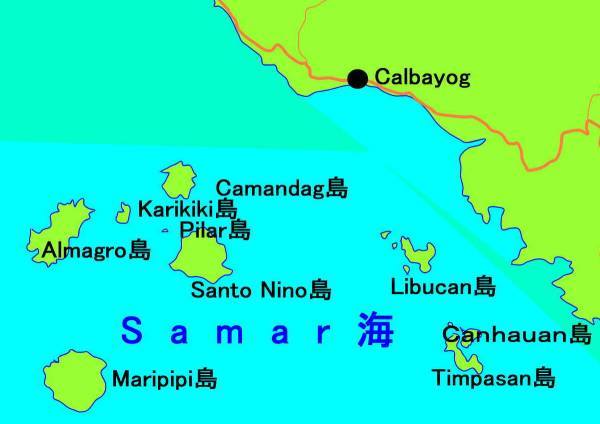 Islands near Calbayog
Since we were unsure of what was going to happen, Lita and I put up the mosquito net over the bed.  It's still hot, but I don't worry so much about being sucked of all my blood while I sleep.  We must have left a hole or 2 the first night because I had 2 new bites when I woke up.  Things have gone smoother since then.  We have to untie the back and pin it back so we can watch TV during the non-sleeping hours, but we just keep it up over the bed for now.
My internet went down on the evening of 30 Dec.  I let it go for 1 night to see if it would be back up the next day, because it doesn't it a lot.  This time it was not.  So I called Globe.  They could not sent anyone over until 2 Jan.  I figured oh well, I'll just watch movies and listen to music on the computer for a couple of days.
Also on the 31st, Randy and Teri Landis stopped by for a few minutes.  He said that the downtown area was extra crowded so they were trying to avoid it as much as possible.  I guess people are preparing for the new year or maybe, more likely, the New Year Eve parties.  Later that same day Scott stopped by.  Him stopping by was purely by accident too.  I was just thinking that I needed to talk to him about something going on on the computer, and he appeared.  He got a call from 'John' to come by, but that turned out to be another John, a John Russell.  I have not met him.  Most of the rest of the day I just listened to music on the computer and watched a couple of movies.
I did write a couple more poems.  I don't know if I'll ever get good at it, but I keep trying.  ujpoems.wordpress.com.
I still have not figured out how to get those pictures off the phone camera yet.  Next time Scott comes by I'll ask him to help me with that.  It aggravates the heck out of me and I just don't have the patience to keep trying over and over.  Once someone shows me though I'll have it down and as long as nothing changes, I should be fine.  Of course pretty soon, in 5 more months, my phone should be back from being repaired in Manila and I'll have a different phone to contend with.
This is the last post for this blog in 2013.  I'll start anew in the next one with new year, but I already know that the internet will still be down, unless a miracle happens.  Also I will be divulging how much I weigh so I can start my quest to lose at least 50 pounds during the year 2014.  I plan to …. well I'll tell y'all that in the next post.
Salamat, Y'all