Zine Entry #64 – Brown Outs Galore
[smartads]
If you remember from the last post Zine Entry #63 – Improvements and Self Improvement I talked mostly about my losing weight for this coming year, brown outs and Christmas.  I thought there were a couple of good tidbits in there for people thinking about moving to the Philippines.  Lets move on to the brown out galore post.
Lita just brought a cake roll home from downtown. I didn't eat any even though it was chocolate because I just figured it was unnecessary calories. It sure looked good though. I have found that most cakes here do not tasted as good as cakes in the US. I suppose that it's the ingredients, probably the type of flour that is used.
On Friday the 13th we had a brown out. It started right at midnight and lasted until 0840. Later that evening at 7:00pm another brown out. The latest one lasted about 2 hours and 40 minutes. That's about the only bad luck I've had on a Friday the 13th since I've been here. I was pretty disgusted with Globe about this time so I didn't turn the computer back on until 0030 on the 14th. I only looked around for about 15-20 minutes and couldn't find anything that struck my fancy, so I got off and went to bed. When I woke up at 0645 there was, of course, a brown out. I don't know when this one started because it was one of the rare times I was not awake when it started. Lita said it started around 0400. Finally at 0805, the lights came back on. It got me to wonder when the next outage would be. I didn't have to wonder too long though because the next one was at 2:15pm. This time it only lasted about 45 minutes, but it's pretty stupid don't you think? Things seem to be reverting back to how it use to be, brown outs all the time.
Titing bought some Red Horse, but I told him I didn't feel like drinking tonight. That's a bit odd for me, but I just wasn't in the mood for some reason. I really need to stop or at least cut back on the beer drinking to help myself lose weight. I have started drinking some herbal tea in the evenings that is suppose to help you lose weight, but I have never really believed in the tea and all the things it is suppose to do for you. I figured that it is at least worth a try and who knows, maybe I'm wrong about tea and it's great stuff. I'm not right about everything and I'm determined to lose weight this coming year.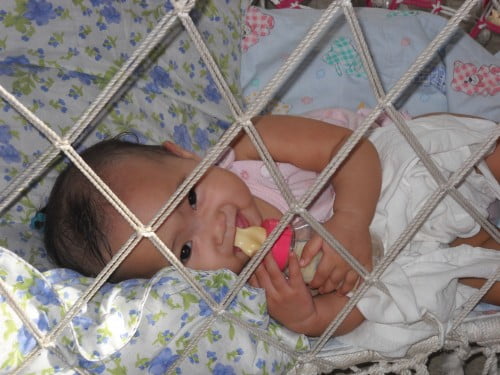 So on Sunday morning, the 15th, it should be to no one's surprise that we woke up to another brown out. I again missed the exact time it started because it was not hot nor humid so I just slept through it. Even when I woke up at 0645 it took a few seconds to register that the fan was not blowing. Lita says the lights went out around 0315 and they did come back on again at 0910. Another 6 hours of outage, but at least these 6 hours were pleasant temperature wise.
Ramil came by to check out my DVD player and try to find out why it is not working. Luckily it turned out to be something simple. The connection on the mother board was just loose, so at least that is working now. I still can't get my computer to acknowledge it when I put a memory card in from a cell phone so I can download pictures to use on the blog. It makes a sound like it knows it's there, but I never see anything come up in My Computer, or This PC as they call it in Windows 8.
On Monday morning, yep, you guessed it, brown out at 0630. This time it lasted until 11:45, so another 5 hours and 15 minutes. While waiting on the power this time I just fried some okra. It's only my second time doing it and it did come out much better than my first time. I've still got a couple of issues to work out with it, but I am getting better at it. I let some of the relatives try it and they loved it. I do need to find a way to make the batter a little thinner. Maybe something as simple as adding water, but I think I'd rather use a little milk instead. We don't normally have milk in the house except for the 'adult' milk that Lita uses … the Ensure.
A while back I bid on and won some jewelry on E-bay and it finally showed up today. At least 5 of the 6 did. The 6th one got refunded, so it's all good. I ordered it in Lita's name so she had to go pick it up. It was all for her anyway. It's just a bunch of cheap earrings coming from China, but the most expensive one cost me only $3.00. Of course when she picked it up at the post office they charged her another P50 per package and there were 4 packages. Only 4 because 2 of them came from the same distributor and were in the same package. They were a bit on the small side, but they were nice. I don't think Lita will want to order anymore though because she was expecting them to be larger also.
Oh, that power that came back on at 11:45 (from a couple of paragraphs ago), it only stayed on about 5 minutes before it went out again. I was hoping that it would not be another 5 hours before it was restored, and it wasn't. It was back on in only 25 minutes. I waited for a while before I turned the computer on or plugged the refrigerator and freezer back up. I wanted to be sure it was stabilized this time. This would be the last brown out for a while so I guess they finally figured out something that was causing a problem.
On 18 Dec it was party day at Randy & Teri Landis's house. It took us a little bit to find the house, but we had a pretty good time, so it was worth it. They have a nice house and I did get to meet a couple of new expats plus meet a couple more again from a previous get together.
Well I suppose that is enough for now. I'm writing this post in Word because the internet is down and I can't get to the blog. It's the first time I'm doing this so I hope after all this typing, I will be able to copy/paste it to the blog once the internet is back up. They are suppose to come out today (2 Jan) to fix it. I'm just about caught up with my notes now. In fact I think the next one should take care of the backlog, then everything should be current after that. In the next post I will tell you about my computer upgrade and about some more brown outs. Just when you thought those brown outs could not get any worse, they do. I'll explain in the next post.
Salamat, Y'all