Zine Entry #41 – Fields Ave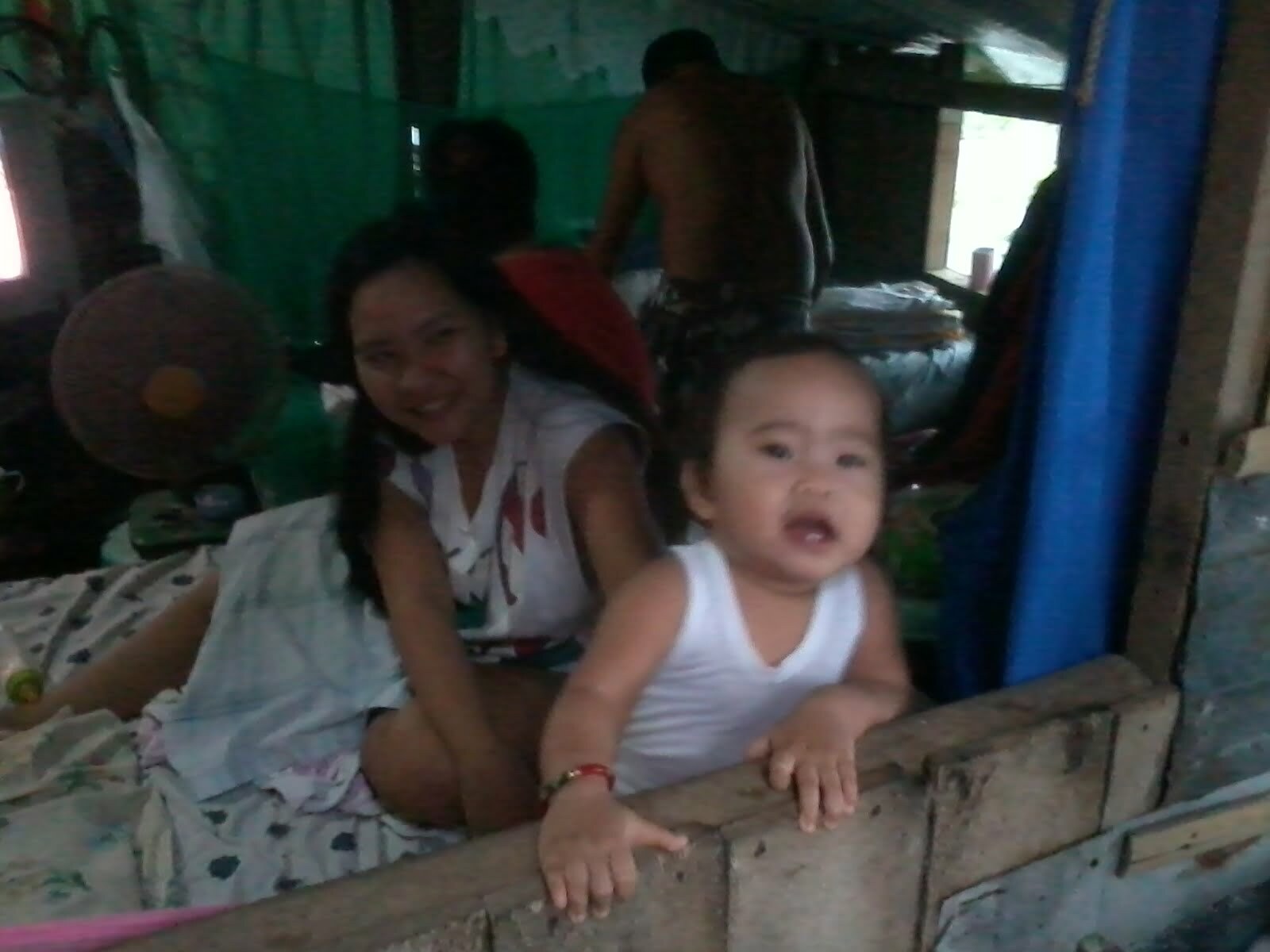 [smartads]
Since our latest return from Angeles, I have been sick.  I have not done a post for about a week and I have so much to get caught up on.  I finally feel like giving it a shot and seeing how much I can do before maybe getting too tired.  I hate getting sick, even just having a cold like I do now.  We have had so many trips to Angeles recently that they all started getting mixed together in my head.  But in the last post: Zine #40 – Clark and Angeles, maybe you'll remember that it was a Thursday evening (8 Aug) and we had just went to bed after missing another opportunity for a Space A flight.  I'm sorry I didn't take enough pictures to put everything in accordance with each post, but I will put some on here that I have not used yet.
On Friday morning I got on the computer up front in the lobby and found out that Gary did not go to McDonald's that morning because of some business he had to conduct.  I contacted him to see if it would be a good time for us to come over and he had no problem with it.  Remember we are going to stay there a couple of nights to save on the hotel bill.  So we packed up, informed the front desk that we would be back on Sunday (because of the flights leaving on Monday morning), got a tricycle and headed towards his apartment.  As it turns out the apartment is not so far away from the hotel.  It's a pretty nice apartment, but there is no way that Lita and I could afford what they are paying for the rent.  I'm not saying what it is, but, for us, it is just too high.  After arriving, Lita and Alice (Gary's helper) went to the market to get the things to make adobo.  Lita and Alice hit it off pretty quickly since they are pretty close to the same age.   Jen (Gary's wife) was still sleeping when we arrived, but their son George was up and active.  Active is a good word for George.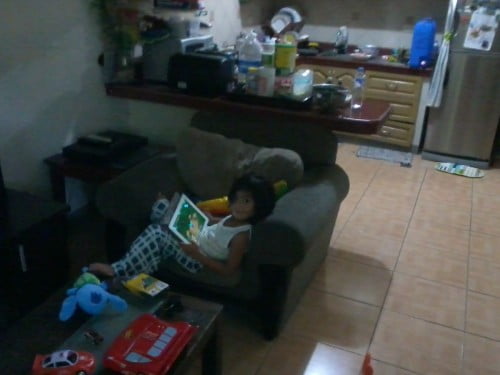 When we all finished our late lunch of chicken adobo, Gary asked me if I would like to have a beer and check out some of the eye candy down on Fields.  Oh yeah, you bet.  I have never been to Fields Ave during the night hours.  I was really looking forward to it.  So somewhere around about 5:00pm, we hoofed it on over there.  It was only about a 15-20 minute walk, so not so bad.  The neighborhood is not so terrible, but George said that he does not really like walking it alone, just in case.
The first place we went to is called Kokomo's, or as it is known locally, Mo's.  We got a couple of bar chairs facing Fields and ordered our drinks.  I ordered an SMB and Gary had a large Diet Coke.  Their large sodas are like 2 cans in a large glass of ice.  You sure do see all kinds of people walking up and down Fields Ave, male, female and some that are questionable.  After Gary consumed his second large Diet Coke and I consumed 2 more SMBs and a large Coke (I'm a big drinker), we decided that it was a good time to move on to another place where we could get something to eat.  We decided to go to Philly's because it was just a little ways down the road and because it was one of the 4 restaurants I had on my list to try out while in Angeles.  At Mo's we were high up from the sidewalk, but at Philly's we were at ground level, so we did not put any valuables on the counter next to us.  According to the guard at Philly's, there are a lot of 'snatchers' in the area.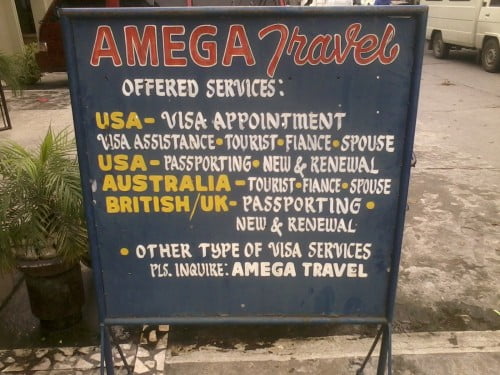 Our waitress knew Gary by name.  In fact, she knew his wife's name too.  It seems that she is from San Joaquin, here in Calbayog.  I told her my name and I want to see if she will remember it they next time I come back, and I will.  I liked it at Philly's.  Her name is Jocelyn, but I nicknamed her Miss Samar.  So if you go to Philly's, say hello to her for me.  See if she even remembers who the heck I am.  I'll bet if you mention the Miss Samar part, she'll remember.  I ordered a SMB and Gary ordered a SML.  I don't remember what Gary ordered to eat, but I ordered the chicken quesadillas,  mostly because they seemed to be the only decently priced item on the menu.  When they arrived I was pleasantly surprised at the size and the taste.  They were sure worth the P180 to me and y'all know that although I do eat a lot, I am picky about what I do eat.  After 3 SMBs for me and 2 SMLs for Gary and although the waitresses there are 'very friendly', we decided that it was time to head back around 11:00pm.
Oh, I forgot to mention that while at Mo's, I bought a rose for Lita.  Since I bought one, Gary said he better dang sure buy one for Jen, or he'd be in the dog house.  Lita doesn't really like flowers, but I figure it's only P50 and it's the thought that counts.  Between walking from Mo's to Philly's and the while walking home, I had at least 4 ladies ask me if that rose was for them.  Heck, I think that next time I am sitting at Mo's and someone comes by to sell roses, I might buy a whole dozen of them and hand them out to ladies that ask about them.  For all I know they are in co-hoots with the flower ladies and the same roses get sold over and over again.  I don't know that, just thinking.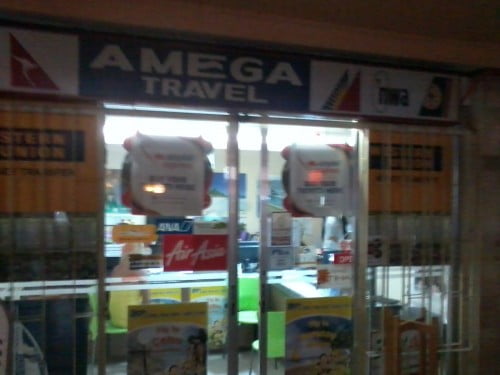 So as were are walking home we encountered a few beggars.  Just like my weakness for old people, I have a hard time saying no to the women carry children.  Yes I know that maybe that is not even their child, but maybe it is.  In any case I gave the first lady with baby P20.  Almost immediately another one shows up.  All I have left is 2 P50 bills in my shirt pocket, so I gave one of the to her.  Then, as if standing in a line, a little boy is there with his hand out.  I told him I didn't have anymore.  I turned my pants pockets inside out to show him I didn't have any money, but he was persistent.  He followed up for about half a mile before finally giving up.  Gary told me later that he probably just wanted the leftover quesadillas that I was carrying in the bag.  Heck if I would have known that, I would have given them to him.  I didn't even think about that.  I probably should have, and will next time.
I wasn't really sure of what Lita's reaction would be when we returned, but to my surprise, she was happy that I had a good time.  I was actually kind of expecting the run of the mill thing about being in clubs with a bunch of women trying to feel you up and trying to get your money.  Of course we didn't go into any clubs, but that wouldn't stop her from talking about it.  I had a dang good time and when I get a chance to do it again, I will.  I'm thinking it will be November before that can happen, but we'll see.
Salamat, Y'all.