[smartads]
I had to get one more entry in before the weekend because this weekend will probably yield plenty of things to write about if all goes as planned and since it's time for elections on Monday (the 13th), then there is no telling what will happen around here.  Hopefully nothing except SAFE  (safe and fair elections) will go on.  But not including any election surprises it could be a busy weekend for me.
This past Saturday (4 May) George and Nila stopped by again.  They were at the wet market and decided to stop by for a few minutes and bring us some bananas.  Another reason for their stop was to see if we were still going to their fiesta in Tinambacan the next weekend (the 11th).  Lita says she will go for sure and probably take Judith with her, but I'm still not so sure I will be going yet.  Lita is making some pancit to bring there.  I guess if I want more to write about in the next Zine, then I should go also.  I could just get information from Lita and Judith, but it would be better if I did it first hand.  We'll see.  Maybe George will offer me a beer while I'm there.  Most likely he will.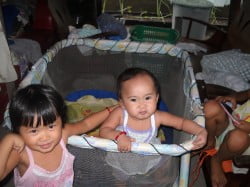 The day before their fiesta, which would be 10 May, is the day that I will have the next expat get together here.  Last month I only had 2 guys show up.  That was okay for a first time, but if we could get 3 this time, maybe even at the same time that would be better.  Lita will be making her spaghetti with the American style meat sauce.  She will not start cooking until/if someone shows up though, just in case there is no one this time.  Hey I can understand it.  Everyone can't be here because most of y'all are not here.  Some of the ones that are here do not know about the get together.  Heck probably most of the expats here do not even know about my website.  I hope for that to change in the near future though.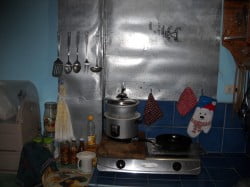 On May 12th (Sunday) it will be Samantha's 1st birthday.  It doesn't seem like a year already, but I guess it has been.  She certainly is getting bigger and her motor skills are developing nicely.  Lita will also be making spaghetti for that because most of the people here prefer her spaghetti sauce to the Filipino style sauce that they usually have.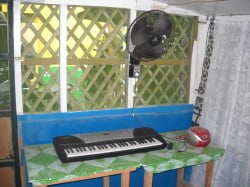 Lita now has her cell phone activated.  Last time she was downtown she took a bit longer than I was comfortable with and I may have complained again.  Shortly thereafter she got Juvic to go downtown with her to get the phone set up.  She had to get if fixed before it could be fully activated though.   It seems that the speaker on the phone was messed up so bad it had to be replaced.  It's working fine now.  Next time she is downtown and taking too long, I'll be sure to contact her.  We are not much for texting, so I'm going to come up with a simple code for us to text so it won't be so hard to get the message across.  It is so much less to text than it is to call so that seems like the best thing to do at this time.  Of course we will talk if we think it is necessary.  I need to find a way to get some songs on her phone that she likes.  I tried it once, but that was when the phone was messed up.  I'll try again after I finish this post.  There must be an easy way to do it.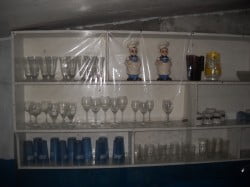 In case you remembered she was gone, Cathy is back from Tambis again.  She and all her girls went down there and have been there the past 2 or 3 weeks.  I lose track of time so I don't know which it was, 2 or 3 weeks.  Only Precious stayed behind with her Lola.  I have only seen Precious once in the past 3 months or so because she stayed there for a few weeks before that also.  Bebie came up for a day late last month so I got to see Precious then.  When she went back, all the girls went.  I guess Bebie likes for someone to stay with her since she is alone now that Khany has died.  I don't blame her.  It's lonely enough way down there in the province, but to try to do it alone, well that would probably be too much for me.  I wonder if she will stay there even after she retires from her job at the school?  Something for future posts.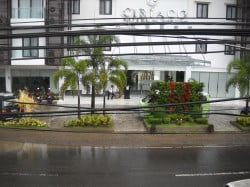 Today, 8 May, it has been raining pretty hard in the early afternoon.  Lita likes for it to rain because she says it helps the freezer get colder.  I suppose that is true, but it makes for an even more boring day around here.  When/If they get that fitness center open, at least I could go there everyday to break up the day.  It will probably give me more energy to do other things too.  Of course when I get my custom made pajak-pajak, I will be heading to more places in the area.  I'm actually looking forward to that.
Okay, Expat Get Together, 10 May in the afternoon, whenever it is good for you.  If you can be here, that's good.  If not, it's okay.  BYOB or we have things close.  Since we don't have an actual restaurant yet (but still plan on it), the spaghetti will be no charge, but I'm sure Lita would accept any donations to help defer the cost.  No pressure to pay, for real.  Just come, drink, BS and see if we can learn things from each other.
Salamat, Y'all