Zine #82 – Road Expansion Party
[smartads]
It's been too long since my last entry so I better do one.  I don't really have much information written down, but a couple of them are just short notes, so I'll probably be able to expand on those to explain them a little further.  I also will be sharing 3.5 links with y'all.  I'll get one of the links out of the way here.
My Texan in the Philippines Facebook page:  https://www.facebook.com/texaninthephilippines?ref=hl
It's been so long since my last post maybe y'all forgot what was going on.  Here is a link to it, just in case you need to read or refresh you memory.
On June 10th I completed my first ever game of Sudoku.  I never played one because it seemed so difficult from what little I knew about it.  I think that when I tried to do it before I must have started out with a hard one and I just gave up.  I started out with an easy one and it was a breeze.  Of course moving up to ones a little more difficult took a little more thinking power, but I got through that also.  These are on the computer so that's better for me than on paper, at least in this game.  Usually I prefer the personal aspect of these games, but when it's a solo game, it really doesn't matter as long as it doesn't require me to have to be a slave to the computer.  For example like the computer rolling dice for me.  I'd rather do it myself.
—-
A few people have asked me for Scott's information so they could get their computer fixed or have a contact for computer needs.  Here it is.
—-
I have recently found out more about the road expansion they are going to be doing on the highway someday.  Supposedly they plan to expand 10 meters from the center of the current highway in both directions.  That's crap man!  Those 10 meters will take out 2 of our out buildings including the bakery and the place where we want to have the store.  We have been delaying starting the store again waiting for the decision of how much they will be expanding, but that seem excessive.  Just how much wider do they plan to make this highway?  There really isn't that much traffic on there most of the time, but I can see if they wanted to add 1 lane in each direction.  They are taking enough space to make 2 more lanes in each direction.  The Ciriaco has a small parking lot, but even that will be gone when this is completed.  Some good news is that they say it should be 5-10 years before it is started.  So working on Filipino time and the record that people have of completing huge projects is all in our favor.  I'll tell you this, if they are going to take that much from us, they better be taking the same amount from the politician that lives 2 houses down.  It would wipe out his whole front concrete fence and maybe even his front door.  If not, then he will be stepping out on a highway from that front door.  I wonder if they will pay us for that?  I had to pay for it when I bought it.  I should check into that.
Maybe that American guy that has been holding off selling his property that the Ciriaco has been trying to buy to making a parking area, will finally get the price he wants.  Seems the Ciriaco will be out of options unless they plan to put a parking area behind the hotel, but they are doing a lot of building back there, so it doesn't look like it.  I guess we'll see.
—-
 Kano 6 – Judith's 18th – San Joaquin
The Kano 6 left to right.  Me, Randy, Dean, Gary, Scott and Warren
—-
Another link and a half that I found might be of interest to some of y'all out there.  It's for how the US Embassy here in Manila handles the military ID cards.
http://manila.usembassy.gov/dodcardsver2.html
http://photos.state.gov/libraries/manila/19452/pdfs/STEPS%20FOR%20PROCESSING%20MAIL%20IN%20ID%20CARD%20RENEWALS%2024%20April%202014.pdf (this one is a page that is linked from the above link)(the .5 link)
On 14 Jun we had the 18th birthday party in San Joaquin for Gary Beaudean's sister in law, Judith.  Besides myself and Gary, only 4 other expats showed up.  We had a pretty good time too.  Those other 4 expats were Warren Pratt, Randy Landis, Dean Millner and Scott Vanne Torres.  Lita decided not to attend because it is too far of a trip from the house and she has a heat rash on her neck that has been bothering her a lot.  I figured that the other wives would miss her, but that wasn't so.  Because it turns out, for one reason or another, none of the wives showed up, except for Gary's wife, but the party was for her sister, so of course she would be there.  That left all of use 'older' guys there with a bunch of young beautiful ladies.  But we behaved, at least on the outside we behaved.  I can't vouch for anyone's thoughts.
—-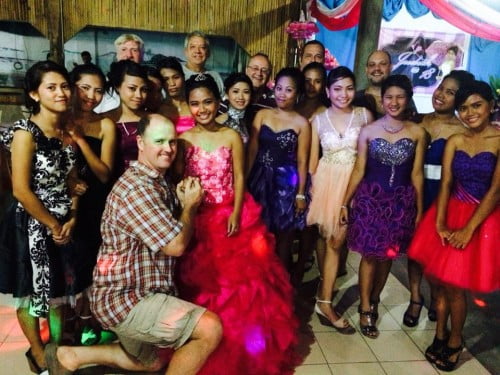 Dean said he wanted to give Judith something really to remember for her 18th birthday.  Some crazy foreigner kneeling next to her holding her hand.  I think he could be right.
—-
On 18 June Titing returned from Southern Leyte.  If you remember from the previous post, he was there to finish up the paperwork for the selling of some property that the family owned there.  They all had been down there for about a week taking care of things, but had to get back home.  Titing volunteered to be the one to go back and finish things up.  The land got sold and the money got distributed among Poppa and the 5 children.
I'm going to try to remember to put in links for places around here in Calbayog on a regular basis.  I'm not good at remembering to do things, but I'll sure make a good attempt to.
Local links:  Calbayog Travel Tours Unlimited
Salamat Y'all