Zine #71 – New Phone Yelling
[smartads]
I'm starting to get too far behind here. It is now 18 Feb and my blog is only on 2 Feb. I'll do this post and another in a couple of days, if I don't forget or something happens, to try to get caught up. The last post was https://texaninthephilippines.com/2014/02/05/zine-70-space-a-and-rao/ so if you have not read it go ahead and do it now, I'll wait here for you.
Well if you are reading this I'm assuming either you have read Zine #70 or you don't care to read it at this time. Either way I will continue and this day did not start out so great.
On Sunday morning (2 Feb) I had just gotten my computer turned on and was ready to sit down to get started and "Poof", brown out. I didn't know it at the time, but it was a scheduled brown out for 0600 to 5pm. The time was 0615 when it started and it only lasted until 4:10pm. Of course, true to form, the lights went back out again around 8:15pm.
I get aggravated when the lights go out, so I headed out front where it is cooler and I can get some fresh air to try to forget about this constant inconvenience we call a brown out. While I was out there I saw Juvic on her laptop and it made me wish I had one right now. I have never owned a laptop, except the ones connected to my legs, so I'm not really sure of what kind to get. If I decided I will be getting one, I will ask Scott before buying it. Most likely if I have the money to pay for it, I would be buying it stateside or maybe in Japan or Korea. I hear they cost too much more here in the Philippines.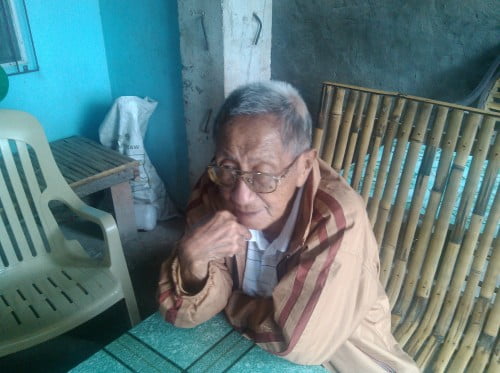 That latest brown out only lasted about an hour and 5 minutes. I was outside on the table playing Cribbage Solitaire. Grace and Raven were asking how to play and keep score. I don't think either of them have seen a cribbage board before or if they did, had no clue what it is. I hope to rekindle their interest on the game soon so maybe I can show them how to play with 2, 3 and even 4 players. Maybe it will get Grace off her phone for awhile, although she is not on there near as much as Juvic is.
Neneng started up the BBQ again. She is out there most evenings cooking up the normal pork on a stick, hot dogs and sometimes some chicken guts. I don't know everything she has out there because I don't eat any of it. They still have the bakery also, but hopefully the Pepsi business will be back in full swing pretty soon. Even Victor is bored. That's why he is driving the tricycle when not working at the warehouse.
On Feb 4th I went downtown twice and I bought peanut butter both times. That was not my main reason for going downtown, but the peanut butter I like gets hard to find lately at times, so I get some whenever I see it. I got 5 jars of it altogether, plus Lita bought 2 more the next day. Hopefully that will last the rest of the month at least.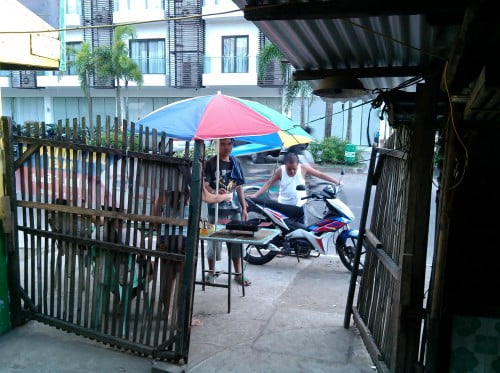 Okay this I thought was pretty funny. While I was downtown I stopped at Christainson's to ask about my phone. The manager came out to take care of me personally and told me that they wanted to give me a new phone because the other one ran into problems and will be even longer than they thought because they are not even sure where it is anymore. It did get sent to Tacloban, but they are really not up and running yet, so the phone will just sit, I guess. They were giving me another phone, so I didn't care. No that wasn't the funny part.
The funny part. The day before I went downtown, Lita and Judith went to Christainson's to ask about my phone. It seems that there was a lot of 'loud discussion' going on there. I wasn't with them so I didn't really think anything about it, until I went the next day to check on the phone. I needed to have my sim card and memory card to test the phone so I had to go back home to get it. I told the manager that I would probably be back this afternoon and I would probably bring my wife with me. She looked at me with frightened eyes and said, "Why?" She was acting like she never wanted to see my wife again. Although I hear Judith did most of the yelling, Lita got her yelling in there also. I guess there was quite a bit of yelling going on and evidently the store does not want it to be repeated. I just showed up later, without Lita, and got the phone after it checked out.
It's a nice phone. It's a Cherry Mobile Flare 2.1 Android (version 4.1.2). They said it was an upgraded over the other phone I bought, but I didn't care. This phone is fine, although slightly slimmer than the previous phone. I just mostly need it to take pictures and videos, so as long as that works, I'm okay with it. The price of both phones is the same except this one was P20 more. They made me pay that P20 too. It's fine, I've got a camera/phone now.
As for my weighing in, well that continues to be not good. I weighed in 3 times on 5 Feb, at 3 different spots on the floor, and it said I weighed 284.8 at all 3 of them. I didn't like it so about 45 minutes later, without having drank or eaten anything, I weighed again. This time it was 290 pounds. I guess my scale is having a problem. It's a weight watchers scale, so it's a good one, but maybe after being shipped from the States and the long time I've had it (about 10 years), it is starting to mess up.
I did witness some good mothering skills today. Around 0930 they started celebrating the Chinese New Year at the Ciriaco Hotel with some music and a dragon dance. It was a big scary looking dragon. Well at least Samantha thought it was. When she saw it she ran off screaming looking for 'anyone' to pick her up. That person turned out to be Chatty. However, Juvic got her from Chatty and carried her right back to the road to see the dragon again. While she carried her, she was talking to Samantha telling her that there was nothing to be afraid of that it was just a dance, it's not real. Although I don't know everything that Juvic said, what she did say, worked. Samantha was no longer afraid of the big bad dragon.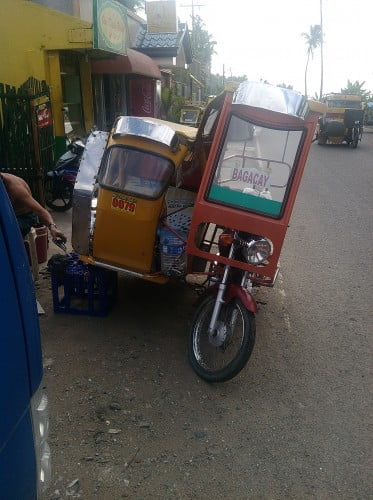 I went by Scott's house later to get some movies put on my flash drive. I only have a 16gb drive so I only was able to get 13 movies, including a couple of Looney Tune Adventures. After I got the movies, he came by my house to hook up a Bluetooth device so I can get the pictures off the phone. I still could not do it with this new phone. He got it hooked up and finally got it to work a couple of times, but he had to go after that. He had a customer to see about getting their computer fixed. I watched him do it so I hope I can repeat it. He really had to go, so I'll just try it tomorrow to see if I can finally get some pictures.
That's long enough for this post. I do have a problem with my phone (in real time) that if anyone knows how to solve it, I'd appreciate an answer. I keep getting text messages in from people I don't know. Every time I receive one, I get charged P1. Now I only put P20 in there, have not used it, and only have P12 left. How do I stop that. Juvic doesn't know either. I'm going to have to ask Globe to tell me I guess if y'all don't know the answer.
Salamat Y'all