Zine Entry #27 – Calbayog to Angeles
[smartads]
These next few posts will be about our short little trip to Angeles City on Luzon and how things were good and how things were bad.  I have a little over 12 pages of notes in one of those small spiral notebooks.  That's 12 pages front and back, so actually slightly over 25 pages if you count each side for a page.  I hope that y'all learn some things to do and some things not to do when/if you are ever around Angeles and especially if you are trying to get a Space A flight.
I didn't get too many pictures at the beginning of the trip and, since I don't want to put pictures on here of places we were before I talk about them in the post, I will have a few older pictures at the bottom of this post.  We should be okay with the rest of the posts though.
This little trip started on the 4th of July around 10:00am.  Lita was told by the bus company that the bus to Cubao usually arrives between 10:30 and 11:00 each day.  The bus terminal is only about a quarter of a mile down the road from us and Lita didn't want to be late.  Saddam gave us a ride there in his tricycle.  Of course this is the Philippines and, at least for that day, the bus did not arrive until 12:10.  We waited there for about 2 hours.  I did get a few pictures of the inside of the terminal.  It's the first time I have been inside there even though they are so close to the house.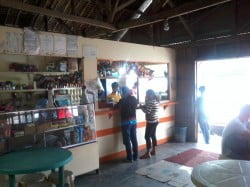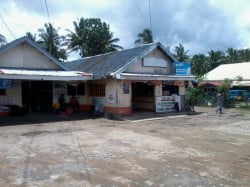 Right before the bus showed up I got a message from Juvic letting us know that one of the expats here, Rick Smith, died from kidney deterioration.  He had been fighting it for a few weeks, but it was a losing battle.  I was debating as to whether to stay or not because of that, but that's when the bus showed up and I figured there really was not much we could do anyway.  His widow, Flor, will probably have to move back in with her family.  She is such a nice person, I really hate to see her have to deal with all this, but, as I said, there is just so much we can do to help.
The bus line we left Calbayog on is called Golden Dragon.  The bus was okay, but just okay.  The air con leaked pretty badly for awhile, but they did get it fixed to where it didn't leak much at all before we arrived in Cubao.  Upon entering the bus, there were only 2 open seats, but the bottom parts where you sit were off.  The driver said that it was done on purpose (whatever), but he went ahead and fixed them for us.  The seat back I was in by the window would not go all the way up.  It was okay for me, but the lady behind me was not too happy.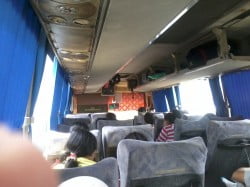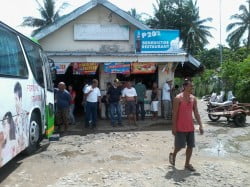 Our first stop was in Allen.  It takes approximately 1 hour and 40 minutes to get there.  This is where you and the bus get on the ferry, separately, to got to the Bicol region on Luzon.  You have to pay an additional fee of P11.20 for the ferry.  The time of the trip itself is unclear right now.  Juvic told us 45 minutes, Lita says about 1 hour 25 minutes but it seemed closer to 2 hours to me.  After some wonderful backward driving, our driver got the bus on the ferry.  On this particular trip, Lita talked the driver into letting us stay on the bus to sleep.  I think she slipped the guy some extra pesos, but I'm not sure about that.  We did sleep about the whole trip.
The next time we stopped it was about 6pm and was at a little restaurant for all to eat.  We were only there about 20 minutes.  It was a nice little place, but I was so tired I forgot to take pictures of the place.  This was also a CR (comfort room) break and I was sure happy for that.  I don't think my bladder could have held out much longer.  When you use the CR in at these places, it cost money.  It's only usually P5 and the money is the salary of the person that cleans the CR.  Now this CR was very clean so I had no problem leaving the pesos.  In fact, with the combination of a clean restroom and relieving my full bladder, I was so happy, I just left P10.  We didn't stop again until about 11pm.  It also was at a nice restaurant with a clean CR, but it had little flying bugs assaulting you in the outside eating area under the lights.  Again I was happy to be leaving P10 for my CR break.  After my CR break, I bought a small bottle of Coke.  It was one of those 5 1/2 oz ones and the 'over' price of it was P15.  You know that when you drink a whole bottle of Coke at one time, people look at you.  At least they usually do for me and they sure did that evening.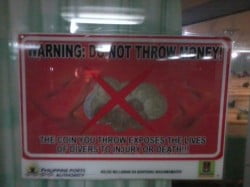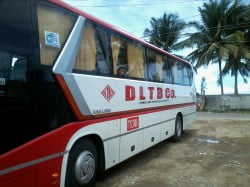 Finally, after what seemed like days, we made it to the Manila area.  I still have not gotten an exact time of that bus trip from the ferry to Cubao.  I'll have to work on that.  It is a long ways though, that's for sure.  Maybe a plane trip would be best for us next time.  At least going there would be.  Coming back, we most likely will need to take the bus because our bags might be a bit heavier after visiting a military commissary.  That's another story for another time though.
In Manila we almost got off at the wrong stop.  They go to Pasay before Cubao and we thought we finally made it there.  It was not that much further to Cubao anyway, but we just really wanted to be off that bus.  Even when we finally did get to Cubao @ 0905 we run into another problem.  The bus line we are on does not have service to Angeles.  So, with the help of one of the terminal fellows, there are plenty of them around there, we walked down the street to 3 different bus terminals until we found one that had service to Angeles.  It was 5-Star bus lines.  In fact, there was one getting ready to leave very soon.  So soon we were allowed to get on the bus right then.  We were the first 2 on the bus, so I picked the seats I wanted.  Those were seats 5 & 6.   While Lita went to get some peanuts and use the CR one more time I checked out the bus.  It was nicer than the Golden Dragon bus, plus it did not have an air con leak.  The fee for this trip is P140 per person.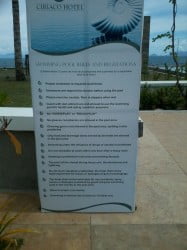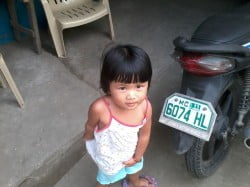 Finally, at long last, we made it to Angeles.  I was so happy to be getting off buses, that I failed to notice that I left my Retired US Air Force cap on the bus, along with my notebook that I had been taking notes with for this blog.  Naturally I didn't notice that until the next day.  I was just happy to be making to a hotel and get some decent sleep.  Of course things didn't go as "I" planned when we first got there, but I will pick up on that on the next post.
Salamat Y'all
An interesting article provide to me by Moonglow.
http://www.rappler.com/nation/politics/elections-2013/27309-samar-long-wait-for-salvation