[smartads] The link below is one of many that will take you to a website that shows the many wonderful places to visit and enjoy on the island of Bohol.  MJ Tourist Service can get you there for a price that you agree on beforehand, no surprises.
On the 27th of December when I awoke at 0755 it was still raining outside.  Even though it does rain here a lot, that was the longest continuing rain we've had since the big typhoon hit Luzon.  Come to find out that there was another typhoon in Luzon now.  Well that's what I was told, I never saw a thing about it on TV or the Internet.
Today Jun and Luz returned to Tacloban.  They left via the van service called The Grand Tour.  According to Mar, the fare for the 5-6 hour trip is P200 per person.  That's not a bad price at all.  In fact, if they don't mind me bringing back 2 or 3 boxes of groceries, it'd be cheaper to take that van than drive the Nissan.  I wonder what their policy is on baggage?  I'm going to find out.  Just Lita and I could go there and bring back 1 box each.  I don't see why that should be a problem, but I want to be sure before I commit to anything.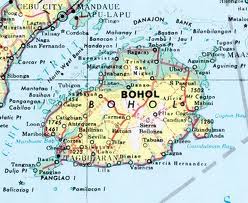 Today I had to cook my own dinner again.  There is not really much to cook around here right now that I like to eat, and I'm not hungry enough to try something new, so I went with an old favorite of mine.  I had the fried potatoes and fried onions.  It would be my second and last meal for the day.  I had corn flakes for breakfast.  J is sleeping here tonight.  Well not here, in the house, but in the compound.  With Khany and Bebie still here, and there not being any really good place for him to sleep, he decided to sleep in the Nissan.  He said it'd be cooler and and there would be less mosquitoes.  Hey whatever is good for him is okay with me.  I guess he did okay out there, but he was gone by the time I woke up the next morning.
The next morning was the 28th of December and I was up at 0815.  I had corn flakes for breakfast this morning again.  I was talking to my sister Wanda on the computer and I was trying to find out to view new submissions.  She was looking for the poem that our father wrote.  I figured that since I have the "Admin" account, that it'd be different than when the blog is viewed from another computer, it's not really, only one minor difference and I even eliminated that one, so now they look the same.  Any hoot, I couldn't find the submissions from the front page, so that is when I decided to just do a short post on it instead.
I'm sure you noticed that there are a few ads on the site now.  I had to put them all there myself because no one has asked to put ads on my site, yet.  I'm hoping that I will have enough traffic in the future so that people will be begging to put ads on here.  In the meantime, I'm just going to do what I can do to make a little money.  It is 'a little' too.  To make any real money off those ads, I'd have to have a lot of people clicking on them or the same people clicking on them once a day, everyday.  Whatever, it'd have to be a lot of clicks.  If I get 1,000,000 clicks on varies ads, then I'd receive between $85,000-$100,000, depending on what ads are clicked on.  Of course that is the extreme side of the range, I'm just seeing what it looks like in print.  Looks good, sure hope to get that much someday.  I'm not allowed to ask y'all to click on the ads or promote them in anyway, but if you are interested in checking them out, please do so.  There is absolutely no obligation and you can just click right back out if it turns out to be something you are not interested in.  Of course if it turns out to be something you like, go for it.  Either way, I get paid, .03 – .11 each time an ad is clicked on.  If you decide you want to try one of them, then I would also get a small percentage of the profits made.  I'm not promoting any of the ads, but they are there in case you would like to check them out.


As it was getting dark, I started getting really thirsty.  We did not have any more cold soda or even any cold water.  I decided that I would just go down the street to one of the sari-sari stores and buy a Coca-Cola.  Since Lita doesn't like me wandering the streets by myself, even though I still do it, she stood at our gate and watched me go down there and back.  I don't know what she is so worried about, I never have a problem.
I checked the Top of Blogs today and we were within the top 8% on both the Personal (226 of 3140) and Overall (4304 of 57667).  In fact if you change the settings to show only Personal blogs in the Philippines, our blog is within the top 4%.  We're moving up in the blog world people, thanks for supporting me in my sometimes big mess.  I'm hoping to learn more things soon to help make your reading as enjoyable as possible.  I'm still open to suggestions in that area, if you have any ideas.
I decided against an ad link program today, even though it was a money making one, because it forces you readers to view up to 5 ads before sending you to the link that you click on.  I don't want y'all to hate my blog because it is doing something like that.  I want my blog to be sort of different so that y'all will tell your friends about it.  If it's just like any other blog, then it doesn't stand out from them.  If I accidentally put an ad on here like that, let me know and I will delete it.
This morning I had to go to the CR at 0730, so I just stayed up after that.  I thought for sure I'd be taking a nap today, but it didn't happen.  I'm sure I'll be in bed by midnight tonight.  When Lita went to the market yesterday, she forgot to buy onions.  Well actually she said she remembered but she didn't bring enough money with her and the onions were not top priority.  Not to her maybe, but they were the most important thing on my list for her to get.  Anyway, she went back to the market this morning and she bought 1 kilo of them.  She didn't get some more cooking oil on either day.  That means that when we cook something that requires oil, we will have to use our expensive olive oil.  I don't like to use that for everyday stuff.  The cheaper corn oil is just fine for normal things.


This afternoon I watched "Are You Smarter Than A 5th Grader".  If I would have been on that show, I would have won the $1,000,000.  I knew the answer to every question, except one.  On that one, the kid, Nathan, would have saved me and I could have continued.  When the question came up for $1M, I couldn't believe how easy it was.  The question was: Who was the first American pilot to fly faster than the speed of sound?  Anyone know the answer?  I knew it right off because it was one of the questions that I had to answer while I was in the Air Force on my promotion tests.  The lady on the show answered wrong and went from winning $500,000 down to $25,000.  That would have killed me.  Actually maybe I would not have won the $1M, because I probably would have stopped after I won the $500,000.  I'd have to be there to know for sure what I would do.
Mar and Ludy are here.  They are outside talking with Khany and Bebie right now.  They are eating pumpkin and watermelon seeds.  Those are favorite treats of Filipinos.  I was actually having a problem with the computer.  I was in the middle of playing a game, Plant vs. Zombies, and the computer just turned off  by itself.  As I was booting back up, it turned it self off again.  I looked at my transformer and the needle on it was not as high as it normally is.  I figured it was one of those things that we get once in a while where there just wasn't enough power coming in.  That was not the case though.  I took the transformer apart, cleaned it out and put it back together.  That didn't do any good.  I tried again about an hour later, but still, no go.  I unplugged everything and was going to bring the transformer to the shop tomorrow and I was hoping it was just 1 of the 2 fuses that it has.  When Mar arrived, he asked if I would hook it back up so he could see what was going on.  Actually he got down on the floor and hooked it all back up, I just let him know where to plug things.  I'll be ding-danged if it didn't come up and stay up.  I still don't know what happen, but since it is up, I'm able to get this post out today.


I don't have any pictures though.  No new ones still.  I probably won't have any for the next post either, but I should be back into full swing starting with the post after that one.  I'll still try to find some pictures to put on here.  Again, please excuse me if they are repeats.  Some of them I forget if I posted or not and others I post because maybe readers that just started reading, hasn't seen them yet.  Either way, they are still good to look at.
Philippine Facts:
First "Filipinos"
T
he term Filipino originally referred exclusively to Spaniards and Spanish mestizos born in the Philippines. Espanoles-Filipinos — children of Espana and Filipinas — was how they specifically called themselves. Later the native upper class ofindios ("uncivilized heathens") and Chinese mestizos, believing that education and wealth gave them the cloak of Spanish culture, also began calling themselves Filipinos.
Juan de la Cruz
C
ontrary to popular notion, the symbolic name "Juan de la Cruz" is not a Filipino invention. R. McCulloch-Dick, a Scottish born journalist, coined the generic tag while working for the Manila Times in the early 1900's after discovering it was the most common name in police blotters and court dockets in and around Manila.
Maria Mania
Why do so many Filipino women (and men) carry "Maria" in their names? A major cause dates back to spanish times when parishes would refuse to baptize a child unless the parents chosen name included the allusion to the Virgin Mary. The practice resists to this day, but on a far less pervasive scale.
"Pilipinas"
The term Pilipinas, as distinguished from Filipinas, made its first public appearance in a stamp issued during the Japanese Occupation of Manila in World War II. Not until 1962 did the Philippine government make a similar change from Filipinas to Pilipinas in officially describing the nation.
Salamat, Palaam