[smartads] If y'all want to know what all the new peso currency looks like, front and back, with explanation why they selected what they did, visit this link:  http://whats-new-philippines.blogspot.com/2010/12/new-philippine-peso-billscurrency-of.html.   I like the new money and I can't wait for it to get into wide spread circulation.
By the way, this new P200 bill, on the back, has 2 things that you can see via MJ Tourist Service.  The Chocolate Hills and the Tarsier monkey.  Both of which I have already given you pictures of in this blog.
On Christmas morning, although I didn't go to bed until 0445, I was up at 0827.  For the Media Noche last night we had the rotisserie turkey and cooked ham.  I never had rotisserie turkey before, it was okay, but I think the roasted turkey in the oven is still better.  I never liked the fried turkey either.  We made it back in the house around 0140.  As I was up until 0445, I was writing notes for this post and finishing up on Part 2 of my "You've Got to be Kidneying Me" story.  There were still fireworks going off even that early in the morning.  Titing says that during New Year the fireworks are even worse.  I'm really not looking forward to that.  Titing also does not like fireworks.  He said that he'd rather buy food and more important things then wasting money on them…I agree.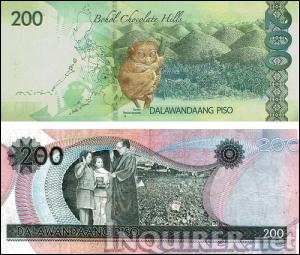 New P200
Juvic and Grace also showed up for the celebration last night.  They were both looking extra wonderful.  I guess when we decided to go home, so did everyone else, because Judith, Victor, Poppa, Juvic and Grace all headed out at the same time we did.  I just wanted to get back to the computer, maybe it just happened they were ready to go.


On the blog somewhere is a place called "Submissions".  I don't see it on mine, but I think it does show up for y'all.  Could someone check that out for me?  I put a poem on there that my father wrote.  It's nothing fantastic, but I think it's a pretty good poem.  When/If you do check it out, let me know where it is on the blog.  Maybe I could just go to Titing's computer and take a look.  He usually has his in the Pepsi warehouse though.  There really isn't another computer around here that is readily available.
We went back to Joyous Eatery again tonight.  This time it was for Joshua's birthday party.  They actually had cake and ice cream at this one, and balloons.  They even had stuff that I liked to eat without having to buy anything special for me.  We went over there in the Nissan.  It's times like these that it's good to have a big vehicle.  We carried at least 11 people, including mga bata, from our house to the Eatery.  And brought them all back too.  I reminded everyone that my birthday is next month.  I especially reminded Marianne because she is going to cook some of the chicken roll things that I like to eat.  She made those for me for a party at her house once and they were really good.  She also made some little taquitos that were stuffed with cheese, they were good too.  We actually had some of those at Joshua's party tonight.  I ate about a dozen of them.
It's just past midnight (0001) and I hear Titing outside the window.  He is talking to someone, but not sure who.  Oh…and while we were at Joshua's party, I found out that it was also Neneng's birthday too.  If I had known that, I might have stayed here for that.  I think that most of the party was at the Pepsi warehouse and they were already down to just singing karaoke though.  I don't sing where people can hear me, usually.  Sometimes I get in the mood to do so, but it doesn't happen very often.


I just saw, it was Bebie that Titing was talking to.  I opened the window and she asked me if I was still awake.  Now that's an open invitation to a smart ass answer if I ever heard one.  But I took it easy on her…I just said, No!  I'm sleeping.
Tagalog Word of the Day:  mahal  (ma-hal)  means love.
This morning, the 26th of December, I got out of bed at 0901, exactly 6 hours after I went to bed.  Before I went to bed though, I checked the Top of Blogs and for the first time both the Personal and Overall were within the top 9%.
I found that submission on my site that I was talking about yesterday, but it wasn't in poem form, I hope the one you can see, is.
Lita just told me that we will once again be heading to Joyous Eatery to eat tonight.  Looks like I will be eating orange chicken from Chow King tonight.  Actually the fried chicken and cheese taquitos that I had yesterday were just fine with me.  I guess either one will do.  I'd personally rather have a good stew.

I just woke up from a 3 hour nap.  When I woke up they were still singing karaoke next door.  They've been singing since 7:00am and I woke up from my nap at 4:43pm.
It's 7pm now and it's time to go to Joyous Eatery.  We took 2 vehicles, the Nissan and Ado's multi-cab.  Shortly after we arrived Titing got a phone call informing him that one of his drivers, Jun (that I have featured on this site before), was in a motorcycle accident.  From the information I received, he had a 50/50 chance of surviving.  Titing and Neneng went to the hospital to visit while the rest of us continued the party.  At this party they passed out all the presents.  It's always nice to see the children receive presents.  It's a bad time for my camera to have no batteries, but I refuse to buy anymore of those cheap batteries that only last a day.  I'm waiting for my payday to get the rechargeable batteries.  Maybe I'll hold off a little bit longer because my birthday is next month and if I hint around enough, maybe I'll get one for my birthday.
They 'forced' me to drink some beer while I was there.  I really didn't want to and I put them off yesterday and the day before, but today I had 2 small glasses.  Well more like 1 1/2, I didn't finish the second glass.  My mind is still back at the river in Catmon from my last drinking spree, so I really wasn't in the mood to do it again.  Of course this time, at least, I did eat before I drank anything.
When it was around 10:30pm, I started throwing hints that I was ready to go home.  Thankfully Lita picked up on those hints and she was ready to go too.  So about 10:45pm, we headed home in the multi-cab because Titing and Neneng used the Nissan to go to the hospital.  As we were heading down the main road going home, the Nissan passed us.  When we arrived at the house, we got an update on Jun.  As it turns out it was another communication problem.  Yes Jun was in an accident, but it seems he only broke his jaw.  Now one of the people on the other motorcycle seems to have broken his neck, but is still alive.  He is the one with the 50/50 chance to survive.  Supposedly he will be transferred to a larger, better equipped hospital in the morning.  I also heard that the accident was Jun's fault, but I'm holding off on the actual facts for a few days, because things always seem to get twisted.


We opened our presents when we got home.  The only personal thing I received was a new pair of flip-flops, which is good because I wanted a new pair that wasn't black or dark blue.  These are blue on the bottom and white on the top.  I'll probably be wearing those tomorrow, if they fit.
Since the camera is not working, and I'm out of new pictures, I will try to find some that I have not posted before.  I can't remember them all, so I hope you don't mind if I repeat a few.  I will put the picture of Jun back on here so you can see him.
More Facts & Trivia About the Philippines
There are more than 10 million Filipinos living overseas, of this, about 8 million are OFWs or Overseas Filipino Workers. According to the Central Bank of the Philippines, overseas Filipinos remitted a record high of US$ 17.348 billion to the Philippines in 2009, a 5.4% increase compared to 2008. The bulk of the remittances comes from the U.S., Canada, Saudi Arabia, U.K., Japan, U.A.E., Italy, Singapore and Germany. These remittances account for 10.8% of the country's GDP (Gross Domestic Product).
Dr. Jose Rizal, the national hero of the Philippines can read and write at the age of 2. He grew up speaking 20 foreign languages including French, Greek, Chinese, Latin and German.
The karaoke is a Filipino invention, not Japanese. Karaoke meaning "singing without accompaniment" in Japanese was invented by Roberto del Rosario. He called his invention "Sing-Along-System", which was later called karaoke.
The Philippine flag is the only flag in the world that is displayed upside-down when the country is in war (red on top and blue at the bottom when in war).
The Philippines is considered the "text capital of the world". In 2006, there were an estimated 35 million cell phone subscribers in the Philippines and about 350 to 400 million SMS (Short Message Service) or text messages are sent daily. This figure was more than the total daily text messages sent in the U.S. and Europe combined. However, China has overtaken the Philippines by sheer volume of users. It is estimated that in 2007, the Chinese sent an average of 1.6 billion text messages daily with more than 500 million cell phone users. While Filipinos sent an average of a billion text messages daily with about 50 million cell phone users. Even though the Chinese sent more text messages in total, they send an average of only 3 text messages per cell phone per day, while Filipinos sends on average 20 text messages per cell phone user per day.
Although the land area of the Philippines is roughly 1/30th of the United States, The Philippines has a total coastline of 36,289 kilometers while the total U.S. coastline is a modest 19,924 kilometers.
The world's rarest and most expensive seashell, the "Conus Gloriamaris" is among the 12,000 species of seashells found in the Philippines. And 488 coral species out of the known 500 coral species worldwide are found in the country.
Useless Knowledge: An anticoagulant from vampire bat saliva may soon be used to treat human heart patients.
Useless Knowledge: Former Saturday Night Live cast member Chevy Chase's real first name is Cornelius, and comedian Rodney Dangerfield's real name is Jacob Cohen.
Salamat, Palaam