[smartads] Precious wanted to 3 things when she jumped up on the stool to look out the LolyKat window.  First she wanted to sell things to people (if she could get over her slight shyness), second she wanted to look around at the people going by and third (and probably most important) she wanted to see her Mama (Cathy) outside.
Sorry..well a little sorry…that I'm behind on the posts.  I was suppose to do one yesterday, but since it was my birthday, I took the day off from blogging.  Not that I don't like doing it, I just don't want to burn out doing it.  Of course when we have tons of readers, it'll be easier not to get burned out.  It rained all day yesterday and so far today, no rain.  I hope that is not a sign of gloomy times to come.  I also did not get to eat at the Ciriaco Hotel like I wanted to, but I still may do that tomorrow (the 20th) and just consider it a belated birthday dinner.  Well I have 3 days of backed up things to write about, plus whatever happens today, I don't know why I'm jabbering about all this, it might already be in my notes to say.  So let's get started.  I may just do the 16th and 17th today, but I'll try to go all the way through the 18th.  I don't want to leave something good out though, so maybe I'll do a little less blah, blah, blah today.  Not much less, just a little so maybe I'll be able to fit everything for 3 days in without making the post too long.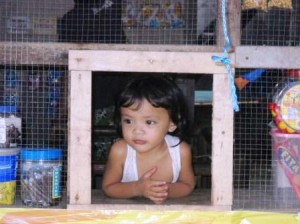 World's Youngest, Most Precious Store Keeper
You'll notice at the end of this post I started a new thing.  It's called "This Day in Philippine History".  I put it after everything else so that way you only have to see it if you are interested in it.  If you are not interested, the rest of the post ends at "Salamat, Paalam" (that's Thank you, Goodbye, for all you new readers out there).
The Philippine history section is a bit longer today then it will normally be because I have 3 historic days (16-18 Jan) to put in here.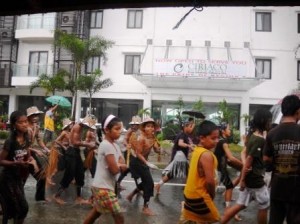 16 Jan 2011 – I woke up this morning to a steady rain and no lights (another brownout).  Good thing we have clocks that run on batteries.  The one on the wall straight ahead read 0927.  I made my eggs with onions and had to sent Flor out to get some bread so I could make a couple of sandwiches with my eggs and onions.
Tagalog Word of the Day: tinapay  (ti-nah-pie) means bread.
That Sto. Nino parade that I already posted some picture for, and will post some more today, was from today.  Even though it was wet, there were a lot of smiling children.
The power finally came back on at 2:48pm.  It wasn't so bad today because it wasn't hot and/or muggy.
There were a couple of German guys staying at the Ciriaco Hotel.  I know because they walked across the street while Lita and I were outside and Lita asked them where they were from.  They were not very friendly.  Only one of them did any talking and that was only if you asked.  It's okay though, I know everyone doesn't have a non-stop tongue like I do sometimes.  Usually if it's a subject I like, you have a hard time shutting me up.  One of the German guy's Filipina wife or girlfriend, I don't know which, starting talking to him like a child because he crossed the street by himself.  I kid you not.  She told him not to do it again.  Now that I think about it, it must be a wife because girlfriends don't do things like that.  He just looked at her and said, "Ya Ya" and kept doing what he was doing.  When he left, he and his buddy with him both crossed back over the street.
As of today I had plans to be eating at the Ciriaco on Tuesday or Wednesday for my birthday, but as I stated above, below the World's Youngest, Most Precious Store Keeper, I didn't get to go yet.  I'm still determined though.  I see no reason at this time why I can not go tomorrow evening.
I added a new site to the "Expat Site".  It's called Dumaguete and Expats.  I accidentally found it while looking for something else.  It looked decent enough, so I decided to link it.  I'll check it from time to time to see if the Administrator of that site is updating it.  Let me know if you notice the same old thing day in and day out, if you like it and frequent it often I mean.
Hits at 89564 @ 0140 (17th)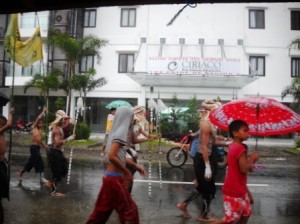 17 Jan 2011 – I stayed up until 0515 this morning to watch the NFC and AFC Quarterfinal games.  I ended up watching only the NFC game though because the video stream kept stalling and I was getting tired of it doing that.  I was also getting tired physically too, so it was time for bed.  I was glad to hear that the Patriots lost though.  Now if the Jets can find a way to beat Pittsburgh, then I'll be content, and will even root for them to win the Superbowl.  If the Steelers win, then I'll have to root for the NFC representative (Green Bay or Chicago).
I have no idea what time it was when I woke up.  It was 9-something.  Lita needed for me to watch LolyKat while her and J went to the market.  Vicky and Flor were busy doing other things.  I don't really mind sitting in the store, but sometimes when someone comes up, they are to shy or afraid to ask for something.  I don't want to drive customers away.  I did make a mistake while I was in there though.  A little boy, toting his little sister came by to buy some corn nuts (Filipino version pretty small).  I didn't know how much they were and on our list they don't call them 'corn nuts' so I didn't know what they were.  I just charged him 1 peso.  He looked at me with a blank face, put the peso on the counter, took the 'corn nuts' and left.  Turns out that they are suppose to be P5, not P1.  Oh well…P4 is somewhere between .09 and .10, no big deal.  I put P4 from my pocket in there.  He was kind of cute holding his sister's hand and holding an umbrella (of course it was raining) with the other.  When he put the peso on the counter, he did it quick so he wouldn't have to let go of her hand for too long.
I've been eating a lot of stew recently, but I'm fine with that.  I made some more today.  Normal ingredients that I usually use (potatoes, carrots, onions, bullion cubes), but today I added some fresh green beans.  I only ate 1 bowl of it.  I put the rest in the refrigerator for later or tomorrow.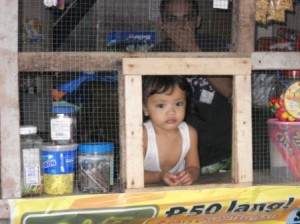 I'm suppose to be going downtown Tuesday, maybe Wednesday to try to buy some tennis shoes to work out in.  I'm not sure they have a size 11 or 12 wide here, but I'm going to at least check.  If I can work off some of this stuff I'll be a lean, mean blogging machine.
I did end up eating the rest of that stew this evening.  When I did I broke one of my rules to not eat after 7:00pm.  It was almost 8:00pm, but I figured I'd just stay up an hour later than normal and that should cover it.  I was planning to go to Ciriaco Hotel to eat tomorrow and I didn't want to let that stew sit for too long in the refrigerator.  I won't eat it if it stays there too long.  I'll give it away or throw it away.  Around here I might be able to give it away if someone doesn't mind eating my food.  Some of them won't even try it.  I always tell them, "You want me to try your food, but you won't try mine, that's not fair".
Tagalog Word of the Day:  sigarilyo (si-gah-rel-yo)  means cigarette
Useless Knowledge: In bowling alley slang, a turkey is 3 strikes in a row. The term dates back to the late 1800s when, around the holidays, alley owners presented live turkeys to the first member of the team to score 3 consecutive strikes.  (I always wanted to know where they got that name for 3 strikes in a row)
Useless Knowledge: Cats may copulate over 30 times a day. While a male feline may stalk a female for days at a time, once they mate, the entire sexual act only lasts a few seconds, not unlike certain humans!  (This one was funny.  I had to put it in here)
Salamat, Palaam
This Day in Philippine History

1671 – The "Holy Inquisition" body of the Catholic Church suspends Fray Jose de Paternina as commissary of the Holy Office for Manila for complicity in the death of Governor Diego de Salcedo; Paternina, the only Augustinian who held the office of commissary and served as from 1664-1672,  is arrested and ordered to return to Mexico to face the Inquisition tribunal but will die during the voyage; Paternina, alleged to be unprincipled and morally depraved and who held personal differences with the governor general, earlierrashly ignored the Mexican tribunal's orders to defer arrest of the governor-general until allegations were confirmed; de Salcedo died at sea while shipped off to Acapulco.
1901 – Apolinario M. Mabini leads the captured officials of the Philippine Republic who are sentto exile to Guam by the invading forces of the imperialist United States of America, nearly two years into the bloody and protracted Filipino-American War (1899-1914); Mabini, Generals Artemio Ricarte, Maximo Hizon, Pio del Pilar, and Malolos Congress delegate Pablo Ocampo were among the 57 Filipino patriots who have defiantly refused to swear allegiance to the Bald Eagle flag and have openly sympathized with the continued resistance movement against the invader Americans; Enemy Gen. Arthur MacArthur decreed the deportation of the revolutionary statemen Mabini, the Philippines' first Prime Minister, Gen. Ricarte and the rest and are thus punished with exile, leaving Manila aboard the the U.S. Transport Rosecrans.
Librada M. Avelino
1873- Librada Avelino y Mangali, future Filipino educator and co-founder of Centro Escolar University, is born in Pandacan Manila during the Spanish colonial period; when the successful flames of the Philippine Revolution against Spain is quickly snuffed out by the imperialist United States of America, Avelino will found a private school that will not prosper because of the developing hegemony of the newly imposed English language; Avelino will cross the language barrier by learning the colonial American language at a school designed by the North American invaders for Spanish-trained Filipino teachers; along with Carmen de Luna and Fernando Salas, Avelino will establish the Centro Escolar de Senoritas that will later be known as the Centro Escolar University; a future recipient of Master of Pedagogy, honoris causa, University of the Philippines, Avelino will be noted for her defiant retort to her American history teacher, Prescott F. Jernegan, who will claim that Gen. Emilio F. Aguinaldo is the Cavite bandit chieftain, as follows: "Mr. Jernegan, Aguinaldo was not a bandit chieftain. Our revolutionists were not bandits. They were patriots just like the  Americans who revolted against England in 1776."
1901 – Emilio F. Aguinaldo, Philippine  President on-the-guerrilla-run, issues  a manifesto
condemning the atrocities  committed by the forces of the  imperialist Bald Eagle nation nearly  two years into the bloody and  protracted Filipino-American War  (1899-1914); the manifesto comes some  two months before Aguinaldo would be  traitorously captured by the enemy  Americans with help from Macabebe  scouts; Aguinaldo, who earlier  stupidly allowed the free entry of  American soldiers in the Southeast  Asian archipelago in the belief that  the United States was Filipinos' ally  against colonial Spain, particularly  condemned the barbaric execution style  of the imperialist Americans, to wit:
The heart-breaking sighs of the  oppressed and of their families, and  the energetic protests of all the  Filipino people reach me in my distant  camp, because of the unequalled  cruelties and the cynical violations  of the most elemental laws of war  perpetrated by the imperialists, who,  on the pretext that the unfortunate  victims have killed an American, hang  the prisoners of war in a way which is  repugnant to humanity, the agony  lasting fifteen minutes, according to  the Manila press which is under  censorship; or else inflict upon them  unheard-of tortures, according to the  testimony of my commanding generals;  and as if all these were not enough,  the military governor of the invading,  out of the jurisdiction of the law,  not only the Filipinos who are in arms  protest, but also the peaceful non- combatants, who are made prisoners or  deported without being tried, almost  always with no other purpose than to  ransack their houses and treasures, or  to hope for indemnity or bribe for  their freedom.