[smartads] We had a small parade up and down our street today.  I took a few pictures of it.  It wasn't much but there were a lot of bata having fun and that made me happy.  This parade was in celebration of Sto. Nino (Holy Child) that is celebrated in the Philippines every year, mainly in Cebu where the original Sto. Nino is kept.  Please visit the below sites for further information.  It seems that this celebration is a big thing here in the Philippines, almost as big as Christmas.  By the way, the Wikipilipinas.org website will be my new favorite site to reference things for the Philippines.  They even have that "Wiki" thing down to some individual dialects within the Philippines, but I haven't checked those out yet.
http://en.wikipilipinas.org/index.php?title=Sinulog_festival
http://en.wikipilipinas.org/index.php?title=Sto._Ni%C3%B1o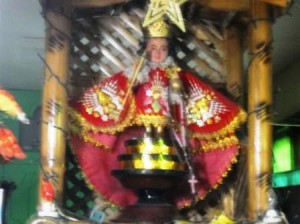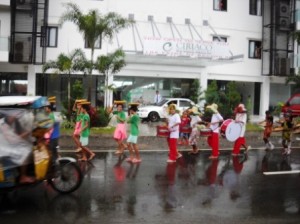 15 Jan 2011 – Why in the heck I got up so early (0708) after going to bed at almost 0300, is beyond my comprehension.  For sure I'll be taking a nap later on in the day.  I haven't weighed myself in about 3 weeks so I figured I better do it today, just to make sure I'm not reverting back to my old ways.  Again, after waiting so long, I was almost afraid to get on that scale.  Has to be done though.  For you new readers I will once again tell you that when I arrived here in the Philippines in May 2010, I weighed an enormous 149.9 kilos (approx. 330 lbs).  Today I was at….drum roll please….125.95 kilos (approx. 278 lbs).  For all of you that are really bad at math or are having a hard time believing what you are reading, that is about a 24 kilo or 52 lb weight loss.  Now if I can do the same thing a little over 1 1/2 more times, I'll be right at my goal of 190-200 lbs or 87-90 kilos, whatever you are use to using.  Still a ways to go, but I'm sure that if I can get some decent work out shoes pretty soon, I'll being doing much better by being able to go to the fitness center.  I'm actually starting to look forward to it because if I can lose this much weight without exercising, imagine what will happen when I do start.  This 278 lbs is my lowest weight in at least 5 years, maybe more because it's not something that I kept up with.  By next January, when I think will be our first real chance to get back to Texas, I'll be dang near unrecognizable to my relatives.  We're hoping to get back sooner, but we can only do so much and living comes first.  But we'll get there as fast as we possibly can because we both need a Texas refresh.  In other words, we both miss Texas and plan to stay there at least 3 months when we do visit.
Lita went to the market today.  I asked for some onions, green beans and Doritos.  Between going for us and going for the BBQ, she goes there quite often.  She doesn't mind so much if she has someone with her that helps her out, and she does 99.9% of the time.  I think that she had to go to the market only once by herself since we've been here, so that's a pretty good ratio.  I told her that if she doesn't have anyone to go with her, I'll do it.  I don't mind going actually, it's just riding and scrunching in the tricycle that bothers me.  If she doesn't go to a vendor she is use to, then they sometimes try to jack up the price when they see me, so that is another reason why I try to stay clear when she is shopping.  When she is , or even when I am, use to what should cost what, then that will cease to happen.
Titing gave us a case of Premier water today, free of charge.  It is a case of 12-1 liter bottles.  That should last me maybe a couple of weeks.  He didn't say why he gave it to us, but it doesn't really matter.  Maybe it is an early birthday present (my birthday is on Tuesday).  I'm glad he did give it to us though because the water that we get from the tap and boil I still can not bring myself to drink.  I use it when I make my 'world famous stew' (ha), but I can't get my mind to tell me that it tastes good drinking it straight.  Just like I can't eat the fish or dinuguan, or as Lita calls it, "Chocolate meat (she says it sounds better than what is actually is, blood stew).   Copy/paste this website to see pictures, recipes and videos of dinuguan:  http://www.kosmix.com/topic/Dinuguan  . Maybe it's good to eat, but in this case, my mind has control over my hands and senses.  I couldn't get this website to come up with a link to just click on.  I wonder if there is a secret to being able to do that with all sites?  Anyone know?
Lita came back from the market with some Chippy's, the BBQ and Chili and Cheese ones.  No Doritos, dang it.  She did buy me 5 of the small individual bags of the Chippy's.  I like those, especially the BBQ ones.  I've tried a couple of other brands, but didn't like them.  Even some of the other Chippy flavors, I didn't like.
I forgot to mention in the last post that Flor had a toothache on Friday and didn't work.  She stayed inside, in bed, most of the day.  She was back today though.  Since she was out, I had to help out some in the kitchen.  It wasn't much, but something.  I had to squeeze lemons again today.  This time it wasn't as many as last time, but still enough to make my fingers wrinkled.
I finally got to eat today around 2:30pm.  I finished the stew that I made from the previous day and it still tasted great.  I always add that special pepper that Gary brought to me from Minnesota.  I don't see or hear from Gary anymore.  I wonder if he is doing okay?  I don't even know if he still reads the blog or is even still in the Philippines.  Maybe he has returned to Minnesota.  Also on my stew I had that "Super Hot Sauce" (or so it says on the bottle), in with all those vegetables.  It's not that hot when mixed in the stew and I haven't been drinking it from the bottle, so I don't know what they consider "Super Hot".  I'll try some on my finger tomorrow, and see.
Tagalog Word of the Day: bundok (boon-doc) means mountain.  (Now isn't that a strange word for mountain when looking at it from the English language point of view)?
Philippine Trivia
What other name is commonly used to refer to the Philippines?
The Pearl of The Orient Seas
. The Philippines' nickname is the Pearl of the Orient Seas because of its many natural wonders and resources. The Philippines boasts of many great scenic wonders, like Mt. Mayon which has a perfect cone shaped structure, and the Banaue Rice Terraces which are sometimes considered by many as the 8th natural wonder of the world.
What was the site of the first Christian mass in the Philippines?
Limasawa or Masao or Mazzaua
. The first Christian mass in the Philippines was held on March 31,1521 on Limasawa Island in Southern Leyte. There are still debates whether Limasawa is the site of the first mass because, according to Magellan's Diary, it was on Mazzaua Island. This island they believe is now a part of Butuan in Agusan del Norte.
Which is the longest river in the Philippines?
Cagayan
. Cagayan River runs from the Caraballo Mts. in Central Luzon through the Cagayan Valley Region and empties into the Babuyan Channel. It is about 450 kms long and provides the Cagayan Valley most of its irrigation.
How many islands does the Philippines have?
over 7,000
. The Philippines actually has 7,108 islands at low tide. One island is submerged underwater during high tide. Because of its many islands its coastline is one of the longest in the world. Its coastline is even longer than the USA which is a very large country compared to the Philippines
What is the oldest city in the Philippines?
Cebu
. Cebu was founded in 1521 and is also called "The Queen City of the South". Cebu is considered as one of the major cities in the country and home to many great singers, musicians and politicians. It is also famous for the first mass conversion of Filipinos to Christianity by the Spaniards.
Which place is dubbed as "The Salad Bowl of the Philippines"
Benguet
. Benguet is where most of the country's vegetables come from. It is located in the mountainous region of Cordillera. Its cool climate makes it suitable for vegetable planting.
Which city is the major manufacturer of sugar in the Philippines?
Bacolod
. Bacolod can be found in Negros Occidental, Negros Island in the Visayas region. Aside for sugar manufacturing Bacolod is also known for the annual Maskara festival which is almost the same as the Mardi Gras festival in Baton Rouge, Louisiana. It is also known as the "City of Smiles".
Which is the highest point in the Philippines?
Mt. Apo
. Mt. Apo stands at 9,692 feet (2,954 metres) and can be found in Davao. It is actually a volcano. It is a great place for sight seeing because of its diverse flora and fauna and also a great view overseeing Davao city.
Most of the country's rice comes from what region?
Region III( Central Luzon)
. Central Luzon is a vast plain occupied by the provinces Zambales, Bataan, Bulacan, Tarlac, Pampanga and Nueva Ecija. This also where you can find many haciendas which are usually owned by politicians and great businessmen. It is also boasts to be producers of great leaders. Four of the county's presidents came from this region
What is the deepest point in Philippine waters?
Philippine Deep
. The Philippine deep is the second deepest point of the ocean in the world. It is located in the Philippine Sea off Surigao Province. With a depth of 35,597 feet it is second to the Marianas Trench which has a depth of 35,797 feet.
Useless Knowledge: Some things never change: Cutouts of a moon and a star were used in colonial times on outhouse doors to designate the gender of the intended user. Originally, the moon cutout was for women, and the star was for the men. But men outhouses were such a mess that men preferred using the women outhouses. So, eventually the use of stars were phased out. (Interesting and yes it is still true today, as far as the women restrooms being cleaner than the men restrooms.  You don't see too many men using the women restrooms anymore)

Useless Knowledge: A man's brain is only 2 percent of his body weight, while a woman's brain makes up 2.5 percent of her body weight a full 25 percent more.  (But doesn't a man usually weigh more than the woman anyway?  I had to make sure to get this one in here because I thought it'd stir something up and get a conversation going amongst y'all)
Salamat, Palaam