[smartads] Ginataan is a sweet stew of root crops, fruit and other goodies cooked in coconut milk.
This easy ginataan recipe makes 8 servings.
  1 cup glutinous-rice flour (mochiko can be used)
1/3 cup  water
3 cups gata (coconut milk) 1/2 cup sugar 1 cup shredded jackfruit, preferably sweet preserves 1 medium kamote (yam or sweet potato), cubed, into one-inch piece 2 small gabi (taro root), cubed into half-inch pieces 4 ripe saba (cooking bananas), peeled and sliced diagonally
1. Combine the rice flour with 1/3 cup water. Add little amounts of water until you get a  soft dough.
2. Form the dough into small balls of about half an inch in diameter. Rolling the pieces between the palms of your hands. Set aside.
3. In a deep pan, bring to a boil the coconut milk and sugar. Reduce heat to medium.
4. Add the flour balls (made in step 2), jackfruit  (http://thaifood.about.com/od/glossary/g/jackfruit.htm), yam, taro root and bananas.
5. Simmer for about 15 minutes or until all the fruit and root crops are cooked. Stir frequently.
6. Ladle out servings into individual bowls. Serve warm.
*mochiko – Japanese flour made from glutinous or sticky rice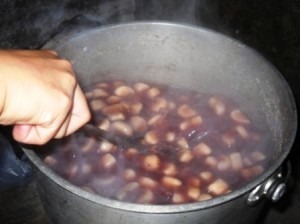 Useless Knowledge: The song "Back in the U.S.S.R." (1968) was originally written for model Twiggy to record, but the Beatles decided to keep it and use the song themselves.
2 Feb – I woke up this drizzly morning at 0731.  I made banana pancakes this morning and I got 6 medium sized pancakes and 1 small pancake (extra bananas for Precious) from the small box.  They were all a little thin from using the extra water, but they were still good.  I did remember to take my medication after eating my 2 pancakes.
Tagalog Word of the Day: saging (sah-ging) means banana.
Maybe I should not have said anything about my UPS working 'so far, so good' in the last post.  About 40 minutes after publishing that last post, it started acting up again.  Maybe I shouldn't say anything about it, but it's working fine now.  I think the last problems it was having was due to the constant spikes we've been having in our electricity.  I hope it continues to do well because I really do not want to run my computer without the surge protection.
I received a Facebook message from Gary.  He will be back in the Philippines on April 14th.  He said that he doesn't know exactly when he will be able to make his way to Samar, but he will give me advanced noticed this time.  Last time he just showed up out of the blue.  It was okay, but Filipinos like to feed people when they show up and we didn't have time to get anything ready.  Lita said that when he does show up, she will cook us all some spaghetti with her wonderful spaghetti sauce, not that sweet Filipino style stuff.  If any of y'all out there are heading this way about that time, let me know and you can have some of the spaghetti too.  Lita's sauce is really good.  It's better in the US because the meat quality is better, but her sauce is still tons better than anything I've seen served around here.
I went downtown today, but of course I forgot the camera again.  I got our money from the United Coconut Planters Bank (UCPB) and paid Globe (phone/internet) and Samalco (electric).  I also went to JustMar to pick up a few things.  I didn't get too many things because we are suppose to be going to Tacloban on Sunday and they have a better selection at Robinson Supermarket then they do here.  I also stopped by Monterrey to pick up some bacon, which they did have today.  It's not the best bacon in the world, but it's edible, so I bought 4 packages of it.
Oh, and while we downtown, we went in Ado's multi-cab, I bought another battery for the Nissan.  The one in it finally gave out.  It's been recharged 3 or 4 times, so we stretched it's life as long as we could.  I didn't buy the maintenance free battery..it was P3300.  The 'low maintenance' battery was P2400 and the last one was one that you have to maintain the water level in yourself.  Well Ado checks the truck everyday AND before any trips, so I just opted for the last one, which was P2000.  They opened it and filled it with water for us at the auto parts store.  Ado said that he would like to have the alternator checked before he puts the new battery in though.  He knows a good mechanic that is more advanced in that area of the vehicle than he is, so he is going to contact him as ask advice and maybe some assistance.
Well crap…I just told y'all that we 'should' be going to Tacloban this Sunday and now, later in the day, Lita tells me that we can't go because she had to spend the money we were going to use on bills.  She tried to make a deal with Titing to only pay 1/2 the P10,000 for the Nissan this month, but since it's been raining so much lately, he hasn't been making enough money delivering Pepsico products to cover the other P5000.  So we ended up having to pay the whole amount.  If it doesn't rain much this coming week, maybe we can borrow the money back from Titing to go on the 13th or even the 20th.  Any longer than that, then we might as well wait until next month when we will have another check come in.  I sure will be glad when May gets here.  We won't have to worry about that P10,000 payment any more because we will be receiving an additional P10,000 per month from our large Pepsi truck, that will finally be paid off.
I actually thought that we would be getting this P10,000 last May, but something got lost in translation between Titing, Lita, then me.  If I had known that it wouldn't be until this May, before we got here, then we probably would have waited 1 more year before we sold everything and moved.  But we're here now and it's too late to turn back, so we'll make due until May and things will start looking up.  Probably in August we'll have all our appliances paid off, so the only real payment we'll have, beside utilities, is the Nissan.  That is on a 3 year contract, but as I stated, we'll have my whole retirement check, because the once payment on the large Pepsi truck will revert to the payment on the Nissan.  So I guess what I'm saying is that we should go from struggling to doing good by the end of August, this year.
Well I thought I'd be able to get 2 days worth of things in here for this post, but I blah, blah blahed  enough to make only the 2nd of February good enough.  I will try to do another post tomorrow and put in the 3rd and maybe even the 4th.  I'll put some pictures in now and post this early so it'll be something fresh for y'all when you wake up in the morning looking for something interesting to read.
Useless Knowledge: The power lawn mower was invented by Ransom E. Olds (of Oldsmobile fame) in 1915.
Salamat, Paalam
Today in Philippine History
1901 – Philippine President Emilio Aguinaldo asks Isabela province's military commander for reinforcements as the imperialist American forces advance towards Palanan in big numbers nearly two years into the protracted and bloody Filipino-American War (1899-1914); Aguinaldo and the fledgling southeast Asian republic had been on the run following the intensified invading operations of the imperialist United States in late 1899; on this same day, the Aguinaldo party returns to their camp in Oscaris, Isabela, summoning the Filipino troops in Nueva Vizcaya to join his soldiers in Oscaris.
1863 – Future Filipino American- colonial-era jurist and educator  Ignacio Villamor y Borbon is born during the Spanish colonial period; Villamor would  become a representative of Ilocos Sur to the Malolos Congress following the Declaration of Independence against Spain and would co-found the first Philippine state university, the Universidad Literaria de Filpinas that existed during the fledgling but would serve the imperialist United States during the American colonial period as jurist and educator; the first Filipino president of the University of the Philippines, Villamor would be infamous for handing down on August 6, 1907 the  guilty verdict and capital punishment to freedom-fighting patriot Macario Sakay,  the Katagulagan Republic President whom the imperialist Americans will con into  surrendering and prosecute as "bandit" in the effort to villify and quell continued Filipino resistance against the Bald Eagle invasion.
Ruy Lopez de Villalobos

1543 – Explorer-for-the-Spanish-crown Ruy Lopez de Villalobos reaches Baganga Bay, Davao Oriental in the island of Mindanao, Philippine archipelago, and names it Cesarea Caroli in honor of King Charles I; Villalobos' expedition was the fourth Spanish colonization attempt of the Pacific region after the expedition of Ferdinand Magellan who was slain by the chieftain of the Mactan, Lapu-Lapu; Villalobos left Mexico in November the previous year, commanding a fleet of six ships and approximately 400 men with royal instructions to avoid the Spice Islands (islands in present-day Indonesia) en route to the Philippines, which was then called Islas del Poniente (the Sunset Islands); Villalobos, who would be met by hostility by the natives, would sail further south, and remain between Mindanao and Celebes for a year before famine and illness force them to seek refuge in Moluccas and surrender to the Portuguese on April 24, 1544.
Filipino patriot, Col. Luciano S. San Miguel confers with imperialists
1899 – Imperialist United States Gen. Arthur MacArthur ridiculously protests the  presence of Filipino soldiers under Col. Luciano S. San Miguel within the  American line in Luzon, Philippines islands; the protest comes amidst the growing tension between the Filipino and Bald Eagle forces two days after the last meeting between the two sides failed to materialize and two days before the bloody and protracted Philippine-American War erupts (1899-1914) upon vile orchestration by U.S. William McKinley; earlier, Filipino revolutionary leader Gen. Emilio Aguinaldo stupidly trusted the Americans as ally against colonial Spain and allowed the Americans to freely enter the archipelago, allowing the enemy forces to position themselves for the impending invasion.