[smartads] This is Robbie Apilado.  She is married to Ramil Apilado.  They have 4 children: 3 boys and 1 girl (the youngest).  She is pictured here with her oldest son.   His name is Raven Blair.  He is my favorite of all their children because he seldom cries and he is small for his age.  The other children in chronological order are:  Joshua, Reverof and Faye.
Useless Knowledge: The most advanced area of medicine in the ancient world was ophthalmic surgery. Celsus (A.D. 14-37) left detailed descriptions of delicate cataract surgery using sophisticated needle syringes.  (I'll bet there are lots of other things that we can learn from the ancients too)
3 Feb – I was alive and kicking at 0844 this morning.  After eating 1 1/2 peanut butter and banana sandwiches, I remembered to take those ever so important medications.  Gout, gout go away…never come back, not any other day.
Tagalog Word of the Day: daga (dah-gah) means sea (ocean).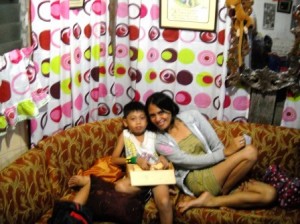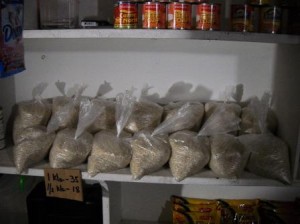 I got the room rates for the Ciriaco Hotel and Resort, but I don't have a scanner, so I'll have to hand type the information on the little flyer that I have.  It's not too much information and it'll take up some space so it's not a problem for me.  I hope that BillAmz Bonadio is reading this post.  He was asking about the rates on the Ciriaco Facebook page  (http://www.facebook.com/pages/Ciriaco-Hotel-Resort/128264217184862?v=wall) (copy/paste if necessary, I don't know why sometimes it doesn't come up correctly) and I said that I would put all the information here this evening for everyone.  Here goes.
City View (deluxe)
2 beds (37 sqm)  – Published Rate: P4,800 – Special Rate: P2,398
1 bed (24 sqm)    – Published Rate: (not listed) – Special Rate: P1,800
Sea View (superior)
2 beds (37 sqm) – Published Rate: P6,500 – Special Rate: P2,798
1 bed   (24 sqm)  – Published Rate: (not listed) – Special Rate: P2,200
Notes:
1. Rates quoted above are net of 10% service charge, 12% VAT and the applicable local government tax; and are inclusive of daily complimentary breakfast.
2.  Maximum of two (2) children below 12 years of age sharing the same room with paying adults are free of charge.
3.  Rates in all room categories apply to single or double occupancy.  Extra person/s however, staying in the same room after 10pm shall be charged:
Extra Person                                                   Extra Bed
P500 net                                                          P700 net     (breakfast not included)
4. Cafe Elsa opens daily from 7am to 11pm serving Western and Chinese specialty cuisines at affordable prices.  Set meal menu as low as P150 net.
5.  For room/s and social function/s reservation such as weddings, meetings, birthdays, anniversaries, conferences and the likes, please call (632) 710-4202 or (055) 209-6521.  (I don't know about the (632) #, but the (055) # should be the one that rings at the front desk here in Calbayog..maybe they both do, I just don't know).
Address: Km 735, Maharlika Highway, Bagacay, Calbayog city, Western Samar, Philippines
Website: www.ciriacohotel.com  (again…please copy/paste if necessary)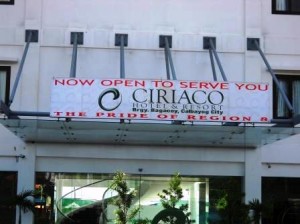 Click on any picture for larger picture and more details.
Alright that' the whole thing that I received.  That's almost word for word (they had a couple of misspellings).  I'd like to elaborate on it just a bit though.  First of all I do not know why they do not have a regular rate on the 1 bed rooms.  From my understanding though, after March 31st, ALL rates will be double the "special rate".     They do have 24 hour security at the hotel and my wife usually keeps them awake by giving them free coffee.  Also the "city view" that they have listed is not much of a view.  All you can really see is my house and the houses of my neighbors.  The "city" is about 1 mile down the road.  A pretty short and cheap trip via a tricycle or multi-cab.  We have a multi-cab driver here that can be contact for any 'special' trips you might have.  I'm sure I could talk him into allowing you to rent him and his multi-cab all day or all morning or all afternoon…whatever you need, for one set price and he could also act as your guide around the city.  Just walk across the street and ask for John, Lita, Cathy or Ado at the little BBQ stand, I (John) or the rest of them will be able to assist you with that.  I couldn't tell you a price right now, but if you want, I'll ask to give you a really close ballpark figure.  It's nice to have your own special ride with you and the things you buy without having to worry about someone else in there with you.
I have a copy of the menu that they have at the hotel and I will re-publish that now for any newbies to see.  Here is page 1…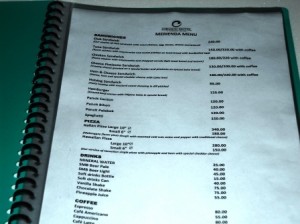 And here is Page 2…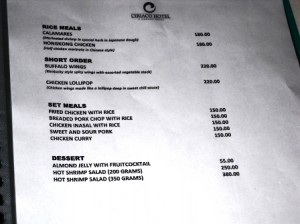 According to one of our readers, Blair, the food at Cafe Elsa is good.  He said he and his girlfriend ate there twice a day.  Of course the breakfast is included with the room, so I'd have that meal also.  You can read the comment section of this blog to find out what else he had to say about it.  If you have any additional questions for him, or for me, just leave a comment and I'm sure he will answer, he was a nice person.  I KNOW if you ask me something, I'll answer.
I was talking to my sister Joyce in Texas and she told me about the rolling brownouts that they have been having there.  Evidently some major power plant went down and they are having to re-distribute power using another plant and it does not have enough power to handle the workload all at once.  Joyce says that they are having about 15-20 minute outages every hour.  Sucks to be them, but we've had plenty of outages around here, so I just figure it's someone else's turn for awhile.  I read something about those outages because it involves the Super Bowl that is being played in Dallas this Sunday.  They say the rolling outages will not affect the game.  My Dad also informs me that it is snowing there.  I just told him…ha..to bad for you then.  I don't like cold weather, at all.  As long as my parents have a nice warm place to stay, and they do, I won't worry about it though.  They don't really have to go anywhere, unless they start getting bingo fever and have to go to a few games.
We have a new reader again (Yea!).  His name is Tony and I think he is from Washington…am I right Tony?  Everyone knows by now that I love getting new readers, especially the ones that comment also.
I went downtown with Lita today.  Believe it or not, I remembered the camera this time.  I got about 7 or 8 more pictures.  As usual, I was the center of attention downtown.  Especially when I go into the open market I get plenty of stares, especially from children.  Today one little girl was selling roasted peanuts for P5 per bag.  I tried to ignore her, but she wouldn't let me.  I don't like to see the sad faces on the children. I ended up buying  4 bags from her and I gave them to Cathy, Flor, Jazel and J.  I usually give in if they are persistent.  Same goes for the old people asking for money, except with the old people, I don't ignore them.  If they ask, I'll give it to them if I have it, even if it's my last peso or last P10…whatever I have in change.  If I don't have change, I'll just give them a P20 bill.  They are normally very happy to get even P1, but I try to give the old people at least P5 each time.  The children I don't mind so much if it's only P1, but if I'm in a good mood, I'll give them P5.  I gave one little girl P10 one day, and she rewarded me with a huge smile.  That's all I ask to see, the smile.  This country is full of smiles.  That's why I call it The Land of Smiles.
Back to the market.  While there I bought a kilo of onions.  I guess I'm learning to be Filipino because they quoted me a price of P150 per kilo and when I acted like I was going to leave, they reduced it to P140 per kilo.  I ended up paying P150 anyway because it came out to a little over a kilo.  Over all (in dollars) it came out to about .68 per onion, so that's not so cheap, but at least they were decent sized onions.  Not the Texas sized onions, but large enough where I didn't feel cheated.  I eat onions almost everyday, at least 4 or 5 times per week.
I guess Flor is not fond of being corrected for not working.  She has decided she will be going back home this coming Monday.  She told me that she was not going home because Lita go on her for talking on the phone instead of working.  She said that she was going home for a little while, then going to Manila to get a job because she can make more money there.  Now that is true, if she has a job in Manila, she can make more money, but of course being in a big city means that you will spend more money also and Manila is such a dirty city.  It needs some serious cleaning up.  Also if she ever wants to go home to visit, it will cost her more and it will be a much longer ride too (about 15 hours more on a bus).  At least if she was here, we will go to Tambis 2 or 3 times per year and she could go with us each time.  But she's old enough to do what she wants.  I tried to talk to her, but I don't like to push people.  I'd rather they learn from their own mistakes, so they will have a better chance of remembering it later on in life.  Lita's going to need a replacement for her as soon as possible.
Useless Knowledge: From the early Roman Empire until eighteenth-century Europe and America, urine was a main ingredient in toothpaste, because the ammonia in it is an excellent cleaner. Ammonia is still a main ingredient in many types of toothpaste.   (That's NOT going to make me stop brushing my teeth)
That's all I have for today.  I'll do my little history thing and add the pictures, then post.  Hope y'all enjoyed the post today, at least enough to make you curious enough to come back and check it out again.
Salamat, Paalam
Today in Philippine History:
Anti-Imperialist Southern Senators Watson & Carmack
1902 – Sen. Edward W. Carmack of Tennessee attacks United States imperialist policies in the Philippines three years into the bloody and protracted Philippine American War (1899-1914); Carmack has held that if U.S. rule in the Philippine was not 10,000 better than carpet-bag white rule of the Negroes in the Southern states, then "may the Lord God have mercy upon the Philippine Islands"; a few senators from America's South have compared the American invasion of the Philippines with America's own struggle for independence against colonial Britain three decades earlier; another Southern senator, populist Tom Watson from Georgia, also castigated the U.S. imperialist policies, saying that '"Republics cannot go into the conquering business and remain republics. Militarism leads to military domination, military despotism."
Photo credits:
http://watson-brown.org/the-foundation/heritage/thomas-e-watson
http://www.memphishistory.org/Politics/Newspapers/Editors/EdwardWCarmack/tabid/201/Default.aspx