[smartads] A popular Tagalog  singing, Philippines based band named AEGIS stayed at the Ciriaco Hotel.  We had a few visitors hanging around, so it helped our little BBQ and store some.  Cathy was all anxious to visit them, but she was a bit shy.  I went to their website:  http://aegispeoplesupport.org/ – and I posted a message on there, in case they were reading it, and said that I live right across the street from the Ciriaco Hotel (where you are right now) and my niece Cathy really wants to meet you.  I titled the comment, "Please Step Outside".  I guess they were not checking their website, I knew it was a long shot, but after I told Cathy what I did, she got up enough nerve to go other there and have her picture taken with them.  They'll probably check it later and realize that they took care of it and they didn't even know about the message.  The lady in the brown and the redhead behind Cathy are the 2 lead singers.  They are sisters named Mercy and Juliet (redhead) Sunot.  I don't know who the other lady is, but I think she's the cutest one of the bunch.  They had a concert this evening downtown and were getting ready to leave when Cathy finally decided that she had to get over there.  I know she is glad that she finally did, because she was so excited when she brought my camera back.  She told me to make sure I don't delete the pictures, although a couple of the pictures didn't turn out very well.  She even came back later just to borrow the camera to look at the pictures.  I guess it's just a temporary case of starry eyes.    I listened to a couple of their songs and although I can not understand what they are saying, the music and beat were good.  Of course they are nice to look at also, so that is a big plus in my book.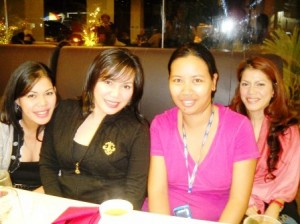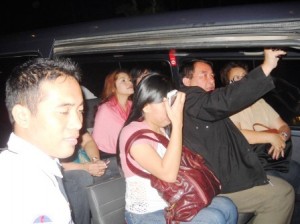 Useless Knowledge: Actor Dean Cain, the leading man in TV's Lois and Clark: The New Adventures of Superman, was signed to play professional football with the Buffalo Bills after his graduation from Princeton. However, he injured his knee three days before his first preseason NFL game. The unfortunate injury forced Cain to pursue a new career.  (Well I think he is a pretty good actor, so maybe all this turned out for the better)
4 Feb – Today I inched my way out of my sleeping chamber at 0801.  Lita wanted banana pancakes, so I made some.  I got 6 1/2 out of the box today.  I ate my normal 2 pancakes and took my medication for the day.
I've had a couple of complaints recently about ads popping up in between…full page ads.  I think I've go those stopped now, but let me know, just in case.  I've also been told by some that they are having difficulty reading the comments because the page is not wide enough.  My sister, Joyce, had a similar problem and she corrected it by increasing the resolution of her screen.  If y'all are having this problem, try that and if doesn't work, let me know and I'll see what I can do.  If you have in the past been able to view the comments and all of a sudden it doesn't, well maybe it was a change that I made to the blog and I can undo it.  But, as the saying goes, I can't fix it if I don't know it's broken.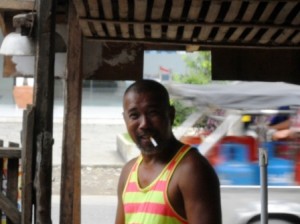 I went downtown again today.  That's 3 days in a row now.  I've never been downtown here that many times in a row before.  I think I will restrain from going tomorrow, although there are still a couple of issues I need to resolve pretty soon, which will become apparent as you read the next paragraph.
Downtown today I had almost all bad luck.  My goals for the day were as follows:
1.  Get Marju Krisel Hotel info 2.  Buy shoes 3.  Get 2 rechargeable and 2 regular AA batteries. 4.  Buy syrup (for pancakes, we are out now) 5.  Buy mop 6.  Get money from bank 7.  Get haircut  
Actually the first stop was the bank because I didn't have any money.  When I get there, there is, of course, a long line.  I was like #9 in line, plus the person already at the ATM machine.  Why was I at the ATM machine instead of going in the bank?  Well to use my Check Card here, I have to go to Metro Bank because it's the only place it works consistently.   I still do not understand why it takes some people 10-15 minutes to get money out of a machine, when it takes me maybe 1 minute, at the most.  There were several of the slow people today.  This was bad luck #1 (long line and slow people).
The next stop we went to the Marju Krisel Hotel & Resort to get the room rate information that a couple of y'all wanted, especially Blair and I think Wayne was curious about it also.  I have the information and it is my next area to post after this subject is exhausted.  The hotel is a little further out of town than I originally thought, but it is still between here and the airport.  From our house to the hotel, in traffic, was about 10-15 minutes.  I don't have a watch, don't like them, so I can't give you can exact time.  I'm considering this as some of the good luck (mission accomplished).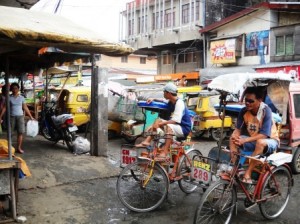 Next stop was to buy the shoes.  I decided I wanted to go to the store I first went to a couple of days before, for a couple of reason.  First they had a good selection of shoes and they had a size that might have fit me well, but I didn't have socks to try them on.  I should have just bought a pair of socks there at the time and tried then.  Second reason was that they had the prettiest sales associates.  So I get there and I'm looking at the shoes on display and ask one of the pretty associates if she has any of these shoes in size 46 (that's about size 10-101/2 US)(they use European size here for some reason).   She went to check but the largest size they had was 45.  I tried them on (I brought socks that I had stuff in my pockets), but they were just a little bit too tight.  I figure that a 46 would be okay.  They didn't have that shoe in a 46, so I asked for another, still no.  So this time I asked for ANY of the shoes in a size 46.  They had none.  Last time I was here, only 2 days before, they had them.  So I decided to go to a different shoe store.  I got the same results at every store, no more size 46.  The only place that has shoes that actually fit is the thrift shop, with their outrageous prices, and I'll still not desperate enough to pay P900 ($20) for a used pair of Nike's.  And that's if they were still the 50% of that they said they were, because they were marked P1800 ($40).  I don't care if the original price was probably $150, I just don't buy used shoes that expensive.  Heck I seldom buy used shoes anyway.  So this was a bad luck one.
Next stop…syrup.  I already knew that they ran out at JustMar, because I checked that a couple of days ago.  Lita told me that they probably have some at Mercury Drug because they have pancake mix there.  We went there, I look, but no syrup.  In fact I didn't even see the pancake mix.  But want do I know, I looked all over that store one day for shaving cream and couldn't find any.  Lita went there the next day and found it.  Maybe it's because when I go there, I have to squeeze in between the aisles and around the crowd of people and all I really want to do is pay and get out of there.  Maybe I'm just not looking hard enough.  This is another bad luck one.
Batteries are next on the list.  I wanted 2 more rechargeable batteries so I would have 4 of them in my charger at all times, plus 2 in the camera.  I also needed to get 2 more no rechargeable ones.  One for the clock in LolyKat and the other one for a little nose hair clipper.  I get tired of pulling the hair out by hand.  I guess y'all really didn't need to read all that.  Erase…erase…erase.  Cathy and Khan was with us by then.  We had dropped them off at another location downtown and they caught up with us at the shoe store.  Cathy found a place that had batteries and they had 4 rechargeable ones left.  I got 2 of them.  They have no problem opening a package and selling partials here.  Even cigarettes are sold per stick, if that's what you want.  Anyway…I got my batteries and this is a good luck one.
The mop we figured we'd get at the oki-oki store (the Korean store), since they have many different things there.  They did have a few different types of mops, but since I'm not a real expert on mops, I referred it to Cathy (she went in with me) and she said that the one that she likes best was not there, so we went to a different store to find one.  I don't even know the name of the store we went into to buy it, but they had 2 of the ones that Cathy likes.  One of them was pink, so I bought the other one.  I don't even know what color it is, but it wasn't pink.  I need to remember that store, because it had some nice young ladies working there.  This was only yesterday and I'll bet I couldn't find that store today.  Maybe after a couple more trips there, I'll have it pinpointed.  Good luck one.
Last stop was to get a haircut.  I went by my favorite barber shop, Luciendo's, but they only had 2 barbers working and at least 6 people waiting.  I said no problem, I'll wait.  After only a few minutes though I got tired of the waiting and was going to go to one of the barbers across the street.  The are both P5 cheaper than this one anyway (P25 vs. P30).  I went across the street and it was just as crowded, but at least there were 3 barbers instead of 2.  There was another barber shop there and they were not as crowded, but no one had cleaned the floor and it was really covered in lots and lots of hair, so I decided I didn't want to go in there and stand in all that hair.  I just came home.  I didn't want Ado to wait on me all that time anyway.  Cathy and Khan had already left for home in a tricycle, so I didn't have to worry about them.  Another bad luck adventure.
So that's 3 good lucks and 4 bad lucks.  Not a terrible day, if sure could have been worse, but I was hoping for all good lucks.  Oh well, maybe next time.
Tagalog Word of the Day:  lawa (lah-wah)  means lake.  (I looked this up in my unreliable dictionary and it gave it a translation of 'pool', but I asked, just to be sure and got the real meaning)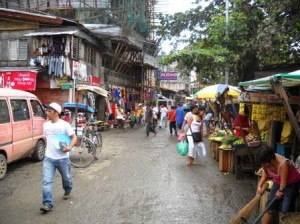 Last item for the day is the Marju Krisel Hote information.  Again, as with the Ciriaco Hotel information yesterday, I will just about copy it word for word from the little flyer they handed me.  Just a few basic changes to make it fit better on the post.
Address: Maharlika Highway, Brgy San Policarpo, Calbayog City Phone #: (055) 209-1591
Room Rates  (all based on 2 person occupancy)

Superior Deluxe – Standard room with 1 queen bed or twin single beds
(with rel.)
???
(no idea what 'rel' is) –
P1050
Deluxe -Standard room with 1 queen bed or twin single beds
(same as superior deluxe, with no rel)
– P900 Ordinary – Standard room with 1 queen bed, no a/c – P700
(I'm assuming the no a/c rooms do have fans though)
Economy – Twin single bed, common CR, no a/c – P350
(so you have to share a bathroom with someone else)
Children 3 years old and below, free of charge Children 4 years old up to 12 years old, P100 each
Amenities (free to use)
Adult & Kiddie Pool
(very, very nice pool, but even outsiders can use for a fee and it can sometimes get crowded)
Physical Fitness Gym
Extra Charge
Extra person P200 for a/c rooms Extra person P100 for ordinary rooms
(no a/c)
That's all of that.  If you need to know any other information you can ask me and I'll find out for you.  Either about this or anything else.  Don't be shy to ask, it gives me something to do.  Oh, one more thing.  If you look at some of the listing for this hotel you will see some that say it is owned by the Mayor of Calbayog.  That is not exactly true..it is owned by the vice-Mayor.  I didn't see the rooms, but the front desk area was clean and, as I have already stated the pool is fantastic.  Here is a video of the pool there.  Turn down the sound because it is rather loud, remember I told you that the locals can come to the pool for a fee.  It's not a very long video, but the person recording it goes over the length of the pool.    http://www.youtube.com/watch?v=ez6HE48evwg
Okay, this post came out long, so I'm going to close up for now.  Tomorrow I will give you the results of my weigh in this morning.  It was interesting results, so be sure to check it out.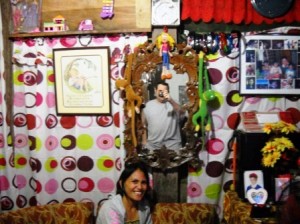 Useless Knowledge: Elvis Presley's first Cadillac was blue before he bought it in 1955 and painted it pink.   (I had no idea.  I know he bought a few people white Cadillac's)
Salamat, Palaam
Today in Philippine History
First Fil-Am War Berdugo: Pvt. William Grayson (in left photo, standing on the spot where he first fired the trigger shot
1899 – The Philippine-American War (1899-1914) is begun by a United States sentry who shoots and kills a Filipino soldier making an attempt to cross the bridge in Sta. Mesa, Manila under the vile pre-arranged plan of US President William McKinley to precipitate a war in the bid to trick the Senate to approve the Treaty of Paris and thus secure funding for military operations to annex the Philippines as part of the imperialist policy for Bald Eagle's overseas expansion; the sentry tasked with the dirty job is Pvt. William Grayson, killing Filipino Corporal Anastacio Felix of the 4th Company, Morong Battalion under Captain Serapio Narvaez, with Col. Luciano S. San Miguel as battalion commander; the Treaty would be approved in the US Senate by a margin of one vote from the required two-thirds majority and the war of invasion would be officially declared over on July 4, 1902 by US President Theodore Roosevelt but the last major battle will occur in 1913, with hostilities not ceasing until the following year; the Filipino-American War will sometimes be called as America's 'first Vietnam' in reference to what would be a historical pattern of genocide against Asians/non-Westerners, what with the enemy invading Americans inflicting much dislocation, devastation, suffering, torture, massacres and pillaging on the Filipino freedom  fighters and including the civilian native population.
Photo credit: http://philippineamericanwar.webs.com/filamwarbreaksout.htm