[smartads] The Philippines has many movie and TV stars, but there is only 1 true megastar.  Sharon Cuneta.
http://telebisyon.net/Sharon-Cuneta/artista/bio/
This is an interesting person.  She really is a mega-star.  She is a very friendly and an over all nice person.  Take a short read and you'll see for yourself.
Useless Knowledge: From the 1850s to the 1880s, the most common cause of death among cowboys in the American West was being dragged by a horse while caught in the stirrups. (You'd think it was from being shot or heat disease or even another kind of disease that we don't normally worry about anymore.  None of them sound like a good way to die).
Tagalog Word of the Day: telebisyon  (tel-e-bis-yon)  means television.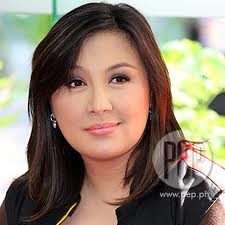 Another Tagalog Word for Today: kamote (kah-moe-tea)  means sweet potato.
This is fried sweet potato.  We sell it at the store for P5.  3 slices on a skewer.  I don't eat sweet potatoes so I have no idea what it tastes like.
12 Feb – I was in one of those hurries to get up today because it was a weigh in day and I was anxious to see how my progress was progressing or maybe even if I was regressing.  So after a quick trip to the CR, I went to the computer room and retrieved the scale from the bench.  Last Saturday I weight 120.3 kilos.  This week I weigh in at 120.3 kilos, so I neither progressed or regressed.  I sure do have a lot of times that I am exactly the same weight.  I'm talking to the 1/100th of a kilo.  Well the scale only measures in increments of .05, so my weight is between 120.3 and 120.35  Even if it is 120.34, it would still register at 120.3.  So I could have been 120.34 last week and 120.30 this week..or vice versa.    That only comes out to about a difference of 1/10th of a pound so it's nothing to get worried about.  Confusing isn't it.
I confirmed with Victor late last evening that we could use the trikes at his house for renting, in case we had a request for more than one.  I figured it'd be okay, but I was just making sure because Poppa has been using one of them for his transportation, and this way there are no surprises later.  Speaking of Poppa, I need to get over to Judith's house to visit him.  I haven't been over there in a little while.
It's raining pretty good out there again today.  Maybe someone at the electric company should be the weather forecaster.  They always seem to know when it's not going to rain and that is the day that just happens to have a brown out.  I mean shortly after the lights came back on yesterday, it started raining.  The day before that it was a cloudy cool day.  Today was an overcast rainy day.  They just browned out during the hot portion of the week.
Take a look at this.
No that is not a repeat picture.  That same window at the Ciriaco is broken, again.  I don't know what's going on with that window, I think someone hates it.   Whoa…whoa…whoa…, back up a bit.  I got a little curious and wanted to compare the broken window from last time to this one.  Check this out.
Compare those two breaks.  Don't they look strangely similar?  Is it possible that it is not a break at all and just an optical illusion?  Some kind of shadow being cast on the window?  It sure looks real to me.  What are the odds of those breaks looking so similar though.
Anyway, when I went outside and saw the window, Chatty was outside at the picnic table.  I asked her about it and she thought I was accusing her again.  Isn't it strange that the only 2 times I saw that window 'broken', Chatty was around?
I did extra work around the house today, particularly in the kitchen.  I made my own stew (cut the vegetables and cooked), washed dishes, dried dishes, put some dishes away (brought others out to picnic table) and I even swept the bedroom floor.  That's more work then I usually do on any day around the house.  Some of the days I went downtown have been more tasking, but I'd prefer doing the downtown things versus the ones involving housework.
Let's see now…Blair will be here in March, Gary will be here in April and Wayne will be here in September or October.  Wow, did I miss anyone?  Anyone else plan on heading this way?  Let me know and I'll be sure to have Lita cook us up some spaghetti or something.  More likely than not, you'll love her sauce.  We already have a tentative spaghetti date with Gary and Jen, sometime after he arrives in April.  No hurry.  I know he has things to take care of for his family and the spaghetti can wait.  It will be good to see him again.  I hope he recognizes me after I lost all that weight.
Titing, Ramil, Emery and J are all outside getting drunk on the local  Tanduay rhum.  All of them are good drunks though, none of them get violent.  If they get a little out of hand, their asawa's are here to get a handle on it.  For Emery and J, Lita would have to be the one, but I don't anticipate any problems, there never are any.  They are trying to make all the bottles on the left, look like the bottles on the right.
They, mostly Ramil, talked me into having a few drinks with them.  I only had about 3 glasses of beer though, not enough to affect me.  I'm still not in the drinking mood yet.
The Filipinos have a custom about drinking that is interesting.  It's called Tagay , literally translated means "Cheers".  They have one glass that they fill will liquor and they pass it around among everyone.  That is called Pakikisama (Pah-ke-ke-sah-mah) which basically means camaraderie.
There is a whole pretty interesting story about it at this site and it's not very long if you want to give it a read.  I liked the story, it made me smile.   http://www.angelfire.com/on4/zambalesforum/Tagay.htm
A little past 0100 we decided that it was time to quit and head for bed.  J was already asleep and Titing left a little bit before that.  Titing told us, Lita and I, that he and Neneng would be taking us to the Ciriaco Hotel's Cafe Elsa for dinner on Monday, Valentine's Day.  I suggested that he is only saying that because he is drunk, but he said that Neneng is the one that suggested it, and she doesn't drink.  So it seems that I will finally be making my first trip to the Ciriaco to eat.  Things usually happen, so I'm not counting on it until it does happen.   Wonder what I should get?  Buffalo wings or that sandwich that I forget the name of right now, but it had a lot of different things on it.  I think the buffalo wings at least.  It won't be on a Friday or Saturday so I can't get the Mongolian BBQ, but whatever I get, I'll give y'all a critique on it.
Useless Knowledge: In 1972, Bernice Gera became baseball's first female professional umpire. Unfortunately, after battling for 5 exhausting years against discriminatory league hotshots and hostile, threatening baseball players, Gera quit, having umped only one game.  (This is not exactly useless.  I don't know if there are any female umpires in baseball today, but there probably should be.  There are women who like baseball just as much as men.  I know there are a lot that like it better than me, because I don't watch it and don't care anything about it.  Unless a Texas team is in the World Series, I don't even pay attention to it at all).
Salamat, Paalam
Today in Philippines History
(Sorry I always seem to be a day behind here, but they don't have the current date listed when I am finishing the post)
1860 – Vicente R. Lukban, future Filipino revolutionary leader and patriot, is born in Labo, Camarines Norte during the Spanish colonial period; Lukban will join the underground society aiming to topple Spanish rule, Kagalanggalangang Katipunan nang  manga Anak nang  Bayan (KKK) , and will be arrested and tortured by the Spaniards, in the process squealing his other associates, a number of whom will be executed as part  of the so-called "Bicol Martyrs"; he will become the military governor of Samar during the Revolution against Spain and the Philippine-American War (1899-1914), and be responsible for organizing the natives and effectively using guerilla warfare, turning Samar into "one of the few centers of the Republic's success" against the invading imperialist American forces; he will report about an important Fil-Am War occurrence under his Samar-Leyte jurisdiction, the Balangiga Incident wherein the townspeople of Balanginga, Samar will kill many of the enemy imperialist American soldiers headquartered inside a church; for a time, he will continue to fight the imperialist invaders even after President Emilio Aguinaldo swears loyalty to the United States flag, with Lukban even issuing a proclamation exhorting Filipinos to continue fighting because "we are worthy of independence and of universal respect, because we know our rights and how to die in their defense."
1899 – The seaport and city of Iloilo are captured by the imperialist United States forces one week into the bloody and protracted Philippine-American War (1899-1914); enemy American Gen. Marcus Miller, with reinforcements from the warships of the squadron of Admiral George Dewey, has led the attack on Iloilo, with Gen. Aniano Diokno and "henerala" Teresa Magbanua leading the battle against the enemy forces; earlier on December 25, 1898, three days after the Filipinos drove out the Spanish colonial forces, the Bald Eagle forces occupied the nearby Panay island even before the Fil-Am War began.
Photo credit: http://www.lukban.org/vicente-lukban.php