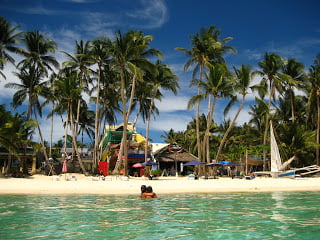 [smartads]
I received this e-mail from a friend about a bad experience he had with My Boracay Guide and I just wanted to pass it on to give others a fair warning or at least a heads up so the same thing will not happen to you.
————
Hi John.  I thought I would write this to you so you can inform your readers in your blog to avoid using this site to plan or book trips to
Boracay
.  My asawa and I were staying at the Marju Krisel Hotel and decided to go to Boracay Beach along with our daughter.  I went online and rather then using E
xpedia,
like I usually do, I decided to try My Boracay Guide to book the trip.  I did all what was necessary for them and gave them my visa info online.  They wrote back to me informing me it was reserved and gave me a confirmation #.  We thought everything was good to go.   So we packed up our things, bought our plane tickets and away we went.  WELL… when we finally arrived after a lengthy trip by tour van, plane,  trikes and another plane trip to Caticlan from Cebu, we were more then shocked to find our room was never reserved and my money on my visa was gone.  Luckily we had hired a guide in Caticlan and she was very helpful in finding us another hotel, one which we had stay at in previous years (Estacia Uno) and everything was fine.  Well almost fine…. because we were a "walk in" to the hotel, we stayed there five nights and had to have a different room every night.  The rooms were booked so we had to move to accommodate the people who had reserved the rooms (probably on Expedia).  Anyways long story short.. I will never trust or use My Boracay Guide again, and I would suggest your readers be cautious with whom they deal with online while booking trips.  STAY with Expedia.  That's my story.
                                                                                                     your friend
                                                                                                      Blair Groves
—————————-
That's his story, just as he wrote it, except for some grammatical errors I corrected.  After I received this I did get some additional information from him.  That is in the following paragraph.
The main problem with what happened was they said they couldn't reserve completely until they reached me to tell me the 8yr old (our daughter) would be at adult rates.  But we had already left and were on a plane, because, as I said, they informed me it was booked.  How were we to know they had tried to reach me?  We couldn't open our laptop on the plane, nor did we even think it was necessary to check again and again.   They had already informed us it was reserved and given me a conformation #.  That should have been the end of it.
—————————-
Okay to me this is just silly.  Why would it make any difference if they informed him that the 8 year old was at adult rates?  Just book it that way if that's how it's suppose to be.  If it's that important then it should be something that is 
on their website
for everyone to see while booking.  I looked on that main page and on their
General Information page
, and I could not find such information.  Also I believe, since it is not on their web page, that this information should have been sent before a confirmation # was sent.
Now most likely he will end up getting his deposit back from the Visa card when/if it is reversed, along with the pending amount that is still showing on the account, but why should the customer have to put up with that when he followed all the rules?
—————————
To me this whole thing turned into a mess and could have been avoided by My Boracay Guide simply having on their website who is considered an adult or at least sending  the notification before giving out a confirmation number.  I personally don't think it's a tragedy, but I didn't have to go through it.  I do think that My Boracay Guide should compensate my friend for the extra trouble that he and his family had to endure.  I've done that thing of having to move from room to room and it is not fun.  It's suppose to be a vacation where you can just relax and not worry about anything.  You can't do that when you have to be sure everything is packed each day for a move.
I have never used My Boracay Guide and only used Expedia once (no problems), so I'm not an expert on this subject.  You have read this, so you make up your own mind about what to do.  As Blair says though, be careful when booking online trips.  Try to use reputable companies.  Companies that put your needs as a top priority.
————————