[smartads] While I was taking pictures of the Ciriaco Hotel across the street, I stepped out on a 3rd floor balcony from the Ball Room/Conference Room and took this picture of our house and the Pepsi warehouse next door.  As you can see, we still have not come up with enough money to complete the 2nd floor of our house, so it is used for hanging out clothes.  That's cool, I've got clothes up there too, and they sure dry a lot faster up there, then they do down in the covered areas.  I really like this picture.  I was running short on pictures yesterday and I started to add this one in there, but I really wanted to make it the feature photo in today's blog, so I restrained from using it and put in a couple of older photos that I think I did not use before.  I'm hoping to be able to go back upstairs in the hotel soon and take a few more pictures of other areas from that view and also another one of our house, this time with Lita standing outside waving, or maybe a lot of the Filipino family outside waving.  Something anyway.  The Ballroom they have up stairs is very nice looking and looks like a good place to have a party or a meeting.  There is another conference room on the ground floor.  That one is only for meetings, but when the construction is finished, the one of the ground floor will probably have a better view than the one on the top floor.  It's a very nice hotel, and if you can afford it, I'd recommend giving it a try.  See the Calbayog Hotel page at the top of my front page for details about this hotel and some others in the area.  All current as of 6 Feb 2011.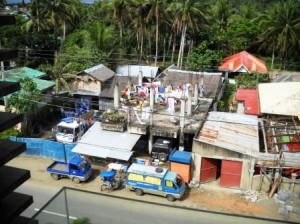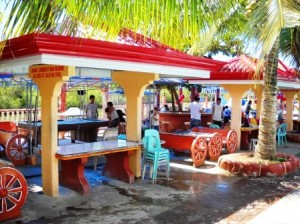 I'm might be in a unique situation for this post.  I have so much information for the past 2 days, especially the 7th, that I might have to do 1-1/2 days tonight and then 1-1/2 tomorrow.  I usually just finish off a day, but if I do only 6 Feb it might not be enough, but if I try to put 7 Feb in there, it'll be way too much.  I'll guess I'll see how much blah, blah, blahing I do today.  Maybe I will be able to continue to do these posts daily for a little while, as I have been the last few days.  I was doing them only about 3, maybe 4 times per week, but if I try that now, I'd get too far behind.  I like having too much information better than not having enough though.  Well let's get started and see what happens at the end.
Useless Knowledge: The ancient Egyptians worshiped a sky goddess called Nut.
6 Feb – I've only got a few items to talk about today, 4 to be precise, but I have a lot to say about 2 of those items, so it will make for a nice days worth of information.  Let's get the 2 that I won't be talking about in length out of the way first.
It's good to be doing this because the first thing on the agenda is a new reader.  JC said that he discovered my blog a few days ago and now he feels that he needs to visit it at least once a day.  That's good for me.  As I told JC, when I started the blog, I was hoping that it would be intriguing enough for people to want to visit it at least once a day, more if they want to.  I try to put a variety of information on here so it would be time consuming to try to cover it all in one sitting.  I guess that could be good or bad.  If you have the time, maybe you will come back, if not…well then I guess maybe you will come back when/if you do have time, if you every do.  I don't want to make it difficult, I want y'all to like what I put in here.  Anyway, Welcome JC, glad to have you here reading and commenting.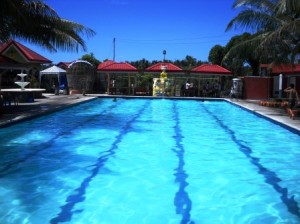 When I went downtown with Ramil today to go by all the hotels to get pictures and information for the blog, we were going to stop by and get a haircut first, because we both need one and I was going to get one yesterday, but it was too crowded and there were only 2 barbers working.  Anyway, when we went today, we got there too late.  Barber shops close at noon on Sundays here.  That's better than in Texas though.  In Texas most barber shops are closed every Sunday and Monday.  At least in my little part of Texas they are.  Fact remains, I still need to get a haircut.  Most of the rest of Sunday I spent on the blog, updating the hotel information (which I will be talking about next), doing a little more research and completing the post for yesterday.  So 6 Feb 2011 was a rare busy day for me, and it was kind of fun.  Little did I know at the time, but 7 Feb 2011 would be just as busy.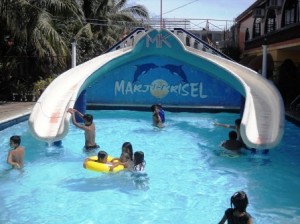 The Calbayog Hotel page.  Okay here we go.  By now you've probably seen or at least heard about the new page at the top of the front page about the hotels here in Calbayog.  As I was talking to Blair about the Ciriaco  and the Marju Krisel Hotels, I realized what little people that don't live here know about the hotels here.  Heck what little they know about the area at all.  Of all the hotels I visited, only the Ciriaco Hotel had a website, and it doesn't have very much information.  At first I was just going to go to the Ciriaco and the Marju Krisel get some information and pass it on.  Then I figured, you know what John, if you're going to do this, do it right, go all the way.  So I did.
Ramil and I went to 5 of the most popular hotels in the area plus a new hotel that just opened up a few months ago (The Joy Palace).  The name Joy Palace was a bit strange, but I decided to check it out anyway because it claims, "The Lowest Room Rate in the City".  I found that statement to be true to the best of my knowledge.  The only problem I have with this hotel was the advertising of "Short Stay" on the rooms.  In the US we call this renting the hotel by the hour, so that doesn't blend well with most people visiting here.  This hotel is new and it is not very close to the wharf, where most of the night life takes place, so I do not know how much "short stay" activity they have gotten or will get.  Personally, and I explain this in more detail on the actual site (check it out), I think this place could do well after they complete their plans for 2 small restaurants and an Internet cafe there, if they would do away with the "short stay" label.  They could even raise their rates by up to P100 per night and still be the cheapest hotel I checked out today.  There are plenty of other "short stay" hotels around, we don't need another one.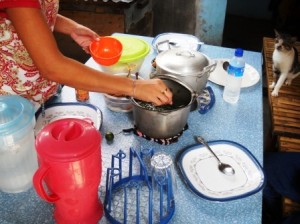 As for the other 5 hotels, well they all had good points and most had a few bad points, but nothing serious.  So I guess what I'm saying is that any of the 6 hotels I currently have listed would be a good place to stay, with that big question mark on Joy Palace.  If you can afford the price, the Ciriaco Hotel is the best around, or at least it will be when it is finally finished.  As for now, personally, if I was coming to Calbayog to visit for a week or so, I'd stay at the Marju Krisel.  Even though it is about a 10 minute drive from downtown in the traffic, it is well kept and seems to have just about everything you need.  Getting a tricycle or multi-cab from there to downtown is easy and inexpensive, as is all transportation here for most foreigners.  But I listed all the hotels, because everyone doesn't like what I like, people are different and that's what makes the world go round.
Speaking of transportation, it's time to move to my final subject for this post.  I say the final one because it turns out that I blah, blah, blahed enough to make this a respectable post, so that means I will be doing another one tomorrow, Tuesday, about today, Monday.
Again in response to a well timed comment from a reader (Wayne), we here have all decided that we will rent out our vehicles for visitors to Calbayog.  Wayne asked about it the day after we were discussing it out by the BBQ area.  Wayne mentioned it before and it just happen to pop into my head Friday evening while we were talking.  On Saturday I got pictures of a couple of the vehicles that I didn't already have, and I got the price that Mar wants (both his cars) to charge for rental.  I won't reveal any of that information right now, but I will say that renting a vehicle here all day with driver/tour guide is much cheaper than the same type of service, if you can even find that type of service, is in the US.  I have all the pictures of the vehicles, but I don't know how much for all of them yet.  I will be making another page to add to the front page with all the new innovative ideas I've been coming up and acting on recently.  I mean even us retired people need to make a living somehow, so be on the lookout for a new Page, probably sometime within the next week.  I should have all the information I need by then and will go into detail as much as possible on that page.
Tagalog Word of the Day: patatas  (pah-tah-tahs)  means potatoes.
I guess my unique post didn't turn out to be unique.  I will only do 6 Feb today and continue with 7 Feb tomorrow.  Some of the above pictures are repeated at the hotel sites under "Calbayog Hotels", see them all, there are plenty of them.  This post should be very informative for y'all, and you know that if you have any questions, complaints, comments or compliments, you can let me know at the comment section or by e-mailing me.  I just set up a special e-mail for anyone that would rather do it that way instead of making their comments public in the comment section.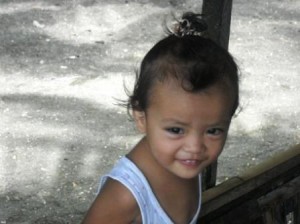 Useless Knowledge: Elwood Edwards's voice is heard more than 27 million times a day (which comes to more than 18,000 times per minute). Edwards is the man behind those special three words, "You've got mail."
Salamat, Palaam
Today in Philippine History
1899 – The Congress of the imperialist United States ratifies the Treaty of Paris two days after the administration of William McKinley successfully managed to provoke  hostilities of what would be the protracted and bloody Philippine-American War (1899-1914); the ratification came following false reports in the American press that the Filipinos were responsible for the February 4 hostilities, which were in fact triggered by U.S. Pvt. William Grayson who fired on a Filipino patrol in the 'neutral zone' of Sta. Mesa, Manila following the secrets orders given by a number of regimental commanders to bring about conflict;  as would later be discovered by historians, the U.S. military itself vilely orchestrated the initial Fil-Am War conflict, with McKinley manipulating news about it to deceive the U.S. Senate and win support for American invasion/annexation of the Philippines through the ratification (as occurred, by a margin of one vote) of the December 10 1898 Paris Treaty wherein Spain "cedes" its former colony, the Philippines, to the Bald Eagle nation.
1964 – Emilio Aguinaldo y Famy, revolutionary leader and first officially recognized President of the Philippines, dies from a heart attack at an old age of 95; Aguinaldo has been a controversial figure during the Revolution against Spain and the Philippine-American War (1899-1914), being held responsible for the deaths of two revolutionary heroes, Kagalanggalangang Katipunan nang  manga Anak nang  Bayan (KKK Supremo Andres Bonifacio y de Castro and Gen. Antonio Luna y Novicio, and for his swift allegiance of fealty to the American imperialists soon after being captured in 1901; after grabbing power from, and ordering the execution of Bonifacio in 1897, Aguinaldo dissolved the underground-society-turned-revolutionary-government Katipunan, led the battles against the Spaniards, retreated to the mountain area of San Miguel, Bulakan, and forged the Pact of Biak-na-Bato Truce before returning from exile and leading the second phase of the Revolution; by June 1898, the same month Aguinaldo made the Declaration of Philippine Independence, Filipino revolutionaries  have already seized control of most of the islands from the Spaniards; Aguinaldo, who was conned into believing the Bald Eagle nation was a ally against Spain, stupidly allowed the free entry of U.S. forces into the islands, thus allowing the vile Americans to position themselves for the Mock Battle of Manila and eventual invasion of the Southeast Asian archipelago.