[smartads] I had to switch to this official seal from another picture I had because the owner of the other picture has a hair up his butt and he didn't want me using his picture.  I gave him all the credit for it, but he wanted to be stubborn about it.  Oh well … he's loss.
http://en.wikipedia.org/wiki/Agusan_del_Sur
http://www.skyscrapercity.com/showthread.php?t=575319&page=1605
Useless Knowledge: Tennis champ Andre Agassi has a spider phobia, according to Brooke Shields in a statement she made to the press in October 1996. (so if you are mad at Andre, get some 8 legged critters)
http://en.wikipedia.org/wiki/Andre_Agassi
http://en.wikipedia.org/wiki/Brooke_Shields
http://en.wikipedia.org/wiki/Arachnophobia
3 Jul – You probably already know about me missing the hit count because I was getting drunk.  I didn't start out to get drunk, it just turned out that way.  I missed my 2 favorite shows here, NCIS and Criminal Minds.  They broadcast the new ones on Saturday nights.  Lucky for me they will replay them during the week, but I forget when.  I'll just have to be on the look out for them.
http://www.paraisophilippines.com/2008/11/11/agusan-del-sur/
It's almost 1:00pm and my head is still spinning, but I'm good.  This is the main reason I don't like to get drunk, because of the hangover thing.  It's not so bad though this time, I didn't really drink that much, but just enough to get me a little over what I should have drank.  I even had breakfast this morning, heck I'm the one that cooked it.  I cooked for Lita, J and myself.  About a pound of bacon and 6 eggs is what we had.  I ate 3 eggs, but I only ate the egg white.  I can eat the yolk, but I don't really like it.  While we are talking about eggs, I don't like boiled eggs, neither the soft boiled or the hard boiled.  They both remind me of having a sour stomach.
http://www.free-online-web-directory.com/directory2/about_asia/websites_people_in_the_phi/caraga_region_xiii/caraga_region_xiii.html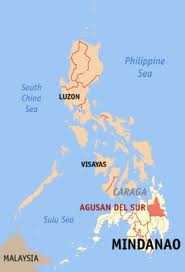 It's been doing a lot of raining today, but that's okay with me.  It makes for a boring day and we get a lot less customers at LolyKat and the BBQ, but I like for it to rain quite often, just not all the time.  I think I'll go stand in the rain for awhile.  No, not actually in the rain, just outside so the cool wind and some of the rain can hit me.
http://www.zamboanga.com/z/index.php?title=Agusan_del_Sur_Province%2C_Philippines
I believe I finally have that stupid F-Secure application gone for good.  After I went through all the trouble of changing the theme of the blog and seeing that it didn't come up on that, I figured out what the problem was when I was trying to put the other theme together.  Since I knew the problem now, and I really like the theme that I have, I switched it back.  The problem turned out to be something simple, as usually happens to me when I think I have done everything that I can do.  When you first put the F-Secure on your website you have to also put a tracking icon on your site.  Well I did that, but I put it in the footer of the blog and it wasn't marked correctly.  Plus it was there with 9 other icons all put there to be out of sight.  Well that part worked.  It being not marked correctly I guess you could pin on me, but usually those things are already marked when you set them up, this one was not and I didn't catch it.  Anyway … I discovered it when I was transferring things to the new theme and I came across another F-Secure thing.  I got rid of that dang thing just as fast as I could.  Just as soon as I saw it though it hit me that that was the problem.  So far it indeed seems to have been because since I deleted it, I have not had a problem.
http://beachpictures.blogspot.com/2007/11/serene.html
It's cool though.  It forced me to look at each and every widget I had on the site and I did some extensive changes.  Some of you eagle eye people probably noticed that the site is a little bit different.  In addition to not having a bunch of check marks and 'x's', it also has less advertisements.  I had 7 ads on there and now there are only 2 left.  All the BidVertiser ads I got rid of because they were making little to no money at all.  I put the AdSense on there a few months after those and the AdSense was making more money than them.  There were 5 BidVertisers and only 2 AdSense ads.  They were wasting my time and space.
http://www.ourrestlessfeet.com/
The Affiliates are essentially advertisements also, but they take up little room (unless you put 3 dozen of them on there like I did) and you don't have to look at them unless you are or might be interested in them.  I don't make any money for people clicking on them, like the other ads, but if someone buys something from one of them, I get a percentage of the sale, which will be more than the .06 per click I have been getting.  I was going to use only Asian or Philippine affiliates, but there were not that many and 'most' of the other ones I have on there, indirectly are Asian associated.  I may still add some ads, but they will not be the generic type.  They will advertising specific objects probably.  I don't know for sure, that is just what I think.  This is a new stage of blogging for me so I'm still learning it.
Useless Knowledge: Jim Morrison found the name the Doors for his rock band in the title of Alders Huxley's book The Doors of Perception, which extolls the use of hallucinogenic drugs.  (not a surprise here)
http://en.wikipedia.org/wiki/Jim_Morrison
http://en.wikipedia.org/wiki/Aldous_Huxley
http://en.wikipedia.org/wiki/The_Doors_of_Perception
http://www.thelandofpromise.com/index.php?album=ads&image=P6050063.jpg
I was scared that when I changed the theme on the website, that it would affect my country count on the Flag Counter, but it didn't.  I really did not want to have to start over on that country count.  It took a long time to get up to 143.  There are still a lot of them that only have 1 visitor from a country and who knows if they will ever come back.  I was also worried about my hit counter, but again, I was worrying for nothing.  I could have reset that counter, but it would have been off when I did that because I didn't have the exact number to reset it to.
http://wn.com/agusan_del_norte?upload_time=all_time&orderby=viewCount
Someone from Bandung, Jawa Barat (Indonesia) searched for "philippine cuisine" and for some reason they got redirected to the "New P20 Note" post that I just put in.  No clue what happened there.  I hope that the person that was searching was able to see my Filipino recipe page that has many recipes in it.  It's listed at the top of the website with all the other pages.
http://rickindavao.blogspot.com/2009/03/agusan-del-sur-trento.html
http://caragaphotos.blogspot.com/2011/03/womens-month-celebration-2011-in-agusan.html
Okay that's all I have for today.  All the pictures below do not have a website linked to them because when I tried, the link was broken, so I couldn't.  They are nice pictures though and I wanted to include them here for y'all to see.
On this one I'm not sure of the exact name of the falls because it wasn't marked on the picture and I couldn't get to the website to check it.  Cool looking falls though, ain't it?  Too bad about where it is located so I'll probably never get to see it in person.
The peso (Filipino: piso) (sign: ₱; code:PHP) is the currency of the Philippines. It is subdivided into 100 centavos(Spanish) or sentimo (Filipino). Before 1967, the language used on the banknotes and coins was English and so "peso" was the name used. The language was then changed to Pilipino(the name of the Filipino language then) and so the currency as written on the banknotes and coins is piso
Useless Knowledge: The Chinese are credited with inventing the first toothbrushes in the late 1400s. The bristles were made of hog bristles, which were highly effective and popular. Later, when nylon was invented, it replaced them. (nylon probably was more practical and tasted better)
The first patent for a toothbrush was by H. N. Wadsworth in 1857 (US Patent No. 18,653) in the United States, but mass production in the USA only started in 1885.  The rather advanced design had a bone handle with holes bored into it for the Siberian boar hair bristles.  Animal bristle was not an ideal material as it retains bacteria and does not dry well, and the bristles often fell out. In the USA brushing teeth did not become routine until after World War II, when American soldiers had to clean their teeth daily.  Natural animal bristles were replaced by synthetic fibers, usually nylon, by DuPont in 1938. The first nylon bristle toothbrush, made with nylon yarn, went on sale on February 24, 1938. The first electric toothbrush, the Broxodent, was invented in Switzerland in 1954.In January 2003 the toothbrush was selected as the number one invention Americans could not live without according to the Lemelson–MITInvention Index.
http://www.parentingtoddlers.com/toothbrush-history.html
http://www.german-hosiery-museum.de/technik/garne/nylon/nylon.htm
Other Mindanao sites to check out:
http://www.thelandofpromise.com/
http://wdict.net/word/Agusan+del+Sur/lang/zh-min-nan/lid/1_267456/
Salamat, Palaam
Today in Philippine History
1892 – Filipino patriot and polymath Jose Mercado Rizal founds the La Liga Filipina, a secret civic society  aiming to promote social betterment, mutual protection, and solidarity of Filipino natives during the Spanish Colonial era; realizing the futility of their decade-long propaganda campaign for political reform mainly as exiles and expatriates in the 'mother' country, Rizal and other patriots inaugurate the La Liga at the house of Doroteo Ongjuco in Ilaya St., Tondo, Manila, with its bolder reformist aims seeking the natives' direct involvement; having the motto "Unus instar omnium" or "One for All," the La Liga's membership is at least initially dominated by the educated and wealthy Filipinos, with Ambrosio Salvador, Agustin dela Rosa, Bonefacio Arevalo, and Deodato Arellano as officers; Rizal has returned to the Philippines from Europe to found the society but will soon be arrested and exiled to Dapitan by Spanish officials who consider the La Liga's objectives dangerous; Rizal's arrest would soon prompt the founding of the secret society Kataas-taasang, Kagalang-galangang Katipunan ng mga Anak ng Bayan (KKK) aiming to completely sever ties with colonial Spain by a group of radicals including Andres Bonifacio y de Castro who would nonetheless greatly work to organize La Liga chapters in various Manila districts before its eventual dissolution within several months.
Un Peso Banknote
1899 – Five months into the Filipino-American War (1899-1914), the fledgling Philippine Republic under Gen. Emilio Aguinaldo issues paper currency in  denominations of one, two, five, twenty, fifty and hundred pesos, with future autonomist  [collaborator for American rule]  Pedro A. Paterno, among others, being empowered to sign them jointly or severally; banknotes, with those bearing serial numbers signatures to be rarely issued as they are circulated along with 2 centimos de peso copper coins, are printed amidst the Filipinos' determination to assert their new-found independence from former Spanish colonial rulers against the invading imperialist forces of the Bald Eagle nation.
Photo credits:   http://philmoney.blogspot.com/  Antonio, et al. Turning Points I' 2007 Ed. Rex Bookstore, Inc.
http://books.google.com/books?id=Lb8a7P_2InIC&dq=%22la+liga+filipina%22+bonifacio&source=gbs_navlinks_s