[smartads] Useless Knowledge:  While living in Memphis, Tennessee, in 1866-67, Thomas Edison developed the first device to electrocute cockroaches and possibly, the last.  (I wonder if I can use that on ants?)
10 Jul – Hits @ 0048 = 646989.  A wonderful total of 5460 for 24 hours and 8 minutes.  Be sure to click on all pictures to get additional information on them.
Okay first of all I went to bed at 0210 and I got up around 0545.  Yes, I know, it's insane and I'm sure I'll be taking a nap later.  Ado and Danilo should be leaving on the photo tour within the next 20 minutes of the writing of this sentence.

Lita says that when we go to Tacloban, she wants to take in a movie at the mall.  That's good.  We haven't been to a movie in quite a while.  Since we've been here in fact.  I sure hope there is something good playing there.
I had a hard time finding pictures to put in the 9 Jul post.  I started too late to get pictures of a city and I didn't have any new ones, so I had to figure out something, and quick.  I don't even remember now what I put on there and I don't have time to look (I've got 3 days of posts to catch up on).  I hope that whatever I put there, it was good for y'all.
Lita went to church this morning, along with Neneng.  She had to rest awhile when she got home.  I guess she over exerted herself at church.  Before she went to bed she asked J to cut up the last 3 pineapples.  He is doing that as I write this sentence in my notes.
I need some Pepto-Bismol.
I added a little fluttering Philippines flag to the front page of the website.  I guess y'all must have noticed that by now.  I also added another link to the Blogroll.  It is called "Pinoy Texas".  I thought that to be an appropriate site for "A Texan in the Philippines".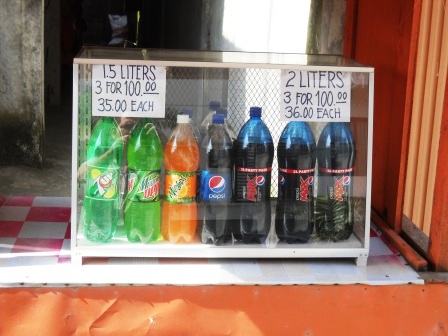 I woke up from the nap I was telling you early that I probably will be taking, because either Precious or Khan, it's hard to tell the difference sometimes, was screaming like Freddie Kruger was after them (it turned out to be Precious).  The only reason she was screaming though is because her Papa was home.  Evidently she was very happy to see him.
I went downtown with Lita.  We bought some vegetables at the market, then went to Monterrey Meat Shop to buy some chicken.  Lita said she was in the mood for some of that Swiss style fried chicken.  Remember the one she fries with only a tablespoon or 2 of oil?  She also took the opportunity to buy things for tomorrow so she wouldn't have to get up early in the morning to go.  I did remember to bring the camera and I took several picture, but nothing life changing.  About 1/2 of the ones I took were just basically on instinct.  I just pointed the camera and took a picture.  I'm not even sure of everything I took yet.  I know some of them did not come out good and a few more I missed the place I really wanted to take a picture of because that camera sticks sometimes and doesn't take a picture right when I push the button.  The pictures on this blog and the next, and maybe even the one after that, are the ones I took.  I did get several pictures of places and things that I have never had on this site, until today.
I think I'm going to make a new Page called ClickBank.  I'm going to fill it with advertisements, but y'all won't have to look at them unless you choose to do so, because they'll be an extra click away that y'all will have full control over.  If I can get it to work properly.  I did a test run and it worked, but when I tried to duplicate it, it wouldn't.  I hope to find the problem and correct it for all.  I know it's not a great idea, financial wise, to not have the ads right on the front page for all to see, but I'm doing this for the following 5 reason.  1) I don't want to try to force ads on people ever time they visit the website.  I'd like for it to be a pleasant place to visit, comment and correspond with other people.  2) It will free up part of the front page so I can maybe put other things there that y'all do want to see.  3) On the Page, I can add pictures and my own comments to the ads whereas on the front page I only have the links.  4) I've got nothing much else to do and it will be a lot of work.  5) The more attractive the advertisement, the more likely someone will check it out, then maybe buying something, thus sending a commission to me.  I will still have a few ads on the front, it just won't be like the 40 or so I have there now.  It's starting to look bad, I think, but I want to have as many ads as possible so there is a better chance for someone to buy something, but, as I stated, I don't want it to look bad either.  Of course I will still have a few ads on the front page with a reminder of the ClickBank page with them.
Useless Knowledge:  A kangaroo cannot jump if its tail is lifted off the ground. It needs its tail for pushing off.
Lita was talking all day about how she wanted that fried chicken and then she ended up BBQ-ing it instead.  I just finished eating that BBQ-ed chicken about 15 minutes ago.  It's 7:05pm now.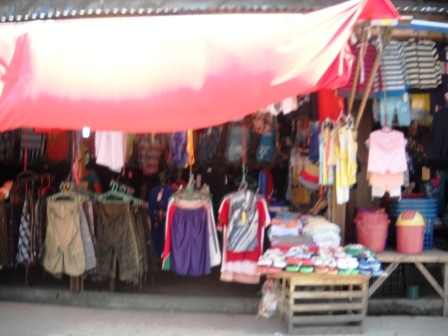 Earlier when I went to get my "Red Pepsi", I decided to get a couple of liters of water instead.  Water just seemed more desirable at the time, plus I really do need to start drinking more water and less soda, since I only have that 1 kidney.  I guess everyone has read my 3 stories that I put on here called "You've Got to be Kidneying Me".  If not just do a search for "kidneying" from the front page.  I'm sure it will pop up on there, but I haven't personally checked it.  I've been told by several people that they are very good stories.  The best part is that it is all true.  If you have not read them and you do go there because you read this and were curious, please let me know that in a comment. Whether you liked the story or not would be something I'd like to know in the comment also.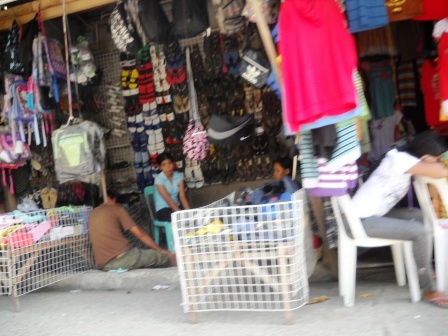 Remember that ad I told you I put on Facebook?  Well evidently it violates something with Facebook policy because they deleted it.  It's okay though.  I just wanted to see if I could do it.  I'd much rather have the ads on the website then on there.  I'm not 100% confident in Facebook anyway.  Too many things are starting to change there and I'm thinking about pulling out of it altogether.
I added 2 more ads to the bottom of each of the columns on the front page.  There are now 4 ads there, 2 on each side.  I probably won't put anymore there since I don't know how to put pictures on them and they don't look that great.  Of course that is what the ClickBank page is going to be for.  I hope there is something there for you.  I'm not sure what kind of format I will have them in yet, probably alphabetical because that's the easiest for me and probably for y'all to find things if you are looking for something particular.
I found out that Ado's little outing with Mr. Martinez went very well.  Danilo was very pleased.  I'm not for sure, but I think Ado even got a tip out of it.  Don't forget to check out the photos of Danilo Martinez at:
http://www.trekearth.com/members/cunejo200/photos/
http://www.treklens.com/members/cunejo200/photos/
At this point I'm wondering if Ado would be willing to make this little trip a regular thing.  I was thinking that someone out there wold like to also visit some nice places here in Calbayog.  There are many waterfalls, caves and beaches here that could and should be visited.  I found out that he is, but I will have more details on that in a near future post.  This one is already large and I still have a few more paragraphs to go.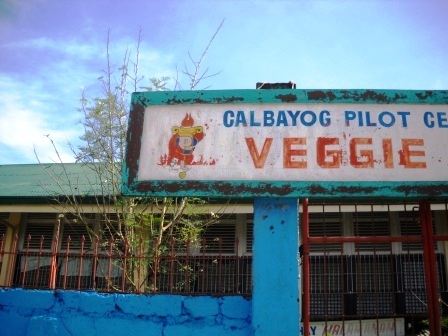 I was out front awhile ago watching Titing and Neneng eat a Balut .  I've never seen anyone actually eat one before and it was kind of weird to me.  Lita doesn't eat balut and I don't even really liked boiled eggs, so there is not way that I'm eating a Balut – The Egg with Legs.  Titing asked me if I wanted to try it and I said, "You're kidding"?  He said, "No, I'm not kidding".  I told him, "Even if I was dead, you couldn't put one of those in my mouth".  "I'd come back to life just to spit it out".  Neneng cracked the end of the egg, sucked out some 'juice', then put some vinegar that had hot peppers soaking in it, on the egg.  She then proceeding to bite off the end of the egg and handed it to Titing.  He added some more vinegar to it and ate the whole center of the balut in about 3 bites.  Evidently Neneng prefers the outer part and Titing the inner part because after he finished he handed it back to Neneng and she finished it, after added a little more hot pepper vinegar.
Wow!  We are finally to the end of this post.  I'll add in a few pictures, the Useless Knowledge and the History, then get this thing out.  That Internet outage has gotten me 3 days behind, but I'll do my best to get caught up, one day at a time.
Useless Knowledge:  The name of the game may originate from the days of its origins in Scotland, when it was strictly a "Gentlemen Only, Ladies Forbidden" sport hence GOLF.
Salamat, Palaam
Today in Philippine History
World War II Blackout Bulbs
1941 – During the imperialist American Occupation, blackout practices  in Manila and other parts of the Philippines are held in  anticipation of the Pacific Theatre phase of World War II;  apart from the blackouts wherein lights are dimmed so as not to make a certain place conspicuous  and easy  target for attacks, the colonial United States and Filipino officials also establish evacuation  centers and "air-aid drills" in the Southeast Asian archipelago some five months before the Japanese  Imperial Army begins invading the US-occupied Philippines following the Asian power's bombing of the Bald Eagle's naval base at Pearl Harbor (December 1941).
Photo credit: anderson militario.com