Gaisano Grand Mall Calbayog N/A ATT
[smartads] Now I'm not saying that the Gaisano Grand Mall in Calbayog is going to look like this.  I am just putting a picture of one of their Grand Malls here to see.  I specify "Grand Mall" because it seems they have different mall names for different types of malls for some reason.  That is what lead me to believe that the one they plan to build here will be similar to the picture.  I think the one in the picture is on Bohol.  By the way the "N/A ATT" in the title (in case you don't know) means "not applicable at this time".
I found the following entry at:  http://en.wikipedia.org/wiki/Gaisano and other places also.
Gaisano Grand Mall Calbayog (TBC)                          Calbayog City, Samar
That (TBC) must mean "To Be Constructed" because there is no mall even close to one that looks like that one in the picture.  Five Star Commercial is the closest thing and even that is not close, at all.
UPDATE:  a/o Sept 30 2011 – http://leytesamardaily.net/2011/09/gaisano-robinsons-malls-to-open-in-calbayog-city/
Supposedly this new mall is to be built at the current site of the cock fight arena.  The arena and several of the surrounding houses are being evacuated at this time to make room for this new mega structure.  It's sure going to have a beautiful view of the ocean at that location.  I know this because Vicky lives in this area and she has been asked to move.  Now they are not just being evicted.  Vicky said that they have been offered a piece of land up the road that will be paid for, for them but must be re-paid.  The repayment is only about P200 per month though.  That's a good deal even for most of the poor people in this area.  In addition to that they will all be given P10,000 ($225-$230), which will come in handy because they must build their own house on the new land.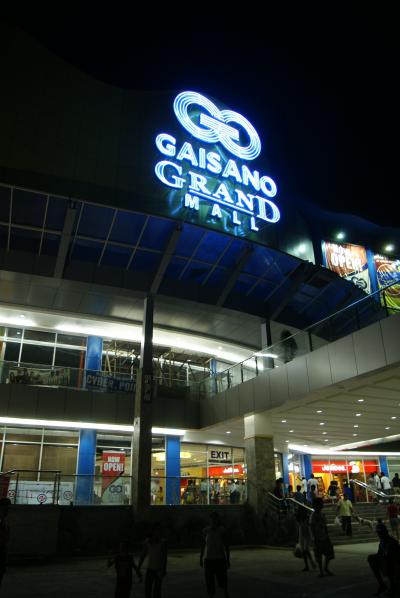 Now in case you are a super sleuth or something and are wondering why people are being evacuated and only being given P10,000 for their land…well it isn't there land, in most cases, maybe all cases.  Vicky and the majority of the people there are squatters.  So this is actually an excellent deal for them.  The new land that they are getting will be theirs after they finish paying.  Just to have an opportunity to own land is something that they most likely never would have had before.  Plus they get an additional P10,000.  I'll bet a lot of them have never seen P10,000 all at one time before.  I know Vicky is pretty happy about it and I think it has squelched any ideas of her moving to Manila and leaving us in March.
I also learned today that this new mall WAS suppose to be built downtown where the old open market is now.  That's one of the reason why they started the new open market closer to our house.  However there was a problem with the mall directors and the city directors on some of the details concerning the building of the mall.  Evidently it was decided that it would be easier to build it here in Bagacay.
Okay that's the scoop on the current rumors about this new mall.  I'll give you more details either in a special post on in the regular post as I find out about them.  If you remember back when I first started this blog, I told you that I had a feeling this area would be building up.  I thought this because of the Ciriaco Hotel and the luxurious style that they are being to the area.  Why would anyone what to pay those high prices for a hotel not close to anything?  I was thinking that they know something that I don't, and we would be seeing a lot of improvements in the area.  I know this wasn't planned at the time, but just for them to pick this area to build it, says something.  I do have a few more points to make in relation to this mall, but they are better served by posting them on my blog entry for the day.  Check out the 22 Feb 11 entry for those details and other interesting and not always interesting items.