[smartads] The region has extensive coastlines, valleys and mountain ranges. Known for its river system, the region is the catch basin of Mindanao. The system is a rich source of food, potable water and energy production. Cotabato contains the Rio Grande de Mindanao, which is the longest river in Mindanao and the second longest in the Philippines.
http://en.wikipedia.org/wiki/SOCCSKSARGEN
http://www.crwflags.com/fotw/flags/ph-xii.html
http://www.byahilo.com/2010/07/12/5-action-packed-days-in-soccsksargen/#axzz1U9W8C2GM
Useless Knowledge:  A game of golf can be very electrifying.  More people are struck by lightning on golf courses than anyplace else, although there's no research on what club most people were using.
http://www.infoplease.com/search?q=golf&in=all&x=40&y=12&fr=iptn
http://www.infoplease.com/search?q=lightning&in=all&x=52&y=5&fr=iptn
http://en.wikipedia.org/wiki/Golf_club_(equipment)
http://picasaweb.google.com/angloeuropaoceania/NorthMindanaoSoccsksargenZamboangaFilipinas
4 Aug – Hits @ 0112 = 823060 = 8770.
It's 0813 and I got up.  Someone has asked the MJ Services tourist information.  I responded to her just as soon as I saw the e-mail.  So I hope to hear from her again soon.
I'm out here in LolyKat again today.  I guess I don't have to be anymore if I don't want to.  Vicky and Sally are both here now and there is not much for them to do right now.  I don't mind being out here though as long as I have something to do.  I can think better out here even with all the distractions.  In between the noise and the interruptions, I find that I can think of more things to write about out here for this blog.  It usually easier than when I'm in the house.
http://www.riajose.com/2010/07/mfat-soccsksargen-summer-safari-day-2/
I got tired of playing the "stupid" game and doing crossword puzzles, so I brought my notepad out here and one of my Bourne series books, "The Bourne Betrayal".  I've read all the way through book #6 and I don't know if there are anymore, but I need to read them again anyway.  I'll just start at the beginning and go through them all in order.  Problem right now is that books #2 and #3 are in storage in Texas.  They are in the same box as my telephones.  Remember the ones that were suppose to be shipped by our friend, but we gave her the wrong box.  Anyway …  this book is #4 or #5, I forget right now.  Since I don't have them all, I'll just read this one and then "The Bourne Sanction" after that.  When all the books get here, I'll start at #1 and go through one at a time.  I wonder if there will be movies made about these next series of books.  If they do, I hope they stick more closely to the book, not like the first 3.  Of course I like the first 3 movies, but almost none of it is by the book.
The Bourne Betrayal is not by the original author, Robert_Ludlum, but by Eric_Van_Lustbader, who now writes the Bourne series books since Mr. Ludlum's death.  This new guy does get rid of several characters in this very first book that have been with Bourne since the beginning.  Oh crap!  That's enough about that book.
http://tripwow.tripadvisor.com/tripwow/ta-00fb-9a5c-5f62
Useless Knowledge:  Ostriches are such fast runners, they can outrun a horse. Male ostriches can also roar like a lion.
http://www.awf.org/content/wildlife/detail/3737/
http://www.infoplease.com/search?q=horse&in=all&x=34&y=10&fr=iptn
http://www.awf.org/content/wildlife/detail/lion
http://www.panoramio.com/photo/1545894
I'm not sure what it is with the kids going back and forth from school now.  I assumed it was for lunch, but today they have been going back and forth at all kinds of hours.  It's not important really, just curious.
I will be going back downtown today.  I'm hoping to be able to buy a fan, but it looks like it won't be until next month.  It's a pity that we can not even afford to buy an electric fan this month, and I just got my money.  However we are paying an extra bill this month that amounts to almost P10,000, so that ate up a chunk.  The good news is, besides the truck payment, there are no more high payments.  Starting next month things will begin to settle down.  By the end of the year, everything will be under control, pretty much, and by August next year we will be having the life that I dreamed of when we first decided to move here.  I'm really looking forward to that.
http://www.ivanhenares.com/2007/09/soccsksargen-road-trip.html
We had another Grand Tour van stop to let someone out this morning.  Now a tour bus has stopped out front.  Only 1 guy, on crutches, got out.
Precious came by earlier to count and 'eat' bubble gum.  Yeah 'eat', she chews very little of it.
It's 11:22 now and Lita is here.  This is a good time for me to get ready to go downtown.  See ya!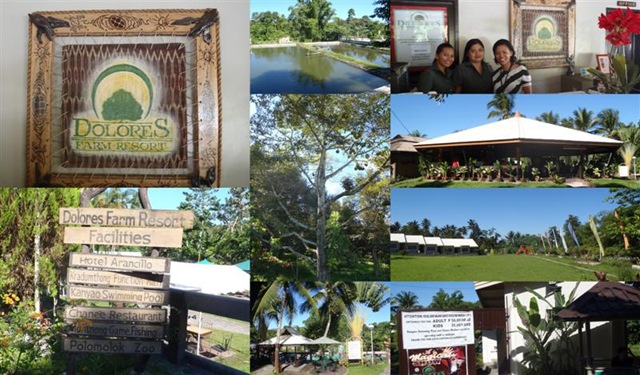 http://wisiwib.wordpress.com/2010/06/07/soccsksargen-safari-day-2/
Okay it's 1:50pm now and I survived my little solo downtown trip, but if stares could injure, I'd be dead a dozen times by now.  I paid what I could pay and will still have payments next month, but as I stated, no more big ones, I made sure of that.  I'm glad that you usually only need appliances one time.  If they are going to break down, I hope they wait a few more months.  We haven't been having any trouble with them, I'm just saying.
I just talked with my Dad on Messenger.  That Messenger is still so clear, it's hard to believe that we are so far apart.  He heard that we were having a typhoon here, now.  I told him, "I wish, it's so hot and humid here today".  He told me that the temperature for them today was 108 and the humidity was only 28%.  I try to explain to some people here about the different types of heat, but some of them either don't understand or don't believe.  Can you imagine what would happen if it was 108 degrees Fahrenheit here with only 28% humidity, for about a week?  Thousands of people would die of heat stroke.  But being right on the ocean, I doubt that would ever happen.
http://bestphilippineattractions.com/2011/01/02/best-philippine-destinations-region-xii-central-mindanao-soccsksargen/
I sat out in LolyKat for most of the day and not too many customers showed up.  I read my book for the last hour there, but I decided to come back to the computer room and bring the fan with me.  Lita is blaring the TV, so it would be quieter back outside with all the trucks going by, yelling bata and all the different types of music being played at the same time.  It's 6:04pm.
I forgot to tell you that I weighed in this morning because I was scared I was getting fat again.  I'm not.  I'm still at about the same fatness.  I told you before that my last several weigh ins have all been between 117 – 123 kilos, well, I'm still there.  I was at 120.5 kilos this morning, almost exactly 1/2 way between.
http://www.riajose.com/
J will be coming home late tomorrow night.  They are having a dance at the school.  He is going with his girlfriend.  I hope they have a nice time.
Useless Knowledge:  Not everyone believes that baseball originated in the United States. In 1962, the Soviet newspaper Izvestia asserted that beizbol was an old Russian game.
http://www.time.com/time/magazine/article/0,9171,935779,00.html
http://www.infoplease.com/search?q=Izvestia&in=all&x=31&y=9&fr=iptn
http://www.infoplease.com/ipa/A0108121.html
http://www.50states.com/us.htm
http://www.jacobimages.com/2010/07/soccsksargen-and-the-blaan-indigenous-peoples
Salamat, Palaam
Today in Philippine History
Military flag of Spanish Empire from 16th to mid 18th century
1625 – Gov. Fernando de Silva, appointed successor to  Gov. Alonso Fajardo de Tenza in colonial Philippines,  notifies King Philip IV of Spain of his arrival in the  islands and reports the condition of affairs, including:  his recommendation for the restoration of the captive Ternatan king; his intent to very severely punish the  rebellion in Cagayan; abandonment of the attempt at  working the Igorrote gold mines; request for greater  authority to restrain the lawless religious who ignores  the civil authorities; and his hope to obtain the  needed ships to defend their Philippine possession  against the powerful Dutch fleet has actually already reached Ternate.
1898 –  Some nine days prior to the infamous Mock Battle of Manila that would falsely make it appear that the Americans, instead of the Filipino revolutionaries, defeated the Spanish colonial forces in the Southeast Asian archipelago and the capital, Manila, Consul Oscar F. Williams of the emerging imperialist United States cables American Secretary of State William R. Day to report that he has tried to convince Gen. Emilio Aguinaldo y Famy that American rule over the Philippines will supposedly bring greater honor, progress, and profit to the natives compared to any scheme the Filipino leader and his advisers can ever devise; William add that he is on better terms with Aguinaldo than the American military commanders are with Aguinaldo, the leader of the second phase of the Philippine Revolution who has stupidly forged an "alliance" with U.S. Admiral George Dewey, believing his and other American military and diplomatic officials' verbal deceptive promises that the Bald Eagle nation will honor Philippine independence; apparently realizing that the imperialist Americans have him duped, Aguinaldo–who weeks earlier even ridiculously instructed his men to allow the G.I.'s to freely enter the archipelago–he will try to 'negotiate' Filipinos' independence; the Mock Battle of Manila will form the prelude to the baseless December 1898 Treaty of Paris where by that time,  the virtually expelled Spaniards will supposedly "cede" the Philippines to imperialist America, ultimately leading to the bloody and protracted Filipino-American War (1899-1914).
Paraguay
http://s07.flagcounter.com/factbook/py/056w