[smartads] As usual if you click on the pictures you will find more information about that picture.  And also, as usual, when they are my pictures, I put more information on all of them.
Hits @ 0027 = 1266521 = 12317.  Nope, that is not a 2 day total only 1.  I know!  I was surprised too.  That is definitely our record for a 24 hour period on this website.  I double, then triple checked it just to be sure because I was so surprised.  I had no idea we were even close because of all the lower numbers recently, until I did the math.  That's Super Cool.  At that rate we could get almost 5 million hits per year, but I ain't holding my breath for that.  I shut the computer down at 0108 to head for bed.  I'll type at y'all later.
It's later now.  Sorry to keep you waiting.  I was up at 085?.  The time at this time is 12:34.  I just had to put that 1234 in there.  I sat out in LolyKat for about an hour playing Triple Yahtzee.  I played 5 games and a couple of them had potential until close to the end.  I got frustrated with that stupid game again.  I need to find the official rules for Yahtzee anyway.  I want to know that in addition to the extra 100 points you get for each additional Yahtzee, what space can you fill in on the game and how much can you put in that spot.  I figure if it's at the top, and you need the numbers that you Yahtzee'd with, you can max it out.  What if you don't have that number available?  Can you max out any of the numbers?  Can you use it at the bottom?  How would you mark it down there?  Would a Yahtzee in 4's give me 20 or 30 (max of five 6's) on 4 of a kind? Questions like that I need to answer, officially.  I can look it up on line later.  I guess I can find it on the Internet somewhere.
I'm hoping that my check will arrive tomorrow.  When I wake up in the morning, the first thing I will do is check this website, then I will check for my check.   Check for check?  Check.  Whenever it comes in, I'll be happy because I need to take care of a few things.  If all goes well, according to my figures, we should be able to pay off 6 bills this time around.  One major bill, one medium bill and 4 minor bills (2 of those being very minor).  We also 'should' get the gate fixed this time, but I ain't promising that.  It should not cost that much to fix it, since the labor is mostly or all volunteer, but I would like to save some money for things throughout the month.  I'm hoping to save enough for the first 3 weeks anyway.  Of course paying off that 1 major bill should help tremendously.  That will save us P12,000 per month.  It it/was or biggest monthly bill.  The Nissan is the second highest at P10,000 per month, but we can't do anything about that at this time.
There is only 1 other major bill left after this month and it is suppose to be P9000 per month, but the place we owe it to, is very nice and they are not pushing payment.  We will be much better on the payments beginning in November though.  In fact, I hope to have it paid by the end of the year.  In comparison, our highest single bill after that is P1800 per month, so that's a big difference.  There are 2 or 3 that are a little over P1000 per month and the rest are less.
All that is not including utilities and also not including the credit that Neneng and Titing have allowed for the Pepsi products that we get from them.  I want to stop any and all credit from anyone.  If we manage things correctly, then there is no way we should have to use credit at all.  As I stated before, it was just the business ventures we tried to start.  We tried too many, too soon at the same time.  Now that I've kicked myself in the ass enough, I'm ready to fix it and keep it away for good.  For October we still may have to credit some from Titing and Neneng, but I hope it will be half as much as we have been doing and we will actually be able to pay for the other half we use.  Beginning in November though, again, if all goes well, it should stop completely.
Another thing that I need to get a handle on is our water bill.  Our water bill comes out to between P2200 to P2600 per month.  That's like $52-$62.  That's more than I was paying in Texas most of the time.  Of course here it is because that payment is from 3 families using the water.  The other 2 families are suppose to be giving us P500 per month each for their usage and we pay the difference, usually about triple what they pay.  That's fine with me.  Problem is that we don't always get the P500 from those families.  Most of the usage is from when we wash clothes.  Everyone uses the faucet out back and that's were the, what passes for a washing machine, is.  That one faucet is connected to one of the other houses, so I'm thinking if we need to, we can go to the water department and tell them we want to get our own water bill, that will NOT include that one faucet.  There is another faucet that is a little hard to get to, but if we hook a nice water hose up to it, it would work nicely.  We could use that when Vicky washes the clothes.  We could even run the hose up front so she could do the clothes closer to the cooking so she could help out there if necessary.  We already have the hose.  It's the one that Jay uses when he washing the Nissan every Sunday.  That should reduce our water bill and we would let those others fend for themselves.  I think they are getting a good deal, but maybe they don't.  One way or another, that water situation will be taken care of by the end of the year.
It's 2:39pm now and it just started some serious raining.  It's not super hard rain, but it comes with some wind.  It's probably because of the new typhoon hitting Luzon.  Man they have got it rough up there in many places.
Damn, a power line is down in the street.  It's sparking too.  Titing called the electric company and the security guard at the Ciriaco Hotel put out a barricade to keep cars and people from getting too close.  I'm thinking that they might decide to cut the power here to stop that thing from sparking.  That's one thing they do know how to do here, turn off the power.  I got pictures of the wire and the barricade.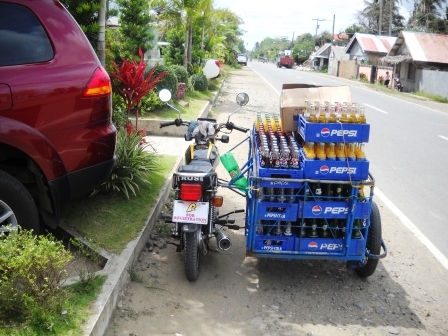 I turned off the computer and unplugged several things, just to be safe.  You know the better safe than sorry theory.
Okay, everyone take a breath.  Crisis is over.  There is really nothing serious here now at 3:45pm.  I've got the computer back on and the electric company came by and took care of that wire.  They did it without having to turn the power off too. Impressive.  The street and everything else is back to normal at this time.
Qais sent me a link about the new malls that they are going to be building here in Calbayog.  I tried to copy/paste for the guest posts, but it wouldn't let me copy.  It's good news, check it out.  If I can figure out a way to get it copied, I'll still put it in guest posts from Qais.
Bebie and Khany & Jun and Luz showed up this evening.  They came up to see Poppa in the hospital.  No one has said anything to me about it being serious, but when you are 89 or 90 years old I guess any trip to the hospital or any illness could be considered serious.  When I was there yesterday I talked with him a little bit and he seemed fine.  He was still talking to me like he always does.  What I mean is, his voice was just as strong and he was alert.  I think he will be fine, but I'll be happier when he is back home.  I don't know how long everyone is going to stay, but if I had to guess I would think that they will be leaving on Sunday.
Lita and I did not go to the hospital tonight.  If he is still in there tomorrow, we will go then.  Since he is already in a room now, we won't have to just wait around like yesterday while they were checking him out and checking him in.  Lita said something about the insurance he has will only pay for 3 days, so maybe he plans to stay there the whole 3 days, I don't know.  I know he didn't really want to go to the hospital to start with, but he really had to choice after awhile.
It's 9:53pm at the moment and there is not much going on.  Lita is watching TV and I can hear Emei outside at the picnic table talking to someone, I don't know who because I haven't look.  Probably Angelo.
I heard that Mar is back from Manila.  I didn't even know he was gone.  But I guess he doesn't need to ask my permission to go.  He gets to go many places in the Philippines due to his job.  That is why he is a good partner for the MJ Services.  He has contacts in many areas of the Philippines.
I told you there was nothing going on.  It's 11:14pm now and still nothing significant has happen for the last 2 hours at least. I guess I will put the post to bed, then I will watch some TV and put myself to bed too.  See y'all next month (tomorrow is 1 Oct).  I hope you enjoyed this post, I think it came out pretty dang good.
Salamat, Palaam
Today in Philippine History
Useless Knowledge:  A grasshopper can leap over obstacles 500 times its own height. In relation to its size, it has the greatest jumping ability of all creatures.
http://www.buzzle.com/articles/facts-about-grasshopper.html (world's best know athlete)
http://www.ftexploring.com/think/superbugs_p1.html  (ants rule the world)
http://nationalzoo.si.edu/Animals/Invertebrates/Facts/insects/jumping.cfm (this site disputes the Useless Knowledge)