[smartads]
Well my first ever expat get together went better than I expected.  It's not that there was a lot of people because only 2 people showed up.  Around 2:45pm, George and his wife showed up.  They were out paying bills and got it all done early, so instead of driving all the way back to Tinambacan, they just came by here early.  He and I sat out in the restaurant, talked and ate.  The asawas were talking in the house.  Since they were the only one that showed up at that time, I didn't bother charging them for the chicken and fries.  I actually liked that better.  I wasn't too keen on having to charge people for eating, but if there was going to be a lot of people, it would have become necessary.  They were here until about 5:30pm.  They wanted to get back home before it got too dark because they do not like to travel at night time very much.  It was a good visit and they invited Lita and me to stay at their house overnight this coming weekend.  It will be our first time going to Tinambacan so I hope I remember to bring the camera.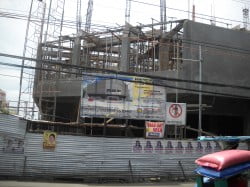 About 40 minutes after they left, while I was sitting at the computer, I was told that I had another visitor.  I was expecting that to be Blair and Charise, but it wasn't.  In fact I had no idea who it was when I got out there.  He introduced his name as Bruce, from Scotland.  Seems he likes to read the blog, but he has never left a comment.  He read about the get together and decided to show up.  He arrived with his girlfriend, I forget her name (sorry Bruce/girlfriend).  They are in the process of acquiring an apartment here in Calbayog.  They are staying at the Ciriaco for a few days so it was an easy walk for them to get here and go home.  Bruce brought by a 6 pack (not in the pack) of San Miguel.  That was mighty nice of him.  He even let me help him drink it.  I didn't want to be rude, so I helped him.  Oh, okay, I was happy to help him drink it.  I expect that we will be seeing them again in the not so distant future.  We had a nice visit and talked about lots of things while we sucked on the brews.  I don't even remember what time it was when they left, but they were here for over an hour, easily, maybe even two hours.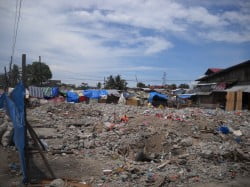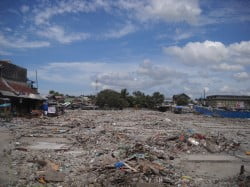 Blair told me that he and Charise would probably be stopping by that day, but I guess something unexpected came up.  It happens I know.  At least it happens to me more times than I want it to.  It's okay though, I'm sure that when he has time, he will be stopping by for a visit.  It doesn't only have to be on the expat get together day you know.  I will happily accept visitors on whatever day they decided to stop by.  Hopefully not between midnight and 0600, but even if they did that, and I know they are here, I will welcome them and try to be a good, awake host.
I discovered another store downtown.  It is on Nijaga St next to SO Cafe.  It is a small grocery and bakery that opened up on March 20th.  The guy behind the counter told me that they are open 24 hours a day.  The name of it is Calbayog City Bakery & Grocery.  I got pictures of the outside and inside (pictures below).  As you can see they have a nice selection of grocery items.  At least it's a lot of the things that I need often.  I have not compared their prices with the local markets yet.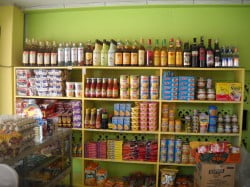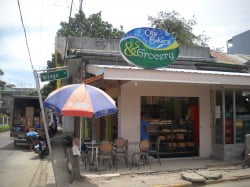 You may have noticed that I finally got around to adding some of the local restaurants on the blog under "Calbayog City Restaurants" (which is under Calbayog).  I didn't have them on there sooner because I didn't have a lot of information on them.  I still don't have a lot of information, but I figure I'll put what I have on there and when I get more information later, I will add it in there.  If anyone reading has some information on any of the restaurants or hotels or anything I put on here, please let me know and I will update things.  I want all the readers to have the most current information that I can find out.
Heidi was wondering about a torta.  I decided to take a couple of pictures of some torta for her and all y'all to see.  To me they taste alright, but I do not buy them on a regular basis.  Mostly in the bakeshop I will buy the cheese bread or cinnamon rolls when they have them, but that is not often.  If you request cinnamon rolls they will make them for you though.  At least they do for me.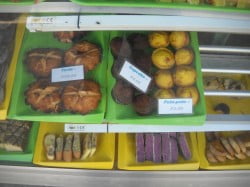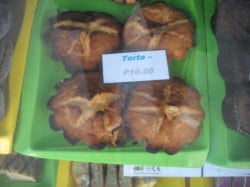 Rick  Smith did some checking on that house for sale on Navarro St.  He finally got word back from the people he called.  Remember the house that is a few houses down from Mar's house?  Anyway, the owner says the house is 197 sqm.  The asking price is P5M.  Mark it up some if you want to go through a broker.  All the taxes are paid up to date.  That's P25,380 a sqm.  According to Rick, and he is usually right about these things, newly constructed houses are about P18,000 a sqm, so they are expecting a lot for that place.  Maybe it's a buyers market, or they think it's a buyers market.
I did another guest post for Bob Martin and Live in the Philippines.  It is scheduled to run on Saturday, April 20, 5am.  It's just a little bit of the things that frustrate me about Filipinos and living in the Philippines.  Not everything, but a small sample.
Salamat, Y'all