[smartads] A squatter is defined as someone who 'squats' on land that belongs to someone else.  Or a better definition from Wikipedia is:  Squatting consists of occupying an abandoned or unoccupied space or building, usually residential that the squatter does not own, rent or otherwise have permission to use.  They are actually criminals, but they do what they need to do to survive.  More jobs, more housing and less government corruption would resolve this problem.  Did you notice that the big city is in the background?  Most of the squatters squat close to a big city and most of them are in and around Metro Manila.  I found some pictures of poorer squatters than this, but I didn't think everyone would be able to handle the pictures emotionally (Jaclyn, Wanda).
12 Jan 2011 – I crawled out of bed at 0853 this very wet morning.  It was not raining hard, but I think it was misting.  I didn't even go outside to check.  It rained almost all night, so I knew it was wet.  We are up to being viewed by 57 countries now.  Only about 198 to go.  I think I'm going to be drinking a lot of Coca-Cola today…er..I mean Pepsi-Cola, sorry Titing.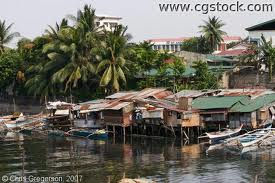 A little before 10:00am, Lita started yelling that Vicky hasn't shown up yet, and didn't say anything about not being here.  She is pretty mad about that.  We'll have to see how things develop during the day.  I hear her out there right now telling others about Vicky.  I'll probably have more details later in this post.
That cat is becoming a problem for me.  He pissed in the bed again, on my side.  I didn't even know it until I got ready to go to bed early this morning (about 3:00am).  I started to lay down and noticed it.  Lita woke up, felt it and said it was just cold.  I turned on the light and it was not cold, it was piss.  I told her that that cat is banned from the room, but she didn't look happy about that.  Lita didn't want to get up to change the sheet either, so I had to get a blanket, double it over and put it over the spot.  I'm going to kick it, not actually kick, just shoo it out every time I see it in here, hopefully Lita won't be around when I do it, so it'll probably get noisy around here.
Today for breakfast I had my eggs cooked on top of the fried onions (with Lita's special seasoning).  I had to use the last 3 slices of bread, so Lita can buy another loaf when she goes downtown here in a little while.  I'm hoping that she will remember to buy my essentials: bread, potatoes, carrots, onions and bullion cubes (beef and/or chicken).  That's basically what I live on around here, except occasionally…like tonight we are having chicken adobo for dinner.  http://en.wikipedia.org/wiki/Adobo
Of all the pictures I could find of chicken adobo, this was the closest to what I am use to seeing.  There are many different varieties of chicken adobo, some look good, some don't.  Couldn't swear to the taste of them though.  I usually only eat chicken adobo, but have on occasion eaten pork adobo.  I told Lita that I would take a picture of her adobo after she is finished and put it on here also.  It will be below this line when I get it inserted.   See it?
I love that gravy in here mixed with a little bit of Jasmine rice.  Maybe it's just because she has been cooking it for me for over 30 years, but I think Lita's adobo is one of the best ever.
I changed the names on 'reaction buttons'.  The other names were lame, but I didn't know I could change them until today.  These new names are better suited for this blog.  Maybe it will get people to use them more often.  If they are not used very much, then I will probably eventually get rid of them.  When I changed the names, it deleted almost all the ratings that were there.  The only one that remained the same was "Awesome" because I didn't change that name.
Instead of buying bottled water from Titing now, we are getting the tap water, boiling it and putting it in some of the old empty water bottles that we bought from Titing.  I'm not a big fan of that, but I think it's psychological.  I use the same water while hot when I eat my grits and oatmeal, but for some reason drinking the same water just boiled like that seems wrong.  Someone tell me (someone knowledgeable) that I am just being silly, it's all the same water, just drink it.  It's not that it tastes bad, because it doesn't, but I know that the tap water here has lots of crap in it.  It's water that you have to be use to to drink.  My mind is preventing me from drinking water, that's what it 'boils' down to.
Precious is sick.  She has a fever and it makes her cranky.  But she invented a new word today.  Instead of calling Mama or Papa, she said MaPa.  Let's see if we can get that put in Webster's dictionary.  I looked it up in the only available dictionary I have, just to be sure, and it wasn't there, so it's not a word yet as far as I know.
J is in the kitchen cooking the fish balls.  I guess the little thing (I don't know what it's called) is broken again and that's the only other place to cook them.  I still don't know why Vicky is not here and it is now 6:30pm.  I have not eaten dinner yet, but after the fish balls are done, I'm going to heat up the chicken adobo that Lita made earlier and eat that.  I'm not really that hungry, but I better eat a little now so I won't eat too late later.  I have to heat it up in a pot, because still no microwave.  Be glad when we get the transformer for the one we have.
I did drink a liter of "Pepsi" today after I finally got to the store while it was open.  First time I went by there it was closed.  I've never been to one of those little stores during the day time and they were closed.  That kind of surprised me, but Lita says that that store closes everyday for lunch, noon to 1:00pm.  Okay, cool…I'll remember that for next time.  But it's not a long walk anyway.  I think people around here are getting use to seeing me because I don't get near as many stares as I used to.
Useless Knowledge: On August 22, 1849, Austria launched unmanned balloons carrying bombs with time-delay fuses against Venice. It was the first use of aircraft in warfare.  (This is not so useless IMO, nice history question)
Useless Knowledge: The brain comprises about 2 percent of a person's total body weight. Yet it requires 25 percent of all oxygen used by the body, as opposed to the 12 percent used by the kidneys and the 7 percent used by the heart.  (I wonder why they have a category called "useless" and they give out "useful" information..this is good for me to know)
Post Martial Law and until 2001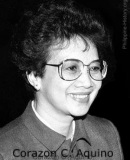 The 21-year dictatorial rule of Marcos with wife Imelda ended in 1986 following a popular uprising that forced them to exile to Hawaii. Corazon "Cory" Aquino, the wife of exiled and murdered opposition leader Benigno Aquino who was perceived to have won a just concluded snap election was installed as president. Aquino restored civil liberties, initiated the formation of a new constitution and the restoration of Congress.
On September 16, 1991, despite the lobbying of Aquino, the Senate rejected a new treaty that would allow a 10-year extension of the US military bases in the country.
In the1992 elections, Pres. Aquino endorsed Secretary of Defense Fidel Ramos as her successor, which Ramos won with a slight margin over his rival, Miriam Defensor-Santiago. During the Ramos presidency, he advocated "National Reconciliation" and laid the ground work for the resolution of the secessionist Muslim rebels in the southern Philippine Island of Mindanao. The Moro National Liberation Front (MNLF) led by Nur Misuari, signed a peace agreement with the government. However a splinter group, The Moro Islamic Liberation Front (MILF) led by Hashim Salamat continued to fight for an Islamic state. Ramos worked for the economic stability of the country and the improvement of the infrastructure facilities like telecommunications, energy and transportation.
Joseph Ejercito Estrada, a popular actor, succeeded Ramos in 1998 with Gloria Macapagal-Arroyo (daughter of former President Diosdado Macapagal) as his Vice-President. Estrada's lack of economic & management skills plunged the economy deeper as unemployment increased and the budget deficit ballooned. In October 2000, Estrada's close friend Luis "Chavit" Singson accused Estrada of receiving millions of pesos from "Jueteng", an illegal numbers game. Soon after, Congress impeached Estrada on grounds of bribery, graft and corruption, betrayal of public trust and culpable violation of the constitution. His impeachment trial at the Senate was however blocked by his political allies in the Senate. Shortly after the evidence against Estrada was blocked at the Senate, thousands of people rallied up at the EDSA Shrine, site of the People Power Revolution which ousted Marcos in 1986.
In January 2001, the Supreme Court declared Joseph Estrada unable to rule in view of mass resignations from his government and declared Vice-President Gloria Macapagal-Arroyo as his constitutional successor. To this date, Estrada remains detained facing graft charges before the Sandigan Bayan, the Anti-graft court.
Salamat, Palaam