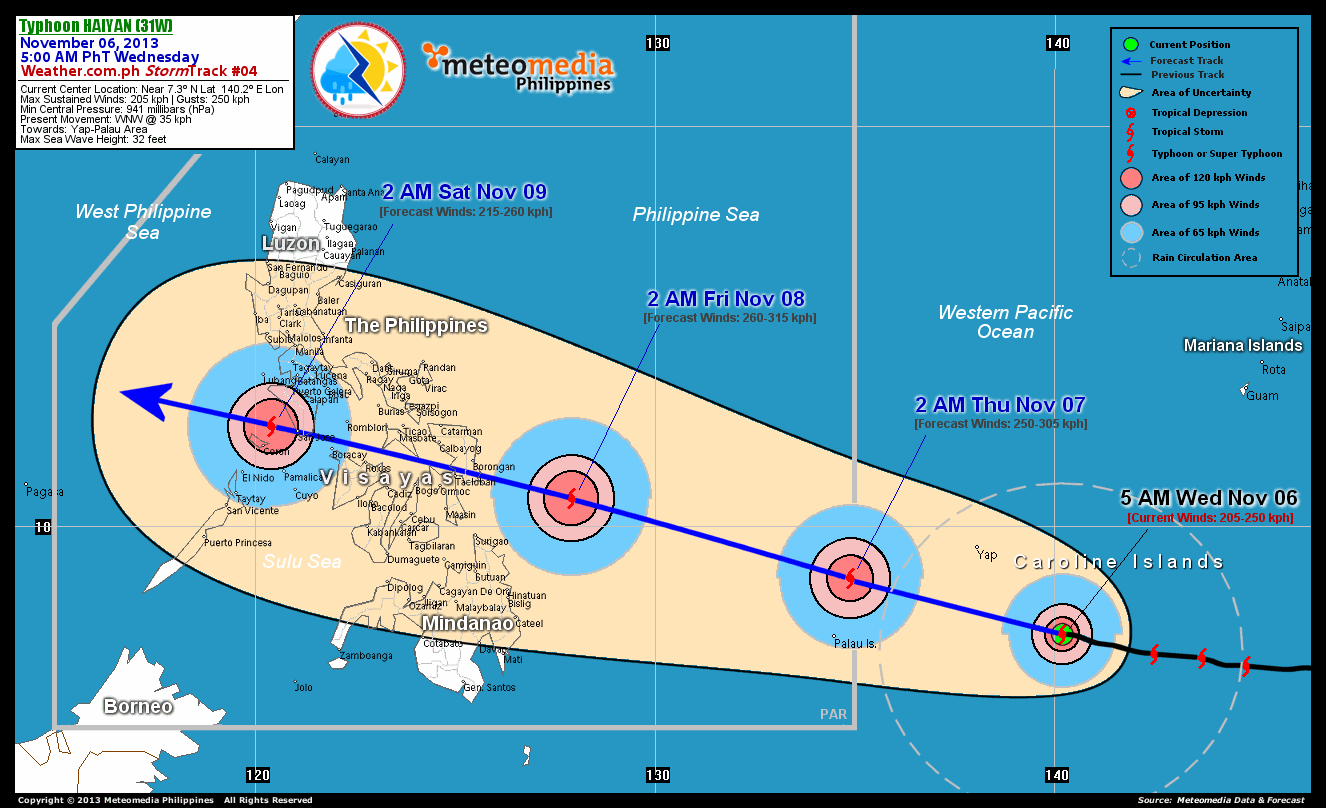 [smartads]
CALBAYOG-LGU TAKES URGENT MEASURES AS SUPER TYPHOON "YOLANDA" THREATENS EASTERN VISAYAS
Calbayog City, Samar, November 5, 2013 – The Local Government of Calbayog now focuses its attention to its primary concern that is to reach out to as many as it can be to warn about the presently active tropical cyclone "Yolanda" (with international name "Haiyan") projected to hit the country early morning Friday affecting several provinces including Samar and Leyte.
This warning was made public this afternoon by City Tourism and Information Officer Mr. Ronald Ricafort due to worries that "Yolanda", according to weather websites, has a potential of becoming a super typhoon.
Ricafort also advised the public especially those in low-lying and flood-prone areas to be ready, take necessary precautions, and be kept informed about the typhoon by navigating through www.maybagyo.com or www.weather.com.ph.
Tomorrow at 10am, concerned offices will hold meeting to be headed by the City Disaster Risk Reduction and Management Office and necessary announcements are expected to be released again right after the meeting.
"Let's pray and hope the powerful typhoon will deteriorate from its present condition as it enters the Philippine Area of Responsibility", said Ricafort, but also stressed, "let's be safe all the time."
According to the latest forecast, typhoon "Haiyan" is now at roughly 500 miles south of Guam and is gathering strength in a favorable environment of light winds aloft and warm sea-surface temperatures.
However, it will also put it on a collision course with the Philippines later this week as it may approach in a super typhoon status (sustained winds at least 150 mph) around Friday and strike Central Visayas, Eastern Visayas and Southern Luzon.
"Haiyan" is also projected to cause rains in other parts of the Philippines raising the threat of flooding and mudslides.
"Haiyan" is then expected to sweep quickly into Vietnam by Sunday, possibly still as a strong typhoon.
—————————