Tourism Department Expects to Hit Target Arrivals
[smartads]
EASTERN Visayas has received 270,611 tourists as of the third quarter this year pinning high hopes to hit the 393,072 target arrivals by the end of 2012, set under the five-year tourism sectoral plan.
In an initial report released Wednesday, the Department of Tourism (DOT)-Tacloban City revealed that the region has achieved 70 percent of the annual target as of the end of September 2012, even though only 80 accommodation establishments in six provinces have submitted tourist receipt data.
DOT Regional Director Karina Rosa Tiopes said the region needs 122,461 tourists arrival for the last quarter to meet this year's target.
From January to September 2012, the region received 256,779 domestic tourists and 13,831 foreign visitors.
"Hitting the target is very attainable since we expect more hotels to submit reports. The region has improved a lot in terms of accessibility and participation of local government units. There is also change in the culture of tourism in some areas," Tiopes told Leyte Samar Daily Express.
Of the six provinces, Leyte has the most number of tourist arrivals with 14,440; Northern Samar with 11,553; Eastern Samar with 3,203; and Southern Leyte with 1,578. The provinces of Biliran and Samar have yet to turn in their reports.
Among the cities, Tacloban registered the highest figure in arrival with 160,292; Ormoc with 25,530; Maasin, 24,049; Baybay, 22,670; and Calbayog, 7,296. The DOT is still waiting for arrival reports from cities of Borongan and Catbalogan.
Please continue reading at the link below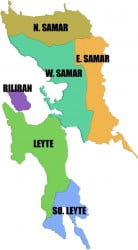 http://www.sunstar.com.ph/tacloban/local-news/2012/11/22/tourism-department-expects-hit-target-arrivals-254556