The Texas Trip – Kadena to Clark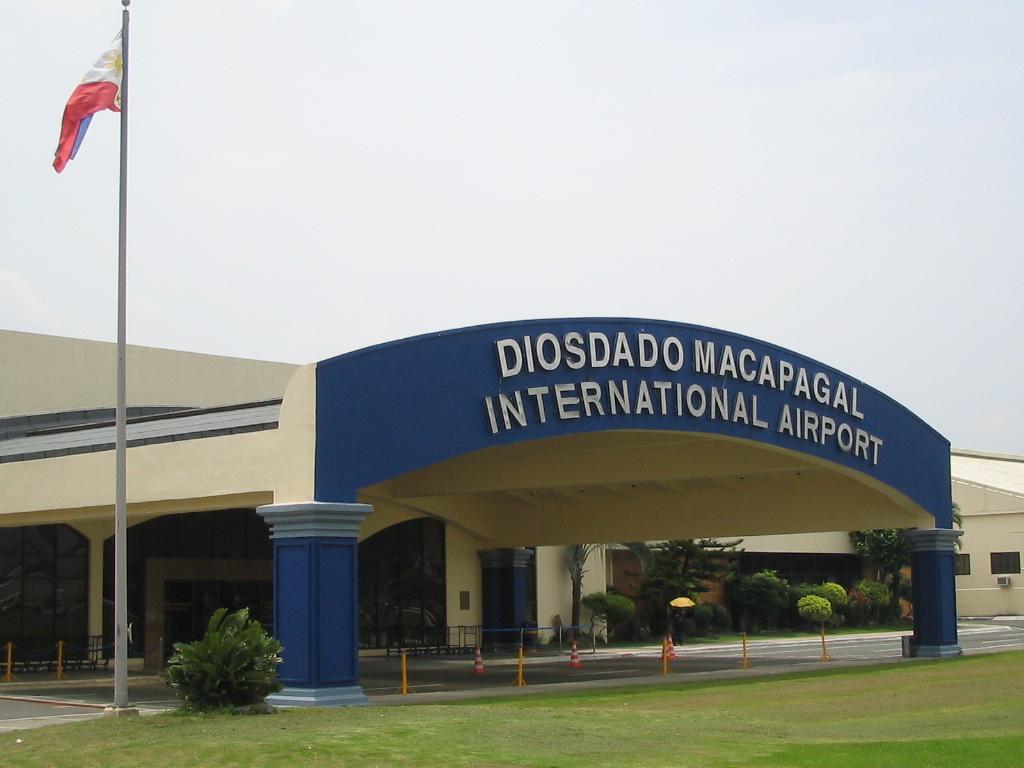 [smartads]  So as I was saying in the last post, we are happily sitting in the waiting area waiting for our flight from Kadena to Manila.  We were glad we are finally on our way to getting back to Calbayog City. Then someone comes in and says they made a mistake.  The plane doesn't go to Manila today, that's tomorrow.  That seems like some pretty bad luck, and we have been having some pretty good luck as far as Space A flight go.  It all turns out for the best and we thought even better than we could hope for at the time.  There was an unscheduled flight that just came in, a large plane and it was going straight to the Philippines, to the Clark airport.  Did you read that, a large plane?  So for the third time (see the first 2 times in the previous post), our luggage has been saved.  This time there is no question because the weight limit for the larger planes are 70lbs per person check in and (I believe) 20lbs per person carry on.  That's almost twice as much as we need with our 93lbs.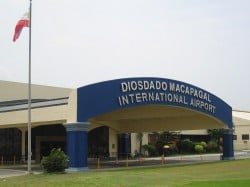 Since the flight was unscheduled, there were not a lot of people waiting at the terminal, except, this was kind of funny to me, the people that were suppose to be on the earlier flight going to Guam and then Manila.  That flight got delayed and was now leaving later than the unscheduled flight we were getting on.  There were only 5 people on that earlier flight that were going all the way to Manila anyway.  They just let them transfer over to our plane, if they wanted to (and they all did).
While we were waiting to get re-processed through for the new flight, I was talking with Joe (that's Joe Sablan, again see previous post to know who he is) and I told him about the 5 people from the previous flight transferring to our flight.  Maybe the would now be able to get on that flight.  I figured that maybe everyone that was going to Guam had already left the terminal and maybe he and Margarita were the only ones left still going there.  He rushed over to check, but we were called back to process before he returned so I don't know if they got on or not.  I have since e-mailed them, but to date have not got a response.
So we get on the bus to go to the plane and the bus leaves the terminal and even the airfield.  It takes a couple of minutes for me to realize that the flight is on the Navy side of Kadena, not the Air Force side.  Cool!  Now I'll get to see the last place I worked at when stationed at Kadena.  I didn't do it before because the taxi ride would cost way too much.  It's a long way over there.  I saw the building, but there is a different squadron in there now.  I'm not even sure of the number of the building, even though I still remembered the first one I was ever in on Kadena, but I think it is building 3520 for some reason.  Anyway when we get to the plane it's already time to board, but the plane already has a lot of Navy people on there.  They are all spread out, almost all of them 1 to a seat, leaving no empty seats.  Lita and I just sat across from each other.  It's only about a 2 hour flight anyway.
So we get to Clark and I'm thinking that this should be another adventure for us, learning something new.  It was and what I learned is I don't like coming in to Clark.  I'd rather go through Manila, or better yet, Cebu.  The check in procedure they have there is not the norm and it confused me.  They had us all leaving our luggage in a spot out front, being watched by someone I didn't know, while we went around the corner (where we can't see our luggage) to get our passports stamped.  All 9 of the non-active duty passengers were in there at the same time and customs had all the passports.  I reminded Lita to tell them to be sure to stamp our with the "BB" for Balikbayan so we could stay another year.  I heard her say something to him in Tagalog and she said the word "balikbayan" so I guess she did.  After all, that's one of the main reasons for the trip.
So finally we get our passports back, but when I looked at mine, the little "BB" was not there.  I reminded Lita again to let them know.  The official asked Lita if I was her husband.  Duh!  We have the same last name on the passports, they were issued on the same day, the passport numbers are only one number apart and we already have a couple of the "BB" stamps on there already.  If he really pressed though, we did bring our marriage certificate, which is mandatory to bring although we have never been asked for it.  I'm always going to bring it, just in case.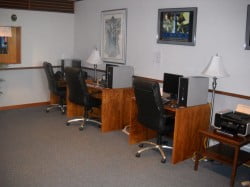 After that finally gets resolved, I'm thinking we get our bags and go through security to the ticket booths so we can get tickets to Tacloban, after which we would take the Grand Tour to Calbayog.  There were several airlines open over there.  Nope!  We get our bags and leave the building.  The only good thing that has happen so far is we skipped over the stop to pay the terminal fee.  So back outside I'm trying to figure out our next move.  I find a couple of ticket booths around the corner, Cebu Pacific and AirPhil Express.  No Philippine Air Line, which surprised me.  Neither of the 2 available ones take dollars, which is about all we have left. So I find an ATM machine and get out what's left of our money, in pesos because the security guard will not let us go back into the terminal to the currency exchange teller to cash in the dollars that we do have.
Since I like using Cebu Pacific, I went there first.  They had a flight leaving later tonight, the last one of the night, going to Cebu, then Tacloban the next day.  So that means spending the night at the Cebu terminal.  Cost is P4950 each, so P9900 (I hate last minute bookings).  The AirPhil flight was leaving tomorrow afternoon, going through Manila.  So that meant we would have to spend the night here and come back to catch the flight then.  Price was P2050 for 2, not each.  What?  That's a heck of a big difference in price.  I ask the ticket lady, before I buy the ticket, "This is from here to Tacloban"?  She said yes, it's a special.  I asked again, "From here to Tacloban".  She said, "Yes" again.  Great!  That sounds much better to me.  We know a good hotel in the area, Woodland Park Resort, so we'll just take a taxi there, it's close, and come back tomorrow afternoon.  NOT!  No sooner had I bought the ticket, I find out that the flight does not leave from here, it leaves from Manila.  Crap!  I can't get my money back so now we have to find a way to get to Manila.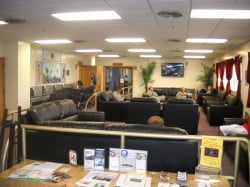 We checked around and found out that the cheapest way to get to Manila was via bus, specifically they said, Philtranco, one of the many, many bus lines they have here.  The bus would take you right to the airport.  I believe they said the price was P150, but I could be mistaken on that.  I don't know because we didn't do that.  Neither Lita or I have experience riding buses in the Philippines.  It is already starting to get dark outside and we really we not looking forward to trying to figure out the bus system, especially at night in unfamiliar territory.  We didn't seem to have another option though.  Of course another option did present itself.  It would cost a lot more than P150, but all in all we would still be saving money this way instead of buying that Cebu Pacific flight.  Details in the next post.
Salamat Y'all
Interesting Knowledge:  Marine mammals such as dolphins and whales manage to sleep without drowning, because only half their brain sleeps, while the other half stays awake and handles the breathing and swimming chores. The two hemispheres of their brains work totally independently. For 8 hours, the entire brain is awake. The left side then sleeps for 8 hours. When it wakes up, the right side sleeps for 8 hours. Thus, the marine mammals get 8 hours of sleep without ever having to stop physically.
 August 23rd
Wednesday 23, 2000:
Nicaragua becomes a member of the Berne Convention copyright treaty. This essentially deprecated the Buenos Aires Convention treaty, because as of this date, all members of the BA Convention were also signatories to Berne.
Sunday 23, 1992:
Hurricane Andrew hits South Florida.
Thursday 23, 1990:
West Germany and East Germany announce that they will unite on October 3.
Wednesday 23, 1989:
1989 – All of Australia's 1,645 domestic airline pilots resign after the airlines threaten to sack them and sue them over a dispute.
Sunday 23, 1987:
Heavy rains and floods in Bangladesh kill hundreds of victims.
Friday 23, 1985:
Hans Tiedge, top counter-spy of West Germany, defects to East Germany.
Thursday 23, 1979:
Soviet dancer Alexander Godunov defects to the United States.
Monday 23, 1976:
A major earthquake in China kills thousands of people.
Saturday 23, 1975:
Successful Communist coup in Laos
Thursday 23, 1973:
The Intelsat communication satellite is launched.
Friday 23, 1968:
Ringo Starr temporarily quits The Beatles
Tuesday 23, 1966:
Lunar Orbiter 1 takes the first photograph of Earth from orbit around the Moon.
Thursday 23, 1962:
First live television connection between the United States and Europe, via the Telstar satellite.
Tuesday 23, 1960:
In Equatorial Guinea, the world's largest frog (3.3 kg) is caught.
Saturday 23, 1958:
Chinese Civil War: The Second Taiwan Strait crisis begins with the People's Liberation Army's bombardment of Quemoy.
Saturday 23, 1952:
The Arab League goes into effect.
Monday 23, 1948:
World Council of Churches is formed.
Saturday 23, 1947:
The Maynard Midgets beat Lock Haven 16-7 to win the first-ever Little League World Series championship.
Wednesday 23, 1944:
World War II: Ion Antonescu, prime minister of Romania, is arrested and a new gouverment is established. Romania exits the war against Russia joining the Allies.
Monday 23, 1943:
World War II: Kharkov liberated.
Sunday 23, 1942:
World War II: Beginning of the Battle of Stalingrad
Friday 23, 1940:
World War II: The Germans start bombing London.
Wednesday 23, 1939:
World War II: Germany and the Soviet Union sign a non-aggression treaty, the Molotov-Ribbentrop Pact. In a secret addition to the pact, Baltic states, Finland and Poland are divided between the two nations.
Friday 23, 1929:
1929 – Arabs attack Jews in Israel
Tuesday 23, 1927:
Italian anarchists Sacco and Vanzetti are executed in Boston, Massachusetts.
Saturday 23, 1924:
The distance between Earth and Mars is the smallest since the 10th century.
Sunday 23, 1914:
Japan declares war on Germany and bombs Qingdao, China.
Tuesday 23, 1904:
The automobile tire chain is patented.
Friday 23, 1889:
First wireless message from a ship to the shore received.
Thursday 23, 1866:
Austro-Prussian War ends with the Treaty of Prague
Tuesday 23, 1864:
The Union Navy captures Fort Morgan, Alabama, thus breaking Confederate dominance of all ports on the Gulf of Mexico
Friday 23, 1839:
The UK captures Hong Kong
Friday 23, 1833:
Slavery abolished in the British colonies
Thursday 23, 1821:
Mexico gains its independence from Spain
Monday 23, 1813:
At the Battle of Grossbeeren,the Prussians under Von Bulow repulse the French army.
Friday 23, 1799:
Napoleon leaves Egypt for France en route to seize power
Friday 23, 1793:
French Revolution: a levée en masse was decreed by the National Convention.
Monday 23, 1784:
Eastern Tennessee declares itself an independent state under the name of Franklin; the step is rejected by Congress one year later
Wednesday 23, 1651:
Charles II of England enters Worcester and starts a battle.
Wednesday 23, 1617:
In London, the first one-way street is established
Saturday 23, 1614:
The University of Groningen is established
Tuesday 23, 1566:
Calvinists are granted rights in the Netherlands
Friday 23, 1540:
French explorer Jacques Cartier lands near Quebec City in his third voyage to Canada.
Monday 23, 1328:
King Philip VI of France is crowned.
Sunday 23, 1305:
William Wallace is executed.