The Texas Trip – Clark to Manila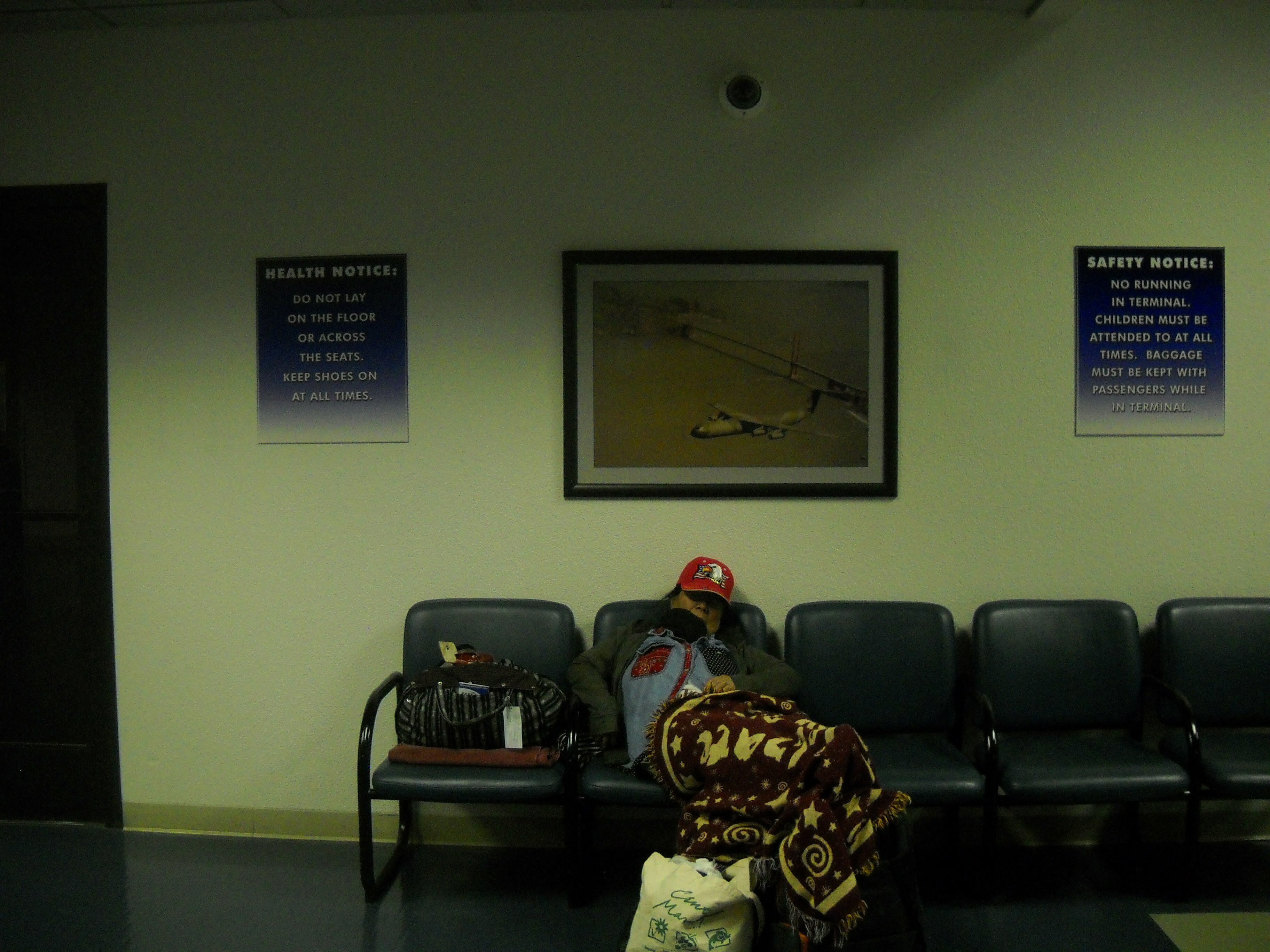 [smartads]
So here we are at Clark Air Base, needing to get to Ninoy Aquino International Airport (NAIA) in Manila.  We are unsure about taking the bus because neither of us have had experience riding buses in the Philippines.  I have found out since then, from a comment by Don, that it is a nice ride on the Philitranco bus, it delivers you right to the airport in about 3 hours and there are no bus changes on the way.  If I would have known that, we probably would have taken the bus, but we didn't know.  So we got another option to our dilemma, a taxi.
One of the guys at the taxi stand said that he would be able to take us to the Manila airport and help us with our bags for P3500 ($87.50).  Well by this time we are out of options so we decided to go ahead and take the taxi.  Of course another problem arose.  They want pesos, and we don't have any.  The security guard will not let us back into the terminal area where the currency exchange booths are.  He said we were not authorized in that area.  Well crap, I wasn't authorized in the area when we was in there either.  So what to do.  The guard offered to take our money and get it exchanged for us.  Whoa!  That is something that I normally will not do, but in this case it was do that or take the bus, so I did it.   Lita gave him $120 and he brought us back P5000.  That is correct.  I was happy that I took the chance, but I don't know if I will do it next time or not.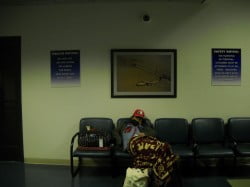 So we got the money and hopped in the taxi.  It was a nice taxi, a van.  We were the only passengers so there was plenty of room to lay down if we wanted to.  It had a good ac and he already had it running for awhile before we even got in.  Our driver seemed surprised that he was going to be the one to drive us, but he did it without complaint.  On the way I so wanted to stop to get a bit to eat, but we just couldn't afford to do it.  We still had plenty of time though.  We would be spending the night and all the next afternoon in the Manila airport.  Our flight for Tacloban did not leave until about 5pm the next afternoon.
The driver was a very nice guy and he and Lita talked most of the way there.  I did get a little worried once we got to Manila though because he was taking a shortcut to avoid the traffic (and probably some flood water), but it brought us through some pretty seedy looking places.  We made it through there without an incident though.
So we get to the airport, we find AirPhil Express entrance, he goes to get us a luggage cart, he helps us unload the bags, I pay him and thank him, then he leaves.  We go inside but it's so late that all the counters are closed.  It probably would not have mattered anyway because our flight was a sale flight and they will not let you change the flights you buy on sale.  I've tried a few times already, just not with this airline, since it will be our first time riding this airline.
So we find the area that they let in passengers with tickets.  It's just a roped off area at the end.  A guard checked our tickets and let us in.  There were several guards and they seem to be taking turns watching the area, but there was not always a guard there.  All the guards were women also.  So I help Lita get settled in for the long wait and I go exploring, like I always do.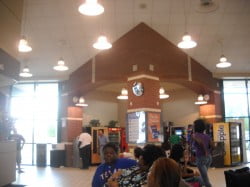 I saw a 7 Eleven upstairs so I walked up there to see what they had.  Still not wanting to spend much though, I just bought a drink.  The rest of the floor looked pretty much deserted at that time of night.  It didn't look like it had much at all up there anyway.  After making 3 trips to the 7 Eleven, I finally ventured to the other side and found that they do have some restaurants over there.  By this time it was already the next day and the restaurants were open.  Of course we decided it was wise not to go there, especially since airports are notorious for being expensive.  We were still eating the goodies we bought at the BX back in Alaska on Elmendorf Air Force Base.  Besides, we still had to get from Tacloban City to Calbayog City and who knows what surprises were in store for us.
After awhile I mentioned to Lita that if we could get in contact with Jun in Tacloban City, maybe he could pick us up at the airport and that would be one less thing for us to worry about.  However we do not have a phone and even if we did, we do not have Jun's phone number.  The thing is that we are scheduled to arrive at the Tacloban airport (Daniel Z. Romualdez Airport (DZR)) at around 6:20pm.  The last Grand Tour van for Calbayog leaves at 6:30pm.  It's doubtful we would make it in time.  That means we would have to spend the night in Tacloban.
Lita comes up with a solution.  She sees a Filipino guy on his cell phone playing a game.  She asks him if he has the Globe network.  He does.  With Globe you can call any other phone on the Globe network, for free.  I don't know if that is anywhere in the whole world, but I know it's true for anywhere in the Philippines.  Lita calls Titing and has him call Jun for us.  We are hoping that nothing goes wrong because we can not get a call back on that.  Shortly after the call, the guy leaves to get his flight.  We still have about an hour before we can even start boarding and about 4 more hours before our flight leaves.  Knowing our relatives though, we figured that someone, somehow would be there.
Finally it gets to 1:55pm.  We can start processing at 2:00pm for the 5:00pm flight.  We go to the PhilAir Express area and there are a lot of people in the lines already.  All the lines except one that is.  There was only 1 person in that line.  I don't know why that's all there was, but we got in that line.  When our turn came up, we processed through just as normal as we always do.  No one bothered getting in line behind us either.  That's still a mystery to me.
So we go to the domestic flight security check point and run into a problem.  It seems that you are not allowed to bring can goods through.  I have 7 can of Underwood Deviled Ham in my bag.  They confiscated all of them.  The lady at security must have had sympathy for the pathetic look on my face though, because she at least gave me one can back.  Lita told her to please not throw them away, but to take them home with you or give them to somebody.  Those cans only cost me .99 each, but I can't get them over here.  I did get some of their chicken spread before, but I can no longer find it.  The chicken spread was $1.49 versus the .99 for the deviled ham, so I just got the least expensive one when we were at the Kadena commissary.  Of course we don't know what she did with the cans, but I hope they didn't end up in the trash.
Remember:  No Can Goods through Security!
We find out where the gate is and head that way.  Of course it is not a close gate.  It's like the 3rd from the last.  While Lita sat, I explored.  They have several restaurants in that area, but none of them were American style.  I was hoping there would be a Subway there.  They do have a place to get a massage, but I didn't see the price.  Being in an airport though, it's probably pretty expensive.
Next post will be the last one for the Texas Trip and this is the last sentence for this post.
Salamat Y'all
Interesting Knowledge:  In ancient Egypt, when a woman's husband was convicted of a crime, she and her children were punished as well. They were usually enslaved.
August 25
Thursday 25, 2005:
2005 – Tom Boonen wins the World Championship cycling in Madrid, Spain.
Monday 25, 2003:
Fifty-two are killed in two Islamic terrorist bomb blasts in Mumbai, India.
Sunday 25, 1991:
Belarus declares independence from the Soviet Union
Friday 25, 1989:
Mayumi Moriyama becomes Japan's first female cabinet secretary.
Thursday 25, 1988:
The historical center of Lisbon is destroyed by a fire.
Monday 25, 1980:
The Broadway musical 42nd Street opens; the show's director, Gower Champion, had died earlier that day.
Monday 25, 1975:
Bruce Springsteen releases Born to Run, the album that would launch him to super stardom.
Thursday 25, 1960:
Games of the XVII Olympiad open in Rome.
Friday 25, 1950:
President Harry Truman orders the US Army to seize control of the nation's railroads to avert a strike.
Sunday 25, 1946:
Ben Hogan wins the PGA Championship.
Friday 25, 1944:
World War II: Paris is liberated by the Allies.
Tuesday 25, 1942:
World War II: Battle of Milne Bay, Papua New Guinea
Wednesday 25, 1920:
Polish-Soviet War: Battle of Warsaw, started on August 13, now ends. The Red Army is defeated.
Friday 25, 1916:
The United States National Park Service is created.
Sunday 25, 1912:
The Kuomintang, the Chinese nationalist party, is founded.
Thursday 25, 1910:
Yellow Cab is founded.
Saturday 25, 1894:
Shibasaburo Kitasato discovers the infectious agent of the bubonic plague and publishes his findings in The Lancet.
Wednesday 25, 1875:
Matthew Webb becomes the first person to swim the English Channel.
Tuesday 25, 1835:
The New York Sun perpetrates the Great Moon Hoax.
Wednesday 25, 1830:
Belgium revolts from the Netherlands
Thursday 25, 1825:
Uruguay declares its independence from Spain.
Thursday 25, 1768:
James Cook begins his first voyage.
Friday 25, 1758:
Seven Years War: Frederick II of Prussia defeats the Russian army at the Battle of Zorndorf.
Thursday 25, 1718:
New Orleans, Louisiana is founded.
Tuesday 25, 1609:
Galileo Galilei demonstrates his first telescope to Venetian lawmakers.
Monday 25, 1580:
Battle of Alcantara. Spain defeats Portugal.
Wednesday 25, 1537:
The Honourable Artillery Company, the oldest surviving regiment in the British Army, and the second most senior, is formed.