[smartads] Well I told you that I would do another post today, and I started it but I'm not sure I'm going to finish it.  I'm pretty tired right now, but I will get some of it done now and at least finish it in the morning.  I did not get very many pictures but I did get 4 or 5 of them, including the one above.  If I'm lucky again I will just get April 5th and 6th now and have April 7th and 8th tomorrow.  Things were pretty dull around here until the 7th though, so let's just wait and see again.
Useless Knowledge: The Muppet Show was banned from TV in Saudi Arabia because one of its stars was a pig.  (Give me a break, how utterly silly)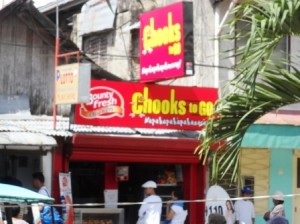 5 Apr – Hits @ 0050 = 287527.  Lita woke me up at 0648 this morning to help open the store.  She had J doing something else and didn't want to bother him and I guess she figured all I was doing was sleeping and everyone else was up working, so I needed to be up also.  The LolyKat store still has not re-opened, because Lita decided to have it painted first.  It will be painted white with blue trim.
Also when they put the new "LolyKats Store" sign on top, someone must have been too heavy because they made a hole and when it rains (which it did a lot of for awhile there) it got the front counter all wet.  That also is being fixed at this time.  Vicky's oldest son is doing the painting and the roof repair.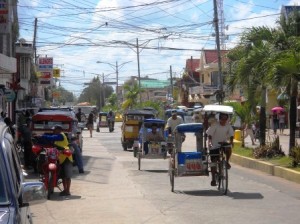 I went through and did a count of all the merchandise in the store, but I'm letting Lita and Cathy handle it from there for inventory purposes.  I learned a few things about Filipino food and other merchandise while I was doing the count too.  I went into detail on the count.  For example, there are several types of shampoo from different companies.  I not only separated it by brand name, but also the type (regular vs dandruff) .  I also separated the different sizes of the can goods (and most of those had 3 different sizes), things like that, whatever I thought was best.  I don't know if they wanted that much detail, but when I do something, I try to do it the best I can and with as much detail as possible.  Hopefully they will use that to determine the types and sizes of things to buy instead of getting things that become stagnant in the store.  I've already corrected them on some of the monetary things they were doing wrong.  They were rounding up/down when they do the counting.  That's what they do at the supermarkets here when you buy something.  They round it to the nearest .25 when giving you your change.  I told them we want exact amounts and it should not have any point (.) anything because we only charge in whole peso amounts.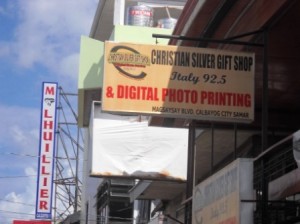 I always double check the money amount at the end of the day anyway and correct any discrepancies.  Cathy usually does the first count.  I'm thinking that Cathy and I should just do the count together and that way there would be a lot less chance for errors on the count and we wouldn't have to count it a second time.
They still sell some cigarettes and Rhum at times though, our #1 and #2 sellers in the store anyway.  We do not have any candy at this time, our #3 seller, but will be sure to get plenty when we do re-open.  I don't know when that will be yet.  Lita may decide to wait until we return from our short little off island trip in early May.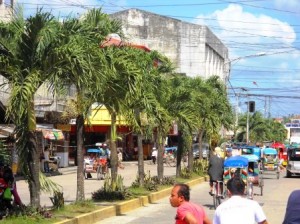 6 Apr – Hits @ 0133 = 291396.  I was up and around at 0650 this Wednesday morning.  The last few days have been pretty boring but I'm expecting at least the next couple of days to have some activity.  Tomorrow is our 31st wedding anniversary and I will be taking my wife out to eat someplace downtown.  I have a place in mind, but I haven't told her yet.  Sometimes that backfires on me when I don't tell her, but I 'usually' get what I want when I'm paying. I think the one I want to go to is El Carmelo's on Magsaysay Blvd.  It might be the other one, Carlos n' Carmelo's on Nijaga St, but I'll find out when we get downtown.  I still haven't gotten the streets downtown mastered, like back home.  I can navigate all those downtown streets back home, blindfolded, as long as no construction is going on.
I found out, for sure, today that I will be going to Tacloban on Sunday, April 17th.  I complained enough about not having the right foods here and Lita started feeling sorry for me.  I'm not sure who will be going with me, except I know that J will be going.  He is going to get his birth certificate so he can start school here in June.  Lita and/or Ramil may be going also, but I don't anticipate more than us 4 going.  I know that I'm not going to be paying for more than 4 people anyway.  The ride down there is P200 per person and also P200 per person to come back.  J will be spending the night down there with one of his Uncle's because the 17th is on a Sunday and the city offices won't be open.  They will just go on Monday morning and J will return later on Monday.  I'm hoping that while we are there we will get a chance to eat at the Dream Cafe.  It's going to depend on Lita though, she's paying this time and sometimes she just doesn't feel like leaving the mall once she gets there.  We could always leave here around 6 or 7 in the morning.  That way we will be there at lunch time and we can go straight to the cafe, after which we can take a taxi to Robinson Mall.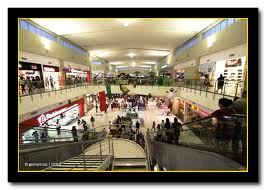 Speaking of malls, did you read the comment section saying that it has been determined that the new Gaisano Mall they are going to build here will be built downtown at the market place?  That pretty much puts a damper on my plans for them building it here, but then I remembered that maybe they will be putting up a warehouse for Gaisano.  I figured that that, plus the new road going to the new market and the new bus stations, might draw some positive attention to this area.  In addition to that, according to Qailord from the Skyscraper blog, the area that Gaisano bought here (7000m) is too big for a warehouse, so maybe they will be building another, smaller mall, or even a department store.  Of course that is not confirmed, just speculation, but it's something to keep an eye on.  I still think the mall should be here because the view would be better, so if they decide to build a smaller mall here, that would be best.  Not only for me, but that would also employ even more people around here.  That is more important than me getting what I want.  I'm not greedy and I'd rather for the Filipinos around here to have more jobs than for me to be more comfortable in my already comfortable home.
Lita went to the market again today, by herself.  She knows a lot of people at the market now and has regular tricycle drivers there to help her, so I don't worry about her so much anymore.  Of course if something happened to her, no one would know who to get a hold of, except if one of the tricycle drivers took it upon himself to peddle all the way out here to tell us.  I'm sure Lita does not know our phone #, phone system sucks anyway, but she could tell the hospital right were we live.  Again I will mention that there are no house #'s on the house here, which still seems stupid to me, but since we live right across the the Ciriaco, it's easy to find us.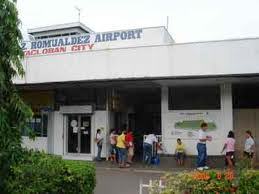 I'm making some stew today again.  I sure make a lot of stew don't I?  When I go to Tacloban I plan to buy several cans of the stewed tomatoes for my stews.  That and tabasco sauce are high on my list.
I'm hoping to get enough stuff to last 2 or 3 months.  In July or August we do plan to take a short, maybe 1 week at the most, trip to Korea and go to the US Air Force Base (Osan AB) there to go shopping at the commissary and the BX.  I guess I won't have a problem shopping there with my ID, but I've never tried to use my retirement ID at a commissary or BX (PX) overseas.  I told you I looked it up and it looks like it will be okay, but I never believe it until it actually happens.  So once I get there, get in, shop and get out…then I'll believe it.  We might have to send some of our stuff in the mail or through balikbayan before we leave there though.  I'm still hoping that bringing back a preserved ham is allowed.  I still haven't been able to find out for sure about that.  It seems that we are not allowed to bring back meat, but I'm not sure if that includes preserved, already cooked meats.  I guess the sliced deli lunch meat is not going to be possible.  I was hoping to get some roast beef, ham, bologna and maybe some P & P loaf back to Calbayog.  Guess I'll just have to enjoy it while I'm there and not be able to share it with the ones here.  That's the reason I really want to bring some back, so I can let others experience those things, especially the preserved ham.
Well I did it again.  I blah, blah, blahed enough to make a good post out of only a few items.  I do not have many pictures, but I will put in what I have and fill in with other things.  So if you're still reading this, thanks for not falling asleep and getting this far.  I think that tomorrows post will be a bit more interesting.  Maybe even the day after that will have it's moments.

Useless Knowledge: The size of the very first footprint on the Moon was 13 by 6 inches, the dimensions of Neil Armstrong's boot when he took his historic walk on July 20, 1969.  (I remember this day and where I was when it happened.  I was 11 & 1/2 years old (you know some kids liked to stress that 1/2).   I guess this footprint was including his large space boots)
Salamat, Palaam
Today in Philippine History
Seal on KKK late-1896-to-early-1897 documents
"K.S." probably stands for Kataastaasang Sangunian
1896 – The Supreme Council of the Kagalanggalangang Katipunan nang manga Anak nang Bayan (KKK), the secret society aiming to overthrow Spanish colonial rule in the Philippines, informs its members about a huge fire that destroyed the houses of several Katipuneros in Manila, expressing belief that the enemies (colonial Spaniards) caused the fire and so agrees on publishing a pamphlet denouncing this act of arson; the KKK council (Kataastaasang Sanggunian) that has met at the house of the Physician General Pio Valenzuela in Manila also decides to produce a fund-raising stage show at the Teatro Colon on May 2-3 for the benefit of the members of the Katipunan affected by the fire; the conflagration, which occurred some eight miles away from the meeting place acros the Kawit bay, even alarmed Supremo Andres Bonifacio y de Castro who feared that his own house in Dulumbayan was among the hundreds of houses ravaged by fire; Bonifacio's wife, fellow Katipunera Gregoria de Jesus and his son christened Andres, were unharmed although the Supremo's son would still soon later die in infancy; the fire unfortunately also destroyed the book collection "Basahan ng Bayan" that the Katipuneros were assembling.

Raw Photo Credit: http://kasaysayan-kkk.info/gallery.selyos.htm
Seal used on KKK Supreme Council
documents until 1896
1896 – Orders aimed at strengthening the internal organization, including the implementation of new secret signs, and the financial capacity of the Kagalanggalangang Katipunan nang manga Anak nang Bayan (KKK), the secret revolutionary organization aimed at liberating the Philippines from Spanish colonial rule, are issued by the Supreme Assembly and Supreme Council; during the same meeting, Katipunan co-founder and Supremo Andres Bonifacio y de Castro reminds all members to strictly follow said orders as the council also announces the immediate expulsion of all erring Katipunan members; the 11-point orders of the KKK Kataastaasang Kapisanan [Supreme Assembly] and the Kataastaasang Sangunian [Supreme Council] include listing certain expelled members as "Traitors," such as Jose Turiano Santiago for supposedly disparaging the Katipunan before the family of patriot and polymath Jose Rizal y Mercado; the new secret signs approved include placing one's right hand on the left shoulder to signify that everything is all right and the password  "Na Sa Anak Bayan" [With the Children of the People].
Raw photo credit: http://kasaysayan-kkk.info/gallery.selyos.htm