Metro Department Store, Gaisano Grand, 2 Other Malls to Rise in Calbayog City
[smartads]
CALBAYOG City – The Gaisano-led retailer Vicsal Development Group (VICSAL), owner and operator of the Metro Retail Group, the leading retail store based in Cebu City, on Tuesday broke the grounds for its 11, 380 square meters Metro Department Store and Supermarket in this city.
Metro officials were joined by city officials, partners and others sponsor of the project, to include the school officials in the groundbreaking ceremonies.
The proposed mall site, which was located inside the city's premier Christ the King College, in East Awang is expected to open by last quarter of 2013.
This Metro Store Calbayog will be Metro's 30th stores; eight of them will soon be open by the end of 2013, in addition to its chain of successful stores nationwide.
In an interview, Metro Retail Group chief of Operations Eduardo Ponce said they have chosen the city because of its good location and having less competitors in the area except for a local market.
Ponce added that Metro stores are known for their comfortable and friendly outlets that offer a wide assortment of fresh and quality products at competitive prices.
"Its retail offerings include grocery, home (house ware, linen, home decors, furniture), food outlets, car dealers, pharmacy and many more," Ponce said.
VICSAL is a private family corporation primarily engaged in the retail business. It owns and operates a chain of department stores and supermarkets popularly known as METRO. Vicsal also owns the Pacific Malls, located in Mandaue City, Cebu; Legazpi City and Lucena. In 2011, Vicsal acquired a chain of neighborhood stores in Cebu, named Tita Gwapa.
Incorporated in 1981, Metro opened its first department store and supermarket in 1982. Ponce narrated that by its inception was through the vision of the late Sir Victor Gaisano, a seasoned retailer and one of the revered members of the Gaisano family who built the White Gold Department Store – the first department store and supermarket business in Cebu City. "White Gold, lasted for 30 years and became the largest of its kind since its establishment in 1949," Ponce adds.
Please continue reading at the link below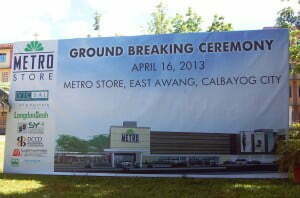 http://www.manilachannel.com/2013/04/18/metro-department-store-gaisano-grand-2-other-malls-to-rise-in-calbayog-city/