[smartads]
Time to put in another plug for an excellent website.  I had this site on the blog before when I was trying to do the whole Philippines, but deleted it later.  I decided that there is just too much good information for it not to be included, so I put it under the Samar Websites so everyone can get a chance to check it out.  The name of it is Ivan About Town.
—-
Preview
And now to continue with our travel back home.  In the last post, Kadena AB we were just invited to a Korean lady's house, along with another new friend, to spend the night, instead of having to pay for a hotel.  She is a very nice lady and I had her name in an e-mail sent by Geordie (which is the correct, not Jordanie or whatever I had in the previous post), but the e-mail got erased during the massive erase day.  That story will be part of my regular post that I will type up after I finish this one.  As for now here is the remainder of our trip back from Texas, but this might be a long one.  Oh, I forget to mention that Geordie also speaks Japanese and Korean.
Remembering the Old Days
On the way to her house we stopped by the Commissary first because she wanted to buy groceries to make us breakfast the next morning.  We went out on Gate 2 street and turned on Miromi St, at what use to be the 4 corners, but the 4 walk ways over the road are no longer there.  We got to see a lot of places that we use to go to when we were stationed there.  A lot of it has changed, but I still recognized plenty of places.  I didn't see the Shakey's Pizza where it was, but maybe I just missed it.  The McDonald's was still there, only larger now.  Even the gate to get to where we lived in Sada housing I didn't see.  I think the houses were there, but it was a bit confusing and we were not stopping to check it out closer.  It wasn't vital for me to know, but I'd like to be able to go there, get out and look around a little bit.  Maybe someday.  We took Miromi all the way down to Highway 58, still seeing things from our memory.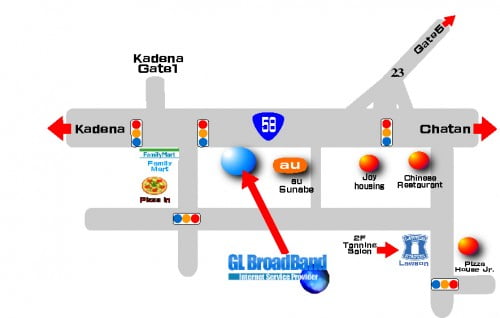 —-
I didn't see Regal Furniture there on Hiway 58.  That is where we had a lot of furniture made to Lita's specifications.  One of those items being our grandfather clock with curio cabinets on each side.  Shortly thereafter, we started seeing smaller versions of what she designed.  They are pretty common place these days, but sometimes I wonder if it all originated from her idea.  I suppose I could have missed seeing Regal there, but she didn't recognize the name.
She had a nice apartment.  It was crowded with knick knacks and little projects she was doing, but it was comfortable.  We all talked for awhile, had a good sleep.  She slept in her room (of course), Geordie slept on the spare room and Lita & I slept in the living room on the couch and love seat.  I got the couch because it is longer.  The next morning and she made us all breakfast the next morning.  Sausage, eggs, toast and lots of orange juice.  It was very good and I took advantage and drank most of her orange juice.  Yeah, I know, a bit shameful, but I did it already now and it's hard to get good orange juice in Samar.
For the return trip to back to the terminal, we went a different route.  We went all the way down Hiway 58 and in through Gate 1.  I was going to ask her to take that route, but she did it anyway.  That gave us an opportunity to see more of our old stomping grounds.  It has all mostly changed in that area.  There was a chain of small stores that seemed to be on like every other block.  I can't remember the name of it and I didn't write it down.  I did get to see the place where we bought our car while stationed there.  They were also larger and even had an additional lot further down the road.  Johnny's Used Cars is the name of that place.
This is not Highway 58 or Miromi, but they are mentioned in it: Traveling Route 24 in Okinawa
More Space A Flights
So when we get to the terminal and we miss out again.  There are 6 seats and we are numbers 6 & 7.  According to the rules of Space A travel, families must travel together, so that means we have to wait some more.  By this time Georgdie has already decided that he will be heading back to Korea.  He and the Korean lady got on a flight that afternoon.
The next day we get processed for a flight and head for immigration to process out of Japan.  Finally.  Or so we thought.  When we got back we found out that the flight has been delayed for 24 hours.  However, there are 2 flights scheduled in for tomorrow go to Clark and one of them is a commercial plane which could have over 100 seats available.  Let's see if something happens to keep us off that one.
Kadena Passenger Terminal  Video
So the next day we get there with high hopes.  There is a C-130 leaving in the morning and that 747 about 2 hours after that.  Now of course we all want to ride on the 747, even if we have to wait an extra 2 hours.  I mean it's our 9th day there, so what's an extra 2 hours.  Of course there was a problem mixed in there.  The 747 was going to be loaded with troops first.  Of course they have priority and I do not have a problem with that.  However they do not know exactly how many troops are coming, so they do not know how many seats will be available, if any.  So to be safe everyone going to Clark, there were 10 of us, got processed on the C-130 that had 15 available seats.  Later they found out how many seats there would be and it turned out to be, I believe 102 seats.  So still plenty of room.  So since they had already processed us the C-130 they asked if we wanted to switch to the 747, but there was still a problem.  The 747 'might' be delayed and few hours.  Forget that.  We are ready now and if the C-130 leaves and for some reason the 747 gets cancelled (which is how our luck has been going) we would be stuck even longer.  We decided to stick with the C-130 to be safe.  It's a longer, colder trip, but at least it was going.  So about another hour and we should finally be out of there.  Not so fast.
So I decide to go upstairs to the cafeteria to get some of their excellent yakisoba.  While I'm upstairs one of the other passengers tells me that they just found out that the 747 is definitely going and that ALL passengers have been transferred to the 747, including us, because the C-130 has been delayed.  Man, when the say that Space A is not guaranteed, y'all should believe it.
Heading Home
FINALLY, we get on the flight.  They let us on after the VIPs and before the troops.  We all must seat in a designated area, but all the seats around there are the same.  Nice seats, but it's still coach.
So when we get back we process through in the new section at the Clark Airport.  They have really expanded that place and it is way nicer and less crowded than it was the last time we were there.  We decided to stay in Angeles for a few days, mostly because Lita was stressed out and she wanted to relax a day or two.  It ended up being 3 days but then we knew it was time to get on the bus and head home.
Clark international Airport As you can tell from the video, I was not kidding when I said they have expanded this place.
Next Time
Next year we plan to stay in Korea for about a week, the MAYBE back to Texas, or maybe not, depending on our money situation.  We met another couple at Kadena, Ken and Yong Harrison.  He is retired military and they live in Korea, close to Osan.  I got their e-mail, but of course lost it.  I'll see if I can locate them online somehow. Also for next year I think that next year we will still take Space A, even after all that.  We did learn a few things that will make it easier next time and I'm sure that we will learn something else new next time.
Salamat Y'all