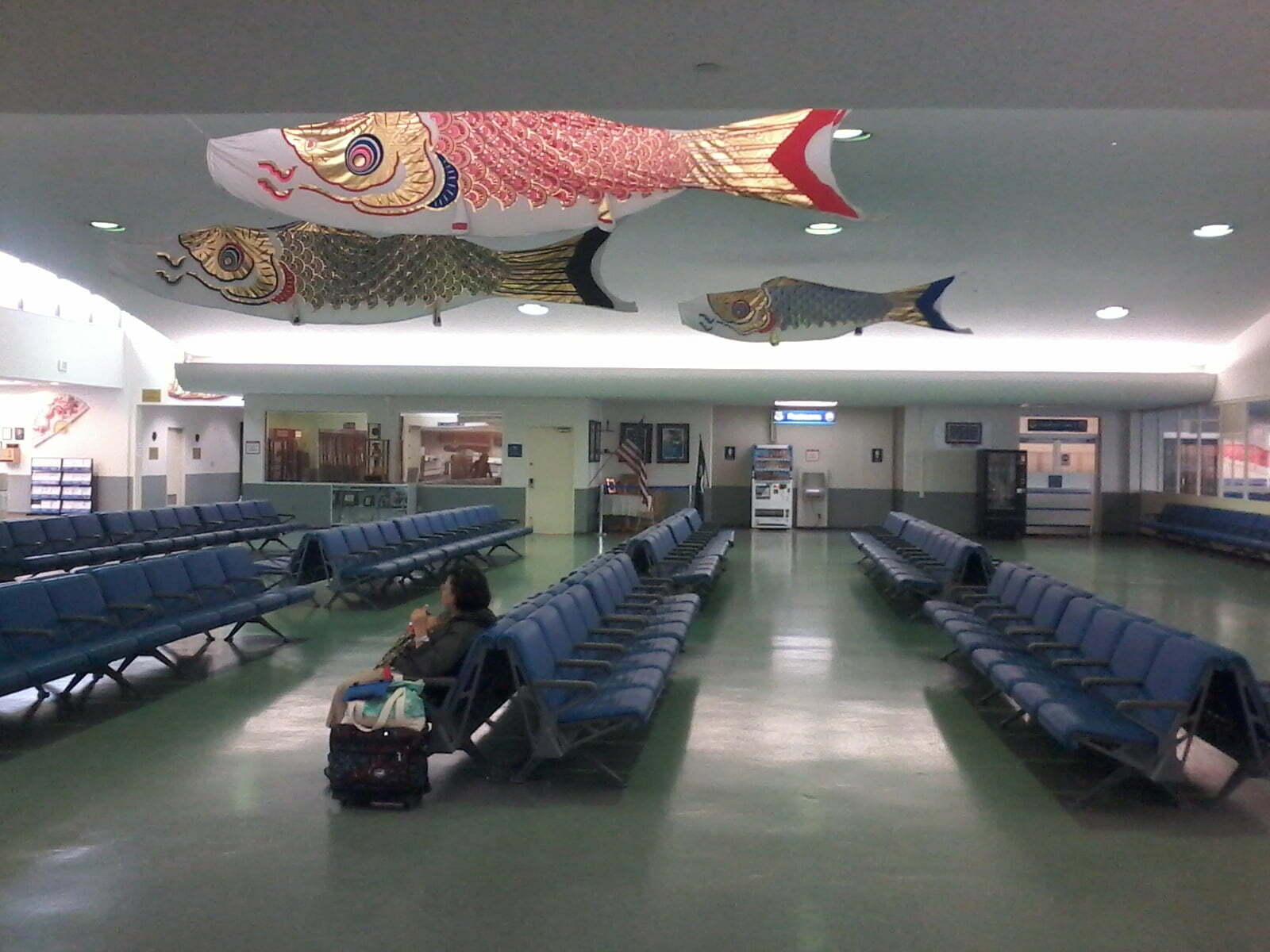 [smartads]
I'm a bit late on getting this last portion of our latest Space A trip.  I'm late because I was thinking I finished it already.  I started new notes after we returned and I used the same notebook, so these notes ended up being forgotten with each turn of the page of the notebook.  No matter, I'm ready to do it now.  My notes are not the best for this last portion, but most of it was an experience that I will remember for a long time, so I should get most of it in here.  All the good stuff for sure.
Okay, slight delay.  My 2 year old niece is in here wanting to see videos on the computer.  Hard to say no to her.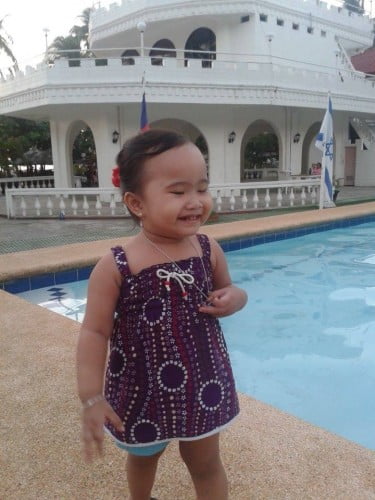 I'm back.  Since its been awhile since my last post, here is the link in case you need a refresher on it or maybe if you have yet to read it: https://texaninthephilippines.com/2015/01/09/san-antonio-to-kadena/ .  If you want to read it first, go ahead.  I'll just wait here until you are finished.  If you are not going to read it, then let's continue.
At Kadena – The Beginning
I don't really know where to start in these messed up notes, but lets give it a try.  We were hoping to get out the same day we arrived, but we didn't get lucky like we did when going to Texas. We only had to wait a couple of hours at Travis before getting to go.  We really needed to stay in a room with a shower tonight anyway, but we have gladly waited until we arrived in the Philippines to take care of that.  We plan to stay for a couple of nights in Angeles anyway.  Since there were no flights, with seats, we ended up getting a room.  I was hoping for a room in the main building so things would be within walking distance, but we ended up back closer to the AMC terminal in building 714.  There actually was a flight, but it had 0 seats and they delayed that flight until the next morning at 0600 anyway.
The next day at the terminal I met Dave Corrigan.  Actually he recognized me, but I didn't recognize him until he told me his name.  I'm not good at remembering people anyway.  Dave is the head honcho at the Clark terminal.  Actually I think he is the only one there.  He said he was on one of his rare vacations, but needed to get back as soon as possible.  I can understand that because no one can get out of Clark without him there.  Anyway, he was suppose to be on that flight that got delayed until 0600.  Even though it had 0 seats, he is a VIP in the Space A circles and gets to travel more like, I believe they all it, Space Required.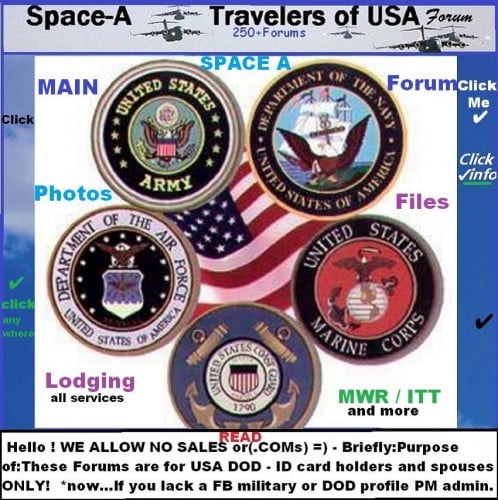 Immigration Procedures
So when we passed through Yokota on the way to Kadena, they did not make us go through immigration.  I suppose because we would still be in Japan at Kadena, so there would be no need.  Anyway at Kadena they are suppose to take you to immigration when you arrive, but you usually need to find your own way there when departing to sign out of the country.  That's when you need to find others to go with you to split the like $60 round trip taxi fare.  Something important to remember that I did not find out until after, was that on Friday's the Kadena terminal is open 24 hours.  That means the USO is open in there also, so, if you wanted to, instead of getting a hotel room, you can stay there.  They have 2 nice leather couches and 2 leather chairs.  Pretty comfortable, but not so long and you would have to leave the terminal if you wanted to eat unless you have your own food with you.  Also the USO by gate 2 is open on Friday and Saturday 24/7.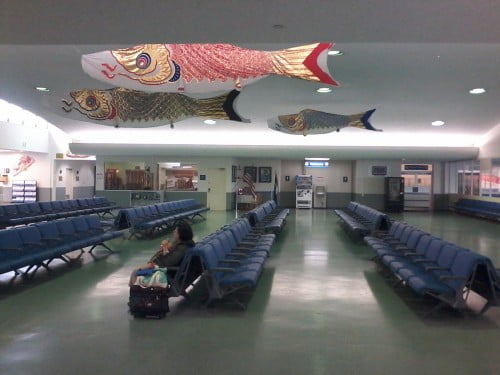 Flights/No Flights
So let's see, on our 1st Friday there there was a flight heading for Clark, but it only had 2 seats and there were at least 2 people ahead of us that we knew of waiting to go.  Those seats got changed to 0 anyway.  On Saturday there was a flight with 30 tentative seats at 0940, but it got changed until 0740 on Sunday.  Then on Sunday, they cancelled the flight.  On Monday there was a flight to Yokota.  We were going to take it and then take a flight to Singapore from there and then to Angeles City.  We didn't have enough money to do all that, but a guy we met (Jordande)(sp) , also trying to get to the Philippines, offered to pay for or Singapore to Angeles flight.  Since we were low on money, we decided to just skip our plans to stay in Angeles and just go home on the bus.  It all turned out to be mute though because that flight to Yokota was cancelled.  Not really a surprise the way things have been going.
Waited at the terminal after the cancelled Yokota flight because there was a flight to Clark.  There were 6 seats and a total of 5 of us wanting to get on.  Well I know that of that 5, we are #3 and 4, so things were looking good.  Looking good until about 10 minutes before roll call anyway.  Then a guy, Cat. 3, shows up with his wife and 3 children.  That's all 5 seats, so none of us got on.  The guy told me that he didn't even want to go, but his wife wanted to visit her parents and she didn't want to travel without him.  So we are back in the USO just trying to figure out what to do, hoping for an unscheduled flight to arrive.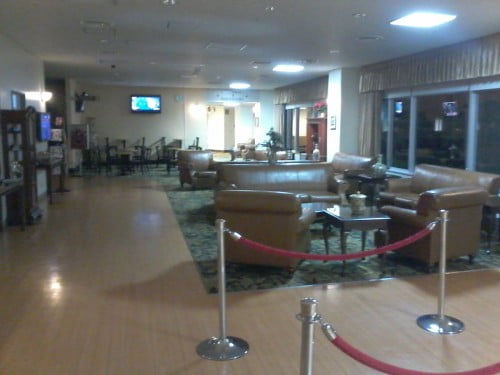 Hurry Up to Stay
What we decided to do was to move, anyplace.  We signed up for a flight going to Korea (Osan) and processed our baggage through.  While waiting for the flight, we found out that it was delayed because of weather.  Of all places for it to be delayed, it was stuck in Manila.  They just cancelled our leg of the flight.  We got all of our luggage back and went back to the USO to wait.  Nothing else at all for the night.  A Korean lady, trying to get home to Korea, was kind enough to invite us and Jordande to her house for the night.  I was a little apprehensive about it, but accepted anyway.  It was a tight fit for all of us and our luggage in her little car, but we made it work.
This post has already exceeded 1000 words, so I'm going to just stop it here and do just one more posts, probably tomorrow or the next day.  All my jabbering made it longer than I expected. With all the time we spent at Kadena, you would think I'd have plenty of pictures there.  Not so.  I was so concentrated on getting out that I don't think I took any pictures at the terminal at all.  I will let you know how our little sleep over went and when/if we ever get out on Space A.  In case it's hard to figure we've been at Kadena for 1 week by this time, just about out of money.
Salamat Y'all