[smartads]
So far this month, it's only the 5th, I have been downtown 3 times, which is normally about how many times I do for a whole month.  I'm sure I'll be going downtown more before the month is over too.  Not only have I been downtown 3 times, but 2 of those times were at night.  Those are really rare visits.  Those are normally like 2 per year.  In case you don't know, in the Philippines they call the downtown area, Proper, hence the name of this post.
The first visit, a night time visit, was on the 1st with Lita to get the money from the bank.  Both checks were in on that day, so we got what we could minus a little bit because I needed the money to do some more upgrading on the computer.  Of course we had the bills to pay and we had to get a couple of things for the restaurant.  By the way, we should have that restaurant operational within the next 2 weeks, so if you are in the area and want to try it out, go for it.  It will not start out as a Mongolian BBQ restaurant, but we hope to develop into that in the near future.
The 2nd and 3rd trips down were both on Sunday the 3rd.  Ramil and I went downtown to pay the balance on my hard drive I bought last month and I wanted to get a DVD drive, some speakers and/or headphones and anything else that I thought I could afford with a limited budget.  I ended up getting all those things mentioned, but I still do not have a printer.  Most likely it will be April or May before I can get that.  In March we want to get the hot water heater that I have been threatening to get for several months now.  Of course if we get that we will have to have an electrical outlet put in the bathroom.  The only one we have is the one that is on the light socket.  I doubt it will be powerful enough to handle the hot water heater.   We will probably end up spending close to P10,000 to get all that done, but it's okay.  Both Lita and I would love to have a warm/hot shower.  I am not fond of the cold showers and tend to take less showers without the hot water.
Lita made some more pickles, so I'll have to check those out and see if they are better than the last time.  If they are just as good, that will be okay with me.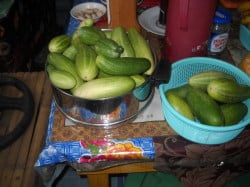 I have several other things to talk about, but I'm not feeling very well today.  I have a lot of body ache.  Since I have a big body, I ache a lot.  It's been about 3 days since my last post, so I figured I should get something out, even if it ain't that interesting.
The last thing I will mention before taking some aspirin and crawling into bed, is something that I think is cute.  Samantha has started moving the fingers on her hand whenever you start counting.  We only go to 5 for her and she has gotten it down correctly, she's only 9 months.  Yeah I know a lot of babies probably do that, but I don't see them doing it and it's just so dang cute I just had to mention it.  Besides, it added more words to this post.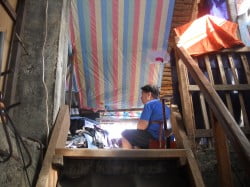 I have a story about Super Bowl 'Monday', but I'm going to keep that until the next post.  Time to take those aspirin now.
Salamat, Y'all