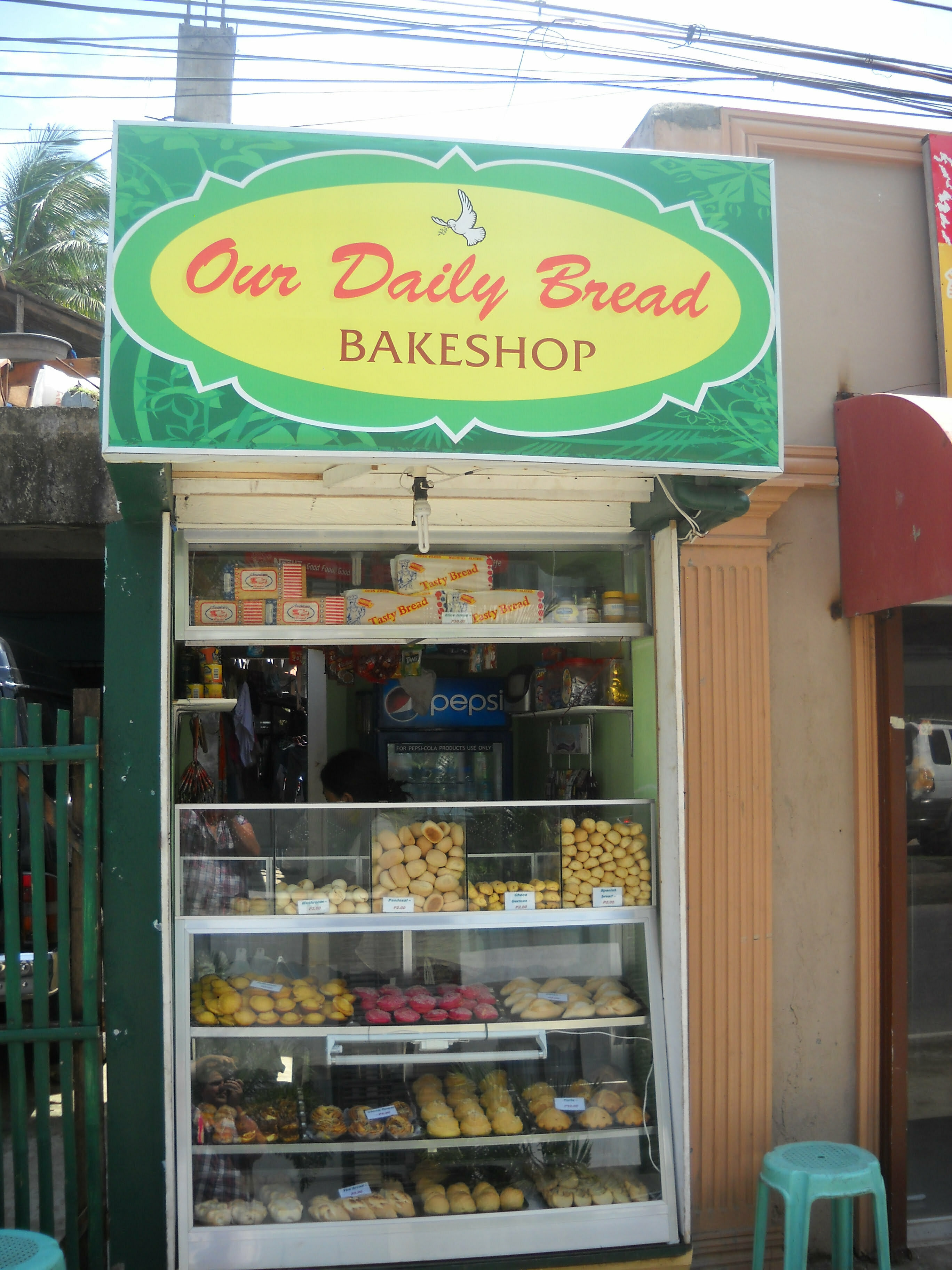 [smartads]  Finally we are back home from our 2 1/2 month absent from being on The Texas Trip.  It was great and I'm glad we got to do it so we could see everyone and to take care of the business that needed to be taken care of.  It sure is nice to be back among your own things and getting back to your normal routines.  I think the trip was a little long and we probably will not take another one so long.  During our first moments back, our eyes are not seeing what we thought we would be seeing, at least not everything.  First of all things are a bit more along than I figured they would be.  Also, though some of the things are not what was suppose to happen, we understand the reasoning behind why it was changed the way it was.  Okay time to explain.
One of the first things we noticed is that the bakery is not where we thought it would be.  It was suppose to be in the old LolyKat store, but it's not.  It's in the place where Titing and Neneng sold their drinks.  It's much smaller than it was pictured in our minds, but it works.  I guess the only real impact that has on us is that we will not be getting that P2000 per month that we thought.  It's a nice looking bakery though.  I am not concerned about the P2000.  The main thing is that the bakery is successful for them.  Some of y'all are probably wondering what is going on with the old store.  Well let me tell you.  That is now the bedroom of Juvic and her baby, Samantha.  Juvic did not want to be carrying the baby up and down the stairs.  She didn't want to take a chance that she would fall.  That's okay with me.  I wouldn't want them to fall either.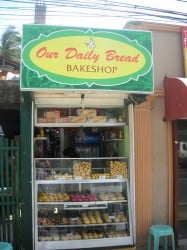 Okay all you sharp eyed readers, did you catch that I said, "stairs"?  While we were gone it seems that Victor has been doing quite a bit of work around here.  He not only built some new stairs, but also a little room up there for himself, Judith and Grace.  The stairs are again made out of the coconut wood, but this time they are not out in the open.  Victor also put an overhang where it was wide open for Mother Nature to rain on.  He helped close up the old store better for Juvic and all this was in addition to his regular job, working for Neneng at the Pepsi warehouse.  That Victor is a working machine when he needs to be, which is most of the time.  Oh, he maintains a little garden up there too.
Judith has already started selling food out front.  It is not as big as the one she had at the other house, but we still have plans to build the restaurant later and she will be the manager of it.  Lita has been bringing the subject up more and more since we've been back, so I know she is still highly interested in it.   I don't know if the name Blue Gazebo will still fit though because they are talking about putting green instead of blue on it.  The name Green Gazebo just doesn't have the same zing to it as Blue Gazebo.  At least not to me.   We might go with it or possibly come up with something different.  It will be part of the mystery.
So when we got back and we go into the house for the first time, it all looked basically the same.  No surprises there, except neither the refrigerator nor the freezer were connected and both of them were clean.  We unlock the door to the bedroom and everything in there does look the same, because no one has been in here for the last 2 1/2 months.  Definitely had to air the place out by opening the windows for about 1/2 an hour, then close them and turn on the AC after that.  We also had to change the linen on the bed.  I think that next time if we are going to be gone for so long, we will strip the bed before we leave so that part won't be necessary.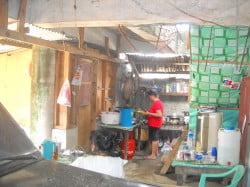 Next it was definitely time to take a shower.  I have been use to using hot water for the past 2 1/2 months, but here we do not have any.  It didn't really matter today because I just really had to take a shower.  I do plan to rectify the no hot water thing before the end of this year though.  Rick Smith says that he has a device that he setup in his CR that has nice, unlimited hot water.  Total cost to buy it in Calbayog City, at the time he told me, is P5000 (including installation).  If we buy it in Tacloban it's is around P3500, plus installation.  Victor says he can put it up for us, so we will probably get ours in Tacloban.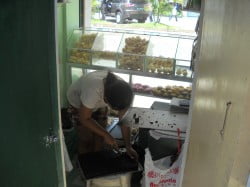 Well this is the part of my notes that I got lazy at.  I didn't take any notes for over a week.  Really though nothing much has happen, but anything exciting that did happen it did eventually get down in my notes.   I did most of the notes from The Texas Trip over a week after we returned, but those were mostly hard to forget, so that was easy.  It's just the little things around here that makes this site more personal and sometimes helps bring everything together that I failed to write down.   So the rest of this post will be things that I wrote down about a week after the fact and we were already back.
Finally the electric comes back on and I can plug the computer back up to let y'all know that I am back.  For the next few days after returning we had around 10 brownouts.  Most of them were short, but some of them lasted a few hours.   We are definitely in the Philippines.
I had my doubts that everyone would be able to live here in harmony.  Now we have 6 more people living here:  Poppa, Judith, Victor, Juvic, Grace and Samantha.  Okay, so 5 1/2 people.  Samantha is hardly any problem at all.  She rarely cries and is in fact less trouble than some of the older kids.  Judith and Victor are super nice people and are very easy to get along with.  Juvic and Grace are very respectful young ladies, so no problem there.  Poppa … well Poppa is Poppa.  He always has a song to sing every morning, afternoon and evening.  I'm not sure of what he is singing, but he sings better than I do.  I figure if you are 90 years old you can do just about anything you want.
Salamat Y'all
Today instead of the Interesting Knowledge I want to share something I found on the Facebook account of Cebu Van Rental
August 28
Sunday 28, 2005:
A mandatory evacuation is ordered by New Orleans, Louisiana mayor Ray Nagin and Louisiana governor Kathleen Blanco as Hurricane Katrina moved nearer to Louisiana.
Tuesday 28, 2001:
Dutch prime minister Wim Kok announces that he will not be available for another term as PvdA party leader or prime minister after the 2002 elections.
Friday 28, 1998:
Pakistan's National Assembly passes a constitutional amendment to make the "Qur'an and Sunnah" the "supreme law" but the bill is defeated in the Senate.
Wednesday 28, 1996:
Britain's Charles, Prince of Wales, and Diana, Princess of Wales, are divorced.
Monday 28, 1995:
A mortar shell kills 38 people in Sarajevo, Bosnia.
Sunday 28, 1994:
First Japanese gay pride march.
Saturday 28, 1993:
Ong Teng Cheong elected president of Singapore
Wednesday 28, 1991:
A drunk motorman speeds into the Union Square station on the No. 4 line in New York City. The train derails on the curve, killing six passengers and injuring dozens.
Tuesday 28, 1990:
The Plainfield Tornado: An F5 tornado hits in Plainfield, Illinois, and Joliet, Illinois, killing 28 people.
Sunday 28, 1988:
At an air show in Ramstein, West Germany, three stunt fighters collide; 69 people die.
Thursday 28, 1986:
US Navy officer Jerry A. Whitworth is sentenced to 365 years imprisonment for espionage for the Soviet Union.
Friday 28, 1981:
The National Centers for Disease Control announce a high incidence of Pneumocystis and Kaposi's sarcoma in gay men. Soon, these will be recognized as symptoms of an immune disorder, which will be called AIDS.
Tuesday 28, 1979:
An IRA bomb explodes on the Great Market in Brussels.
Thursday 28, 1975:
Missionary Armand Doll is imprisoned in Mozambique by Marxist extremists.
Monday 28, 1972:
During the Olympic Games in Munich, Mark Spitz gets his first of seven gold medals in swimming events.
Saturday 28, 1971:
The dollar is allowed to float against the yen for the first time.
Wednesday 28, 1968:
Riots in Chicago, Illinois, during the Democratic National Convention
Friday 28, 1964:
The Philadelphia race riot began.
Wednesday 28, 1963:
During a 200,000-person civil rights rally in at the Lincoln Memorial in Washington, D.C., Martin Luther King, Jr. gives his famous I have a dream speech.
Sunday 28, 1955:
Black Mississippian Emmett Till is murdered, allegedly for whistling to a white woman and calling her baby.
Friday 28, 1953:
Nippon Television broadcasts Japan's first television show, including its first TV advertisement.
Monday 28, 1944:
Marseille and Toulon are liberated.
Saturday 28, 1943:
In Denmark, a general strike against the Nazi occupation is started.
Saturday 28, 1937:
Toyota Motors becomes an independent company
Tuesday 28, 1917:
Ten suffragists are arrested when picketing the White House.
Monday 28, 1916:
1916 – Italy declares war on Germany.
Friday 28, 1914:
The British fleet beats the German fleet in the Battle of Heligoland Bight.
Thursday 28, 1913:
Queen Wilhelmina opens the Peace Palace in The Hague.
Sunday 28, 1898:
Caleb Bradham renames his carbonated soft drink "Pepsi-Cola".
Thursday 28, 1884:
First known photograph of a tornado is made.
Thursday 28, 1879:
Cetshwayo, last king of the Zulus, is captured by the British.
Wednesday 28, 1867:
The United States occupies Midway Island.
Thursday 28, 1862:
Second Battle of Bull Run, also known as the battle of Second Manassas
Wednesday 28, 1850:
Richard Wagner's opera Lohengrin premieres in Weimar, Germany.
Tuesday 28, 1849:
After a month-long siege, Venice, which had declared itself independent, surrenders to Austria.
Thursday 28, 1845:
Scientific American magazine publishes its first issue
Saturday 28, 1830:
The Tom Thumb presages the first railway service in the United States.
Wednesday 28, 1619:
Ferdinand II is elected emperor of the Holy Roman Empire.
Friday 28, 1609:
Henry Hudson discovers Delaware Bay.
Saturday 28, 1565:
St. Augustine, Florida, established. It is the oldest surviving European settlement in the United States.
Sunday 28, 1521:
The Turks occupy Belgrade
Sunday 28, 489:
Theodoric, king of the Ostrogoths defeats Odoacer at the Battle of Isonzo, forcing his way into Italy.
Wednesday 28, 475:
The Pannonian general Orestes forces western Roman Emperor Julius Nepos to flee his capital of Ravenna and appoints Romulus Augustus in his place.