Texas Trip – Day 5 and Day 6
[smartads] This will probably be the last post I make while we are still in Texas.  In 3 more days we will be heading back, hoping to be as lucky in travel going back as we were coming here.  It is a journey into the unknown, so I'm a bit nervous.  I hope everything works out and we do not get stuck somewhere along the way, at least not for too long.  I have 'maybe' discovered an alternate route that would actually work better for us, but it's not a sure thing and a bit of a long shot at this time.  I'll have details later, most likely in a later post.
For today, Day 5, my Dad and I will go to try to get us a vehicle that we hopefully will be able to use for the duration of our visit here.  I really hope we get it because we want to go to the PX (Post Exchange), even though it is mostly just to look around.  We also want to check out the area where we use to live to see what is going on there.  Of course we also need to see my BFF in Leander.  Even though he knows that we were to be heading back, he doesn't know that we have arrived yet.  It may be tough to contact him too since my Dad and my brother do not have long distance on their telephones.  I'll get in touch with him somehow though.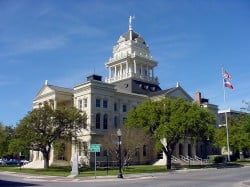 Lita decided she wanted to go to Crow's Burgers today and I didn't argue the point with her since that is my favorite hamburger place in the world, her's too.  There are quite a few things hinging on whether or not we get this vehicle.  I hope it turns out to be a pick so we will be able to move stuff from the storage unit, but I also know that beggars can't be choosers.  Starting on Monday we will tackle that problem of the storage and it's not something I'm looking forward to.
No car today though, we will have to wait until Monday.  The guy that said he would loan us the car was not there so we have to wait until Monday morning.
I'm happy to say that the rest of Day 5 was pretty boring and uneventful.  After such a long journey we needed to relax a little bit and shrug off the travel bug.  We did go by and look at the old homestead, but have not gone on Ft. Hood yet.
On Day 6 one of my sister's (Cindy) came by.  She invited everyone to her house for dinner that night.  She was having beef tips with rice and green beans, a recipe that Lita showed her how to make.  We were glad to get the invite because it helped normalize things.  Lita and I were not doing much anyway except we did walk to the supermarket.  I doubt she will do that again though, she was pretty tired. 
At Cindy's house after eating we hung around for awhile watching TV and talking.  Cindy said that we should have contacted her to pick us up at Fort Hood because she has a sticker to get on post and there would have been no hassle.  Of course if we would have done that, that little adventure of speeding down the highway to catch my Dad probably would never have happened.  However I think that next time we will contact her and ask her to meet us.  I do worry about my Dad having to drive so far, especially at night. 
Later when Cindy brought us back to my parents, we just hung around.  There is not much to do on Sunday with no vehicle.  Cindy was trying to get us to go fishing sometime, but I'm not much of a fisherman.  I still might go though, just to do it.  If she asks me again I will probably say I will.  She's probably talking about fishing from her boat while sitting out in the middle of the lake somewhere.  I suppose that if the fishing was bad, we could always go swimming.  It sure is hot even to go swimming.
While Cindy was at Mom/Dads apartment, she tried to fix my Dad's computer.  He was having issues with IE, so I think she switched him to Safari instead, at least for now.  There are less hackers trying to get into Safari anyway.  She actually stayed until around midnight working on his computer. 
Now it's been a couple of days since I've written anything down,  but I'll make sure y'all get highlights of everything that has been going on.  Most likely there will be days that I don't write things down, probably a lot of days.  We've got lots of things to do and we have to get them done before we return.
We did get a car to use.  It was not a pick up though.  The guy, Mike, didn't even make an argument or anything.  He remembered the deal we made and he was living up to his part of it.  The car he let us use is a Mercedes.  Yep!  A 1999 Mercedes.  It is the only Mercedes that I have ever driven, and most likely the only one ever. 
Lita and I went by to bring some forms for her Social Security.  I did the application on-line, but they wanted proof of her citizenship, original copy.  We have that so we let them make a copy of it and I hope that will be the last of what we need.
Here's something that y'all may or may not know, and should know.  After your foreign spouse becomes a US citizen, she needs to check in with the Social Security Administration to have them change the status in their system.  The INS and SSA do not share information.  Lita became a US citizen in 1989 and this is the first time I've heard anything about that.  All's well in that department now though.  It was pretty painless.  Very simple in fact.
We did go by to see the old homestead.  They tore down all our fence and most everything else.  The only thing that is still standing that is not a product of nature, is an old storm house that my grandfather help build back in the 1950's.  The property only has one house on it now, a short double wide trailer, but we expect there to be at least one more.  The one there looks similar to the house we had actually.  At first I thought it was our old house, but this one is much smaller than our was. 
My Dad was telling us how much things have changed around here, but they are not so different.  There are a few more roads built, there is a HEB Plus  and a new upper level overpass in the the process of being built, but that's about the extend of the progress.
We went by to look at the storage unit today.  It is still full to the gills.  We had to get some paperwork out of there but fortunately it was close to the front door.  It's a task I an definitely not looking forward to, as I know I have already told y'all.
At this time we have still not heard from our son, but I have left him a message on Facebook and hope to be hearing from him pretty soon.
Do we ever hear from our son or will we end up leaving here without seeing him or the grandkids?  Stay tune to future posts to find out the answer.
Salamat Y'all
http://www.yelp.com/biz/crows-burger-shop-belton
http://www.co.bell.tx.us/history.htm