[smartads]
I hope that everyone had a Merry Christmas, but mine sure started out on a sour note.  Early in the morning, around 0100, my computer made a sound like what you hear when you stick something metal in an electric fan with steel blades, then it just quit.  I unplugged everything and after opening it up I checked the cooler fan and it seemed to be fine, so I'm thinking it is the power supply.  That power supply has been in there about 5 years, so it should not really be a surprise that is would be giving out on me.  There was nothing I could do at that time, so I just left it unplugged for about 9 1/2 hours and tried to start it up again.  It was a no go.  Of course since it's Christmas, everything is closed, so I can't even get it fixed today.  It just couldn't wait another week to week and a half when I had the money to do some upgrading on it.  Maybe whatever the problem is will be fixed with the things I want to upgrade.  Of course if it is the power supply, I already have a new one of those just sitting around waiting for this one to go bad.  I guess I will find out tomorrow.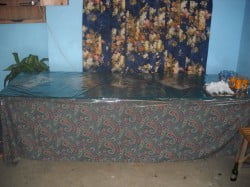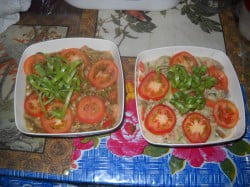 Since I do not have a computer, I had to watch TV just about all day.  When Ramil showed up to ask me if I wanted to drink beer tonight, I was even easier to convince than I was last night.  We drank upstairs on the roof and we had San Miguel tonight instead of Red Horse like last night.  Several people have been up there singing the karaoke, all day long, including Ramil.  I didn't drink much though, only a couple of my little Red Horse mugs worth.  That probably came out to somewhere between a half and three quarters of a liter.
After we were up there for awhile, Ramil decided that he wanted to arm wrestle me.  I told him I would not tell anyone the outcome of it.  Lets just say that he needs to add quite a bit more arm strength.  He insisted on checking that arm strength 4 times, with the results being the same each time.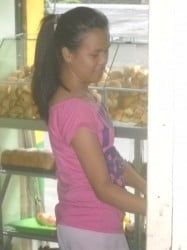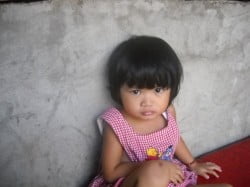 I did not get to do the 20 questions for Joshua today (but I did do it on another day and it has already been published) but he will be around so it is not a problem.  I figured with no computer and not knowing how long before it will be fixed, there was no hurry.
The next day was a pretty boring day until about 2:00pm.  That's when Ramil and I decided to go downtown to try to get the computer fixed.  We went to Ramil's favorite place but they were too busy.  The recommended 2 places, one being next door, so we tried that one first.  They were too busy also.  Seems like everyone's computer broke down over the holidays.  So we went to the second place and there was only 1 person ahead of us, that's  good, or so I thought.   It seems that, at least this place, fixes the computers as they come in so we had to wait about an hour before our turn finally came up.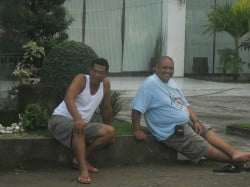 After he looked at it for about 3 minutes, he determined it was the power supply.  That's just exactly what I thought it was, that's why I brought my extra power supply with me.  I handed it to him and told him, "Here you go, a brand new one".  He checked to make sure it was the right type of power supply and since it was he commenced to install it.  I have had that power supply in there for about 5 years, so it was due to fail on me anyway, actually probably overdue.  When he finished, it came on right away.  It didn't boot up though.  He adjusted some wires, but it still would not come up.   He opened it up a little bit more and there was so much dust in there I'm surprised that the computer  lasted as long as it did.  He cleaned out most of the dust and tried to boot it again, but still no good.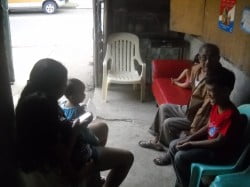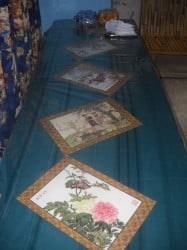 It turns out that the main reason it wouldn't was my fault.  I told him that my operating system was on the C drive, but it is on the D drive.  I remember that when I changed it back to Windows XP from Windows 7 (because my computer was too outdated to handle 7), I forgot to put it back on the C drive, not the D.  Oh well!  It's done now and maybe, just maybe, my DVD drive will work now.  It opens and closes now, but I can't get it to play.  Whenever I finish this post, I'm going to reload the  the drivers and see if that does any good.  If not, well I'm getting an upgrade next week anyway.  I'll have details on that in future posts, but I tell you know because I may be offline for a few days while it is getting worked on.  Maybe I will not have any lost time at all, but I am just saying, "Just in case".
Salamat, Y'all