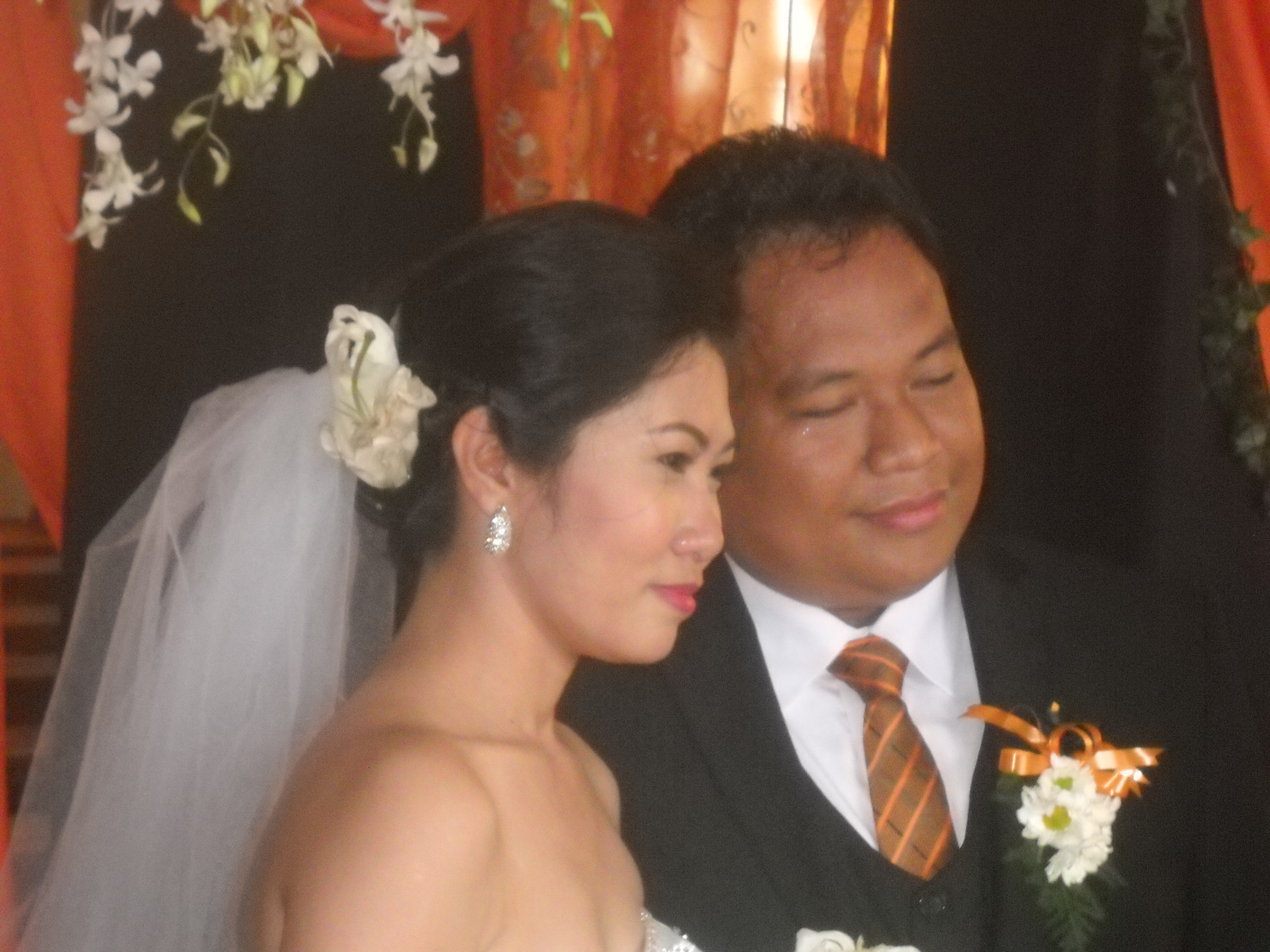 [smartads]
On 27 Dec, around 1145 Jun, Jason, Jhunnel and Tintin showed up from Tacloban.  They are here for Marlou and Chiqui's wedding tomorrow at Saint Peter and Paul Cathedral.  I know that I told y'all that it was Saturday, but it was another mis-communication.  I think I mentioned that happens often here when you don't speak the language.  It will be my first time inside this cathedral so I will be sure to get plenty of pictures of the inside in addition to the wedding pictures.  We got the invitation yesterday and it is tomorrow at 2pm.  They are very nice invitations also.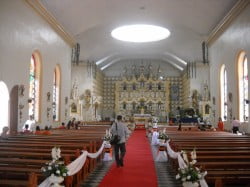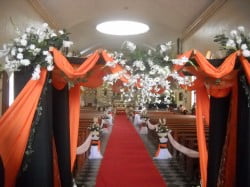 We will be having yet another party tonight.  I'm not sure what it's all about except continuing the Christmas/End of Year celebrations.  I don't know how much or what food will be served but I'm having chicken adobo, so it really doesn't matter much to me what they have to eat, as long as they are all happy, I'm happy.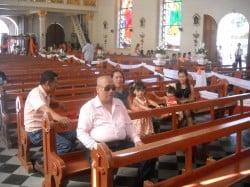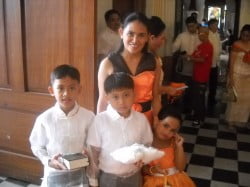 It's time, I suppose to figure out what clothes I'm going to be wearing for that wedding tomorrow.  Since I am not participating in the wedding, only attending, then I can just wear whatever is nice.  I'm letting Jhunnel borrow my barong and my good shoes, so I'll have to come up with something else.  I hope I can find some long pants that fit me.  I don't have many long pairs of pants anyway, by choice, and the ones that fit me well enough will make the selection even less.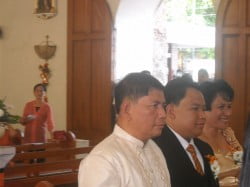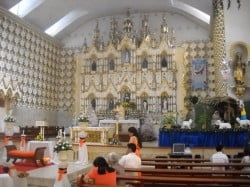 I'm glad that the reception will be at the Ciriaco Hotel.  In addition to getting pictures of how they have things set up for the reception, I can also get updated pictures of how things have progressed back there.  Also since Cafe Elsa upgraded again since my last pictures, I will be able to get pictures of inside there also.  Again I do not know what food will be served at the reception, but I'll make due with what they have, I hope.  Whatever the case, I'll survive and all I have to do is walk across the street to get something that I want to eat if necessary.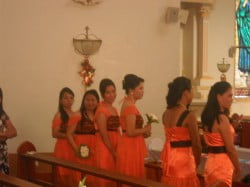 So the next day I slept late, until about 1030 then did pretty near nothing until about noon thirty.  At that time, since we were suppose to leave at 1pm, I figured we had at least 45 minutes to an hour before we actually did leave, accounting for Filipino time.  As it turns out that we left about 1:25pm and arrived there about 1:35pm due to a little bit of heavy traffic.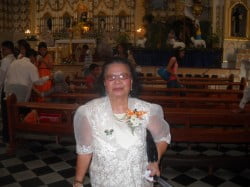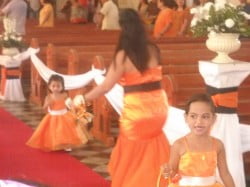 As you can tell from the pictures, they had the church decorated nicely for the wedding.  We have not been to a wedding for awhile, although we was invited to one, but we were stuck in route from Texas back to the Philippines when that wedding happen.  That wedding was for Blair and Charise.  I wish we would have made it back in time for that, but they already put it off once before, so I really didn't expect them to have to wait any longer.  I have a lot of pictures for this wedding so I will not be able to get them all in here, but I will continue to insert them after today too.
It is pretty hot inside the church as they only have electric fans and no a/c.  I saw at least 10 small electric fans, but the place is so big there is no way that they will keep it cool in there.  I suppose that an a/c would cost way too much for the church to be able to pay.  You would think that the church would be able to get free or at least discounted electric, but I guess not.  If they got it free, the rest of us would probably have to take up the slack for it.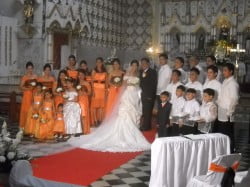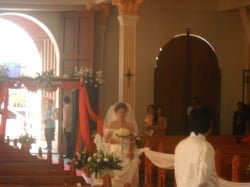 The groom (Marlou) looked very handsome all dressed up, but the bride, she was stunning.  She really had a beautiful dress, wore her makeup just perfectly and she was just breath taking.  Chiqui is already a beautiful young lady, but this really brought out everything in her.  You can judge for yourself from the pictures even though my pictures are not the best.  Maybe I can borrow a picture from Marlou's Facebook when/if he puts some on there.
The reception was right after and we were seated at table 4.  Again I took many pictures and will only put a few here on this post and spread the others out over other posts.  The wedding singer(s) were good and I enjoyed just about everything they sang.  There was also something else going on there outside of the reception area.  There were a lot of photographers taking pictures of a model.  I sneaked a couple of pictures of her too, and they came out alright, but not as good as I would have liked.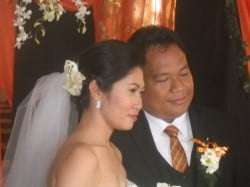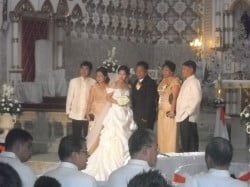 Those updated pictures of Cafe Elsa were taken.  And not only did I confirm the location of the soon to be fitness center, I got some pictures of inside there too.  That is where they had the food set up before serving it to the tables.  Speaking of the food, it was edible for me, at least some of it.  The chicken was okay and I even ate some of the sweet and sour pork, all with some rice.  I ate enough to last awhile.  The only thing I did not like about the reception is that they would not let us have more than 1 glass of tea.  They said there was a 1 glass maximum.  I suppose that is the way that it was set up by Marlou.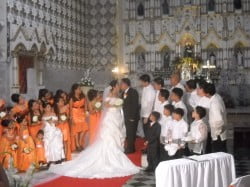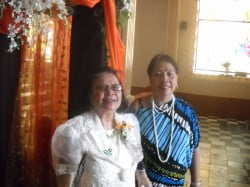 After eating, Lita wanted to come home and change clothes, so I walked her across the highway.  She went back, but I didn't.  I was ready to stay home by that time.  It's not that I didn't like it and I love Marlou and Chiqui to pieces, but I figured I did enough socializing for the day.  I did make sure later to let Mar know of how nice I thought everything was.  I know he spent a lot of money for it, but he's a righteous kind of guy so that's to be expected.
You know, I've got a feeling that Marlou and Chiqui will be married for a long, long time.
Salamat, Y'all