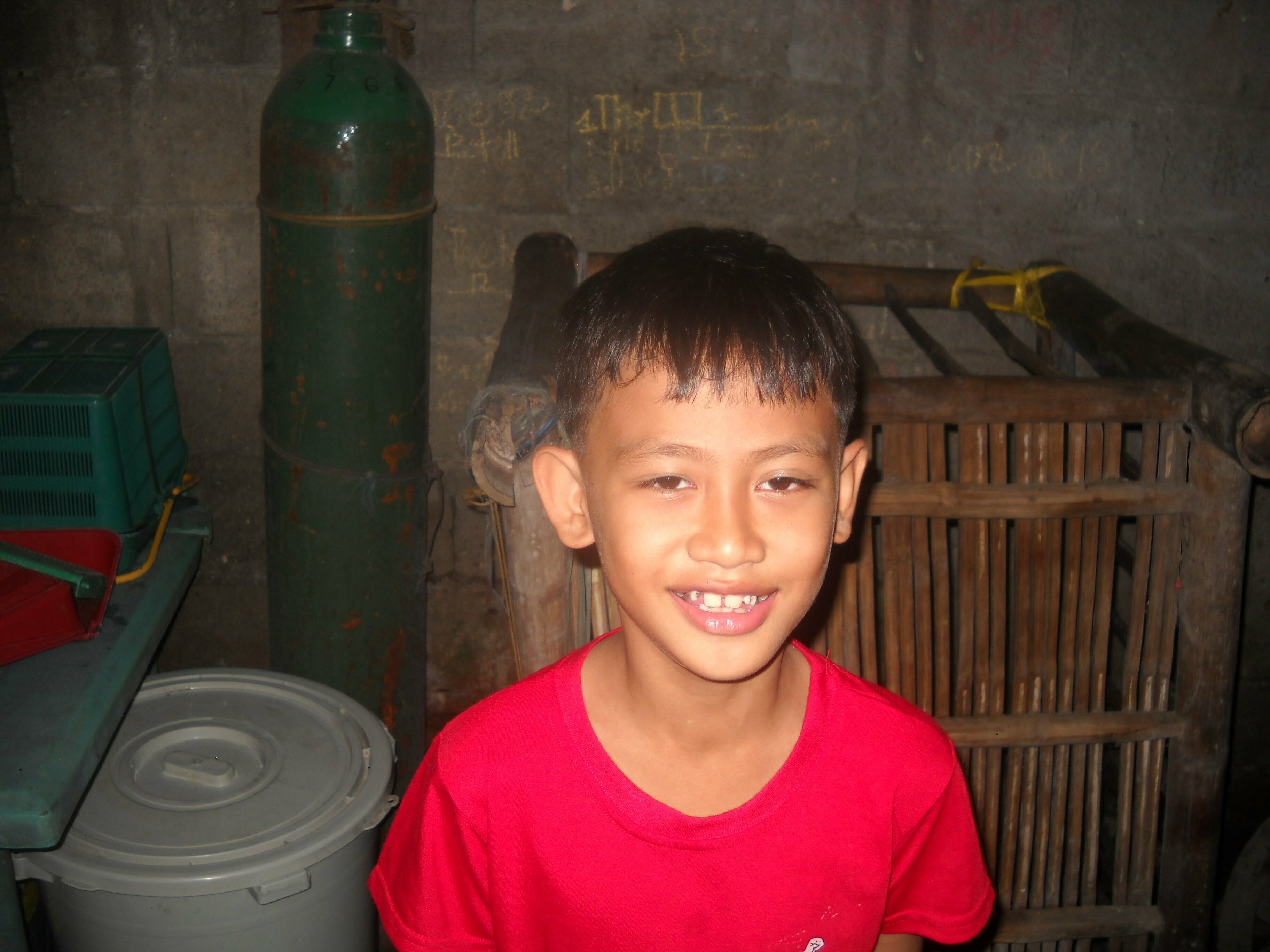 [smartads]
Continuing with my 20 question interviews with the children in our compound on their birthdays, I am now to Joshua.  Of all the children here, he is the tallest and the strongest.  I don't know if he is the smartest or not, but I think he is in the top 2 anyway.
 Birthday: 25 Dec 2003
Age: 9
Parents: Ramil and Robbie Apilado
Paternal and Maternal Grandparents:  Still all living.  Paternal grandparents (Mar & Ludy) live in Calbayog City and the maternal grandparents live in Gandara.
Siblings: Raven ( the oldest), then we have another brother Reverof ('foreveR' reversed) and the baby of the family is his sister Fay (she's a little cutie)
*
1.  What is your favorite food?  Fried Chicken (this seems to be a popular answer around here, but who can blame them, I love fried chicken)
2.  What is your favorite drink?  Orange Tang (actually he said juice, but when asked what kind of juice, he said Tang, then orange Tang although Tang is technically not a juice)
3.  What is your favorite color:  Blue
4.  What is your favorite cartoon:  Timmy Turner (I have never heard of this cartoon, but I asked him twice to be sure I understood him correctly)
5.  Do you like school?  Yes
6.  What is your favorite subject?  English (he seemed surprised when I told him that I didn't like English class)
7.  What is your favorite game?:  Basketball (the #1 sport in this country, even higher than boxing.  Joshua probably is a good player too)
8.  Do you have a girlfriend?  No (he will though, he's a good looking kid)
9.  Do you like girls?  No  (I didn't ask him if he liked boys, but I'm guessing not)
10.  If you could travel anywhere, where would it be?:  USA (everyone else has been saying America, but he said U-S-A)
11.  What part of the USA?  I don't care. (I think maybe they don't know the different areas yet)
12.  If you could have any present in the whole world what would it be?  A Kia Sportage (maybe because his grandfather has one and he rides in it a lot)
13.  What do you want to be when you grow up?  A policeman.  (so did I when I was young, but I'm expecting this to change as early as next year.
14.  How old do you think you will be when/if you get married?:  20 (the same age that his older brother Raven said)
15.  What do you like to do?:  Go to the beach. (I thought he was going to say play computer games because he does that a lot)
16.  Have you ever been on an airplane?  No (I knew the answer to this already, but I wanted to get it on here)
17.  Do you want to ride in an airplane?  Yes (I think he will get a chance someday)
18.  What is your favorite song?  Baby (He said it was by Justin Beiber, but I have not heard of it, and don't want to)
19.  Do you like to read?  Yes (He said he likes reading his English textbooks)
20.  Which do you like better cars, motorcycles or trucks?  Cars (he said this very fast and with lots of confidence)
When I asked if he had any further comment he said he had no comment.  When I told him that his brother's comment was "Happy Birthday to Me", that made him smile.