[smartads]
Well it's that time of year again.  It's almost Christmas.  Of course in the Philippines the Christmas season is observed from the beginning of September.  FranJessy Trading, which is the Pepsi distribution company owned by Francisco (Titing) and Jessybel (Neneng) Apilado is having a Pepsi promotion.  As they call it here in the Philippines, a promo.  Titing has a setup up in the front of the house, next to his Our Daily Bread Bakeshop, playing music and announcing his promo.  He has a table set up with all his products on there.   This is the first time that I know that he has done this, but he seems to be a natural with the microphone.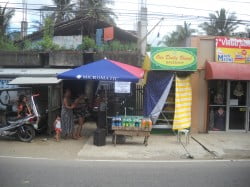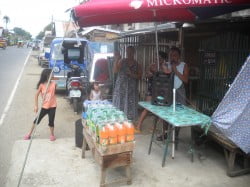 The promo includes the 1.5 liter bottles of  Pepsi, Mountain Dew, Mirinda and 7-Up.  The regular price is P45 each, but the promo sales is 3 for P100.  So that's a pretty good deal.  The promo is running from NOW until after the New Year.  Come on over and stock up on your favorite drinks.  There are normally a lot of these soft drinks sold this time of year, so hurry down before someone else gets the brand you like best.  I think I will be getting 3 bottles of Mountain Dew shortly.
In case you don't know, we are located in barangay Bagacay, directly across the street from the magnificent Ciriaco Hotel and Resort.  Come on by to make sure you get all your drinks needs for any holiday parties coming up.  You won't find a better deal on Pepsi products in town.