[smartads]  I guess now it's time to finish off the other 6 bullet statements that I talked about in yesterday's post.  I have added a few more of them, but I'll probably just do the 6 left over from yesterday now and finish the others next time.  I do have one extra thing I want to mention before I get into those 6 things though.
If you read the last post, you might remember I was wondering about whether I should continue with the long post or start doing a series of short ones.  I believe that I have made a decision on that.  I say, "I believe" because unless someone gives me a reason to doubt what I decided, I'll be doing this.  I will continue writing this main post long and probably all the other posts will be short to medium.  The reason being is because from all the information I read about blog lengths on the internet, it seems that a variety is what the readers like.  Well I want for my readers to be happy, and since it is also suppose to help get more readers, then it was an easy decision to make.  I'm going to classify short as less than 500 words, medium as 500 to 1000 words and large will be over 1000 words.  Of course some of my posts probably could be considered "double large", but there is no need to get into all that.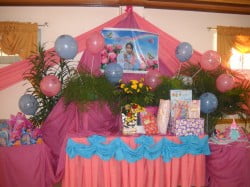 I started a page on Facebook  for Our Daily Bread Bakeshop.  There is not much there as of yet, but I'd appreciate it if you would "Like" it.  I don't really know if that does anything, but it would look good.  Titing wanted me to help him advertise, but I don't think he figured I would start a Facebook about what is going on here.  I told him about it and also told him that if he wanted me to delete it, I could do that without a problem.  He said it was okay, so maybe he hopes it will help sell things in some small way.  I'm going to try to figure out another way to get the word out about the bakeshop also.
I was going to do a post called "The Games Mga Bata Play" (The Games the Children Play) but then I found this site and figured there was no point.  I still may do my own video of the children here playing some of the games though.  I need to get more videos on the site via YouTube to help boost my Google standings, which is not so easy to do.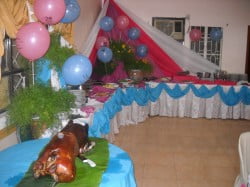 On Sunday we had an all day long (6am-6pm) power outage scheduled, coupled with the water suppose to be turned off all day too.  Neither one of them happen though.  Someone requested that the brown out be delayed and to my surprise it was approved.  They also did not turn the water off, but I don't know why on that one.  I'm just glad that neither one of them happened.  I still think it ridiculous to have to have so many of them.  I guess if they are actually improving things and not just jacking around, then it will be worth it in the long run.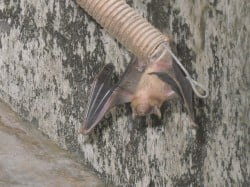 Things got a little batty around here for a day.  Even more batty than normal because we had an actual bat here.  It was hanging, and sleeping on a tube hanging down next to the stairs.  Victor poked at it, but it must have been really tired because it did not move.  I guess it took off sometime that evening because it was not there the next day.  That nocturnal little rat had the kids and a couple of the adults excited for a little while.
We went to a picnic at a little resort right down the road.  I didn't have my camera, Cathy had it, but it is right next to Bagacay Beach Resort.  The kids had fun.  A couple of them, Joshua and Reverof, were playing a game called Dampa.  It is a rubber band game.  I might have mentioned that in the last post.  It WAS one of the games I was going to write about until I found that there is already plenty written about the Philippine children games.  I got to drink some Boracay Rhum (I like the Cappuccino flavored one best but haven't tried the Melon yet), mixing it with Mountain Dew.  They bought a 700ml bottle and I got to drink it all.  I'd rather drink that mixed with orange juice or Tropicana Orange, but I didn't have any there.  It's okay.  I actually like drinking that more than I like drinking the Red Horse beer.  Since I didn't have to pay for it, I would not have argued either way.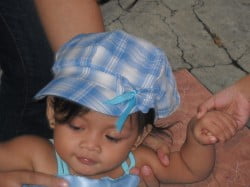 As y'all probably heard by now, on Friday night here, about 8:45pm, we had an earthquake.  On this side of the island it wasn't bad.  It did make my whole computer table shake for a few minutes, but it wasn't even enough here to make anything fall off any table or anything.  Supposedly there were over 140 aftershocks, but I didn't feel anything else after the initial one.  Right after it happened, I sent a message via Yahoo Messenger to my Dad to let him know that we were okay.  I didn't want him to have to worry again.
Early on Saturday morning we went to the ATM to withdraw the monthly money, but we ran into a small problem.  After we withdrew P30,000, it would not let us have anymore money.  It came up an error and said that it could not dispense that amount of money at this time.  I think it was running out of money, but I'm not sure.  It also said that it was reversing the last transaction.  When I got home one of the first things I did was check the account to be sure all was like it should be.  Instead of having only the 3 transactions, it had 5.  One of those said it was reversing, but it was counting as the money had been withdrawn.  Thankfully when I checked the next day, everything was fine.  It only took out the 3 transactions and the other 2 were gone.  The transaction fees were also corrected.  That could have been a nightmare.  I have never been to an ATM that didn't have enough money, but I guess I can't say that anymore.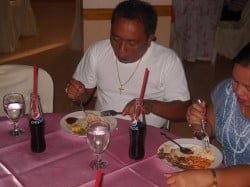 On the way home from the bank we rode in a different style tricycle.  I didn't have the camera to get a picture, but I will later.  The seats are different than the normal ones.  This one looks like it could only seat 4 people.  There are 2 seats back to back.  One faces the same way as the driver and the other looking out the back way.  It rode about the same to me, but Lita said she likes this new style one better than the old style one.
In the next post I will have some news about Casandra and about something I broke and had to throw away, that I have had since 1977.
Salamat Y'all
September 03
Friday 03, 2004:
The Beslan school massacre results in the deaths of approximately 344 teachers and children.
Wednesday 03, 1997:
A Vietnamese Airlines Tupolev TU-134 crashes on approach into Phnom Penh airport, killing 64.
Saturday 03, 1994:
Sino-Soviet Split: Russia and the People's Republic of China agree to de-target their nuclear weapons against each other.
Tuesday 03, 1991:
In Hamlet, North Carolina, a grease fire breaks out at the Imperial Foods chicken processing plant, killing 25 people.
Friday 03, 1976:
Viking program: The Viking 2 spacecraft lands at Utopia Planitia on Mars and takes the first close-up, color photos of the planet's surface.
Friday 03, 1971:
Qatar regains independence from the United Kingdom.
Sunday 03, 1967:
Dagen H in Sweden: traffic changes from driving on the left to driving on the right
Saturday 03, 1966:
The last new episode of the television series The Adventures of Ozzie and Harriet airs.
Wednesday 03, 1958:
In Greece, police start shaving the hair of youths called "teddy boys" to the skin.
Friday 03, 1954:
The People's Liberation Army begin shelling the ROC-controlled islands of Quemoy
Monday 03, 1951:
The first long-running American television soap opera, Search for Tomorrow, airs its first episode on the CBS network.
Friday 03, 1943:
World War II: Mainland Italy is invaded by Allied forces for the first time in the war.
Sunday 03, 1939:
World War II: France, the United Kingdom, New Zealand, and Australia declare war on Germany.
Tuesday 03, 1935:
Sir Malcolm Campbell reaches 304.331 miles per hour on the Bonneville Salt Flats in Utah, becoming the first person to drive an automobile over 300 mph
Thursday 03, 1914:
Papacy of Giacomo della Chiesa began. He becomes pope Benedict XV.
Wednesday 03, 1902:
Popular author Sarah Orne Jewett is thrown out of a carriage, virtually ending her writing career.
Tuesday 03, 1895:
The first professional American football game is played, in Latrobe, Pennsylvania, between the Latrobe YMCA and the Jeannette Athletic Club. (Latrobe won the contest 12-0).
Tuesday 03, 1878:
Over 640 die when the crowded pleasure boat Princess Alice collides with the Bywell Castle in the River Thames.
Thursday 03, 1874:
The congress of the state of México elevates Naucalpan to the category of Villa, with the title of "Villa de Juárez".
Tuesday 03, 1861:
American Civil War: Confederate General Leonidas Polk invades neutral Kentucky, prompting the state legislature to ask for Union assistance.
Monday 03, 1855:
Indian Wars: In Nebraska, 700 soldiers under American General William Harney avenge the Grattan Massacre by attacking a Sioux village, killing 100 men, women, and children.
Monday 03, 1838:
Dressed in a sailor's uniform and carrying identification papers provided by a Free Black seaman, future abolitionist Frederick Douglass boards a train in Maryland on his way to freedom from slavery.
Sunday 03, 1826:
The USS Vincennes commanded by William Finch, leaves New York City to become first United States warship to circumnavigate globe.
Monday 03, 1798:
Weeklong battle of St. George's Caye begun between Spanish and British off the coast of Belize.
Wednesday 03, 1783:
A treaty between the United States and the Kingdom of Great Britain is signed in Paris, ending the war.
Wednesday 03, 1777:
The Flag of the United States flies in battle for the first time, at Cooch's Bridge in Maryland.
Sunday 03, 1651:
Charles II of England is defeated in the last main battle of the war.
Saturday 03, 1650:
Third English Civil War: Battle of Dunbar (1650)
Friday 03, 1260:
The Mamluks defeat the Mongols at the Battle of Ain Jalut in Palestine, marking their first decisive defeat and the point of maximum expansion of the Mongol Empire.
Sunday 03, 1189:
Richard I of England is crowned in Westminster.
Friday 03, 590:
St. Gregory I becomes Pope.
Tuesday 03, 301:
San Marino, one of the smallest nations in the world and the world's oldest republic still in existence, is founded by Saint Marinus.
Wednesday 03, -36:
In the battle of Naulochus, Marcus Vipsanius Agrippa, admiral of Octavian, defeats Sextus Pompeius, son of Pompey, thus ending Pompeian resistance to the Second Triumvirate.