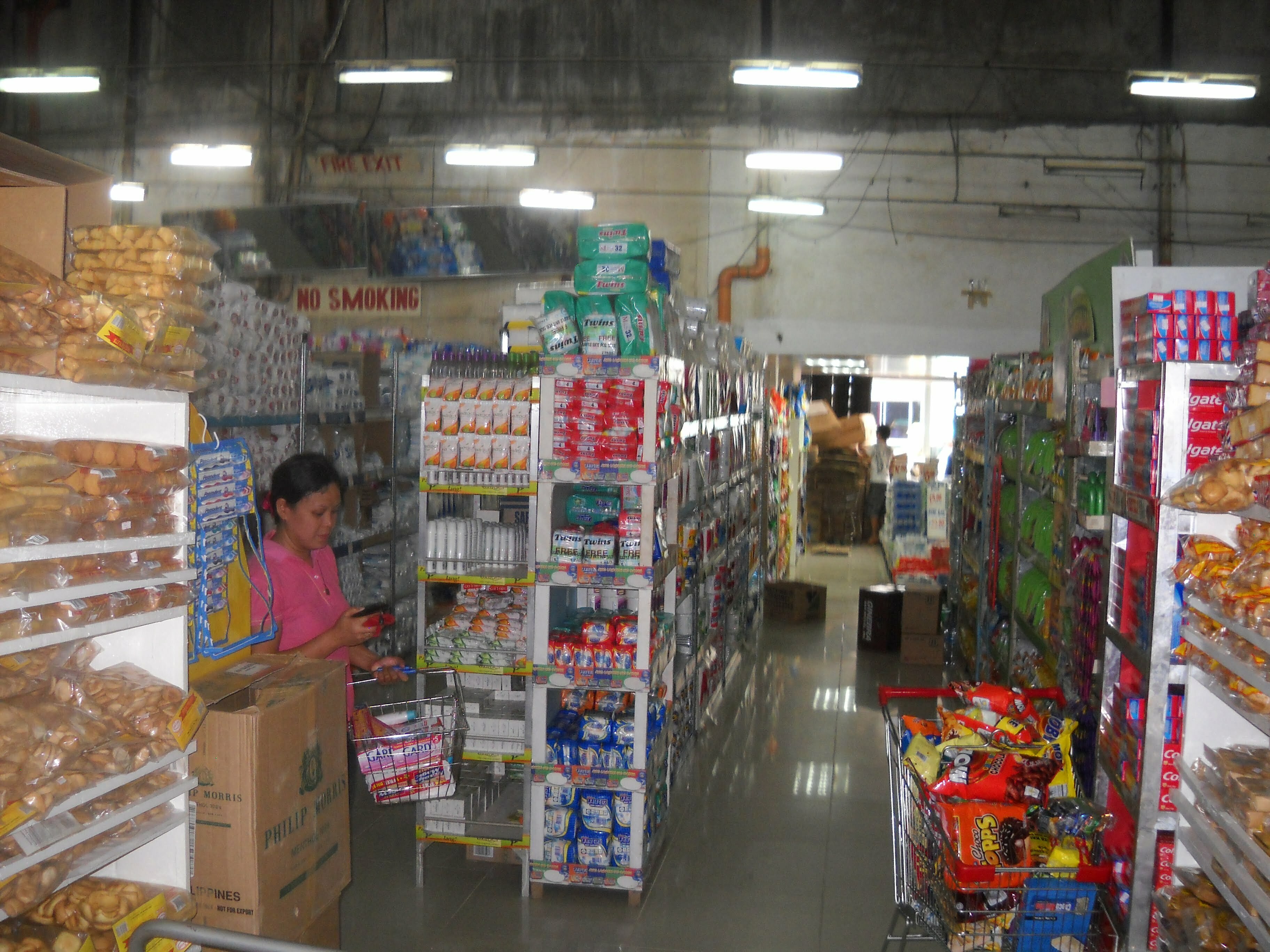 [smartads]  I think I will be adding something new to the beginning of the posts for awhile to see how it goes.  It's not much, but I will be adding a link that goes to an old post of mine that has information on it that maybe you might have missed or maybe some new people might not even know it exists.  For the first one of these I will post the link to the Calbayog City Hotels introduction page.  That page will have a link to the actual descriptions of the hotels.  Of course you can always go under "Philippines" "Calbayog" "Hotels" on the front page to find the same information, but not the introduction page.  Here is that link.
Another thing that y'all may notice is that there will be some of the old stories re-posted between now and the end of the year.  I just went back and scheduled some of them for different times throughout the year.  It's not the ones in this post, because they have already been re-introduced to the newbies.  I don't even remember which days that I scheduled them.  All of them are from last year, so any story that I wrote this year will not be repeated, until maybe next year.  I'm thinking about throwing in some of the better Quick Quirks also, but haven't decided on that yet.  Most likely I will be re-posting some of the longer good ones.
I forgot to put in pictures of the new JustMar in the last post, so I'll put a couple in this one.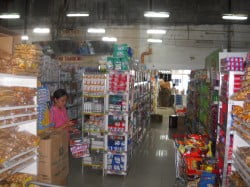 While we were at the party of Rhianne Marie Apilado Azarcon, which I talked about in the last post, the City of Calbayog was having a Fun Run.  I went out there to take a couple of pictures of the runners hoping to find one or some that were actually having fun.  Only 1 group of people came by while I was out there that seemed to be enjoying their run.  Everyone else was looking down and/or tired.  I know that I am not in good enough shape to be in a fun run, but I probably would have been acting a clown while I was still able to stand.
That night, after the party, I was in the kitchen and Casandra came in to buy an ice candy.  This is the first time she actually came to me to pay for an ice candy by herself.  She was mostly copying her Ate  (ah-teh) Precious, but after I gave it to her, she told me, "wash".  The ice candy is usually covered with ice from the freezer and the kids like for you to run water on it to get all the ice off.  She kind of surprised me when she said that.  Kids can be so cute at times, to bad they have to grow up, but I guess it's a necessity.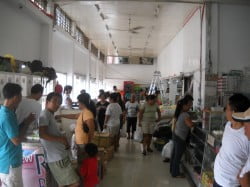 The day after the party I was told that I was going to get invited to Malajog Beach by Mar, but that never happened.  It's okay though because I probably would not have gone anyway.  Mar has invited us to the beach several times and we only go about 1/3 of the time.  I think Mar is a pretty cool guy and I really like his whole family, but I just don't feel like going to the beach that much.  Maybe after they get the beaches cleaned up, I'll be more inclined to go.   It looks pretty good at night, because you can see all the trash like during the daylight hours.  There are also a lot of stray dogs running around.  Supposedly they are in the process of cleaning up some beaches, including Malajog.  Actually I heard that they already started fixing the road and also got rid of the stray dogs.  That's what I read anyway.  Sometimes it's just a lot of lip service and no action.  I think that next time he invites us, I'll talk Lita into going.  Sometimes it's tough because when they go, they go for the whole day and I just want to stay a few hours usually.  I guess if I had my own transportation, I would go there on more occasions.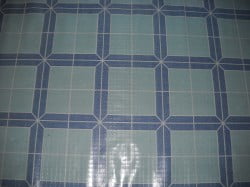 On Saturday and Sunday we had the linoleum put in.  On Saturday they did the bedroom and the computer room and on Sunday they did the kitchen/dining area.  When I say 'they' I mean Victor, Grace and Pam.  Actually on Saturday they all three put it down, but on Sunday it was just Grace and Pam.  Of course Lita supervised the whole thing.  I stayed out of it as much as possible, but on Saturday I had to help lift the bed and the cabinets.  I also helped get things out of the computer room and then move it back, better organized when we moved it back.  On Saturday they didn't have enough for the whole computer room.  Under the computer table was not completely covered, but I put a large blue mat under there and I hope that I can leave it that way, but I think Lita wants to finish putting linoleum there.  I just now took a picture of that mat, but have not uploaded it to the computer yet.  I'll put it in the next post.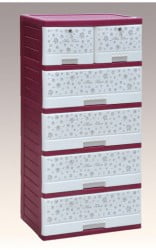 I wish we had enough money to afford a couple of those plastic chest of drawers they have here.  I'd like to be able to put one in the bedroom and one in the computer room.  I think that we should be able to get that before the end of the year, but right now there are too many other priorities.  We still plan to invest P5000 or P6000 in the computer next month to get a new power supply, one for the 220, and a new surge protector.  Depending on the price of the power supply, I hope to have enough to get some kind of printer too.  A new mouse with a pad and a wrist pad would be nice additions also.
While I was moving things around the computer, I knocked over one of my pictures and broke the glass in it.  I should have just left it alone with the broken glass, but I tried to take it out.   The picture has been in the frame for about 35 years, so it was stuck to the glass in the front.  When I tried to take it out, you guessed it, it ripped the picture.  It wasn't tore much, but I would never be able to get it out of the frame without completely destroying it.  I just threw it away.  It was a picture of me back when I was 19 years old, in my Air Force dress blues.  I think my mother has another copy of it, I hope so, and I will see what I can do about getting a copy of that somehow.  There must be a way to prevent pictures from sticking to the glass, but I don't know what it is and I sure didn't know what it was 35 years ago.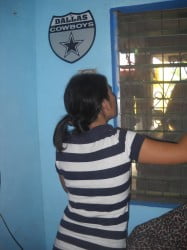 I would like to ask again about the Day in History that I have been putting at the end of these posts.  Does anyone read those?  Should I drop that and figure out something else?  Maybe just drop it and don't put anything there?  I'm flexible with that, but if y'all like it, I want to keep it.
Next post I will have some updated pictures of the Marju Krisel Hotel, provided by Blair.  I'm going to have to get over that way to take some more updated pictures.  I'm already late on reaffirming all the hotel rates from this site, but I'll get to it soon.
Salamat Y'all
Interesting Knowledge:

  The delegates who attended the Constitutional Convention spent much of their time getting drunk. One surviving document is a bill for a party on September 15, 1787, two days before the signing of the Constitution. Items on the bill were: 54 bottles of Madeira, 60 bottles of claret, 8 bottles of whiskey, 22 bottles of cider, 12 bottles of beer, and 7 bowls of alcoholic punch, all for 55 people. Talk about a political party!
September 04
Thursday 04, 1997:
A U.S. Air Force C-141 cargo plane and a German TU-154 collide in mid-air over southwest Africa killing 33. <!–can we get a more specific location than "SW Africa"? —>
Wednesday 04, 1996:
War on Drugs: Colombian Revolutionary Armed Forces (FARC) attack a military base in Guaviare, starting three weeks of guerrilla warfare that will claim the lives of at least 130 Colombians.
Monday 04, 1995:
The Fourth World Conference on Women opens in Beijing with over 4,750 delegates from 181 countries in attendance.
Monday 04, 1972:
Mark Spitz wins his seventh swimming gold medal at the 1972 Summer Olympics in Munich, Germany, becoming the first Olympian to win seven gold medals.
Saturday 04, 1971:
In the U.S., The Lawrence Welk Show airs its last show.
Monday 04, 1967:
Vietnam War: Operation Swift begins: U.S. Marines launch a search-and-destroy mission in Quang Nam and Quang Tin Provinces. The ensuingfour-day battle in Que Son Valley kills 114 Americans and 376 North Vietnamese.
Friday 04, 1964:
Scotland's Forth Road Bridge, near Edinburgh, officially opens.
Wednesday 04, 1963:
Swissair Flight 306 crashes near Dürrenäsch, Switzerland, killing all on board.
Wednesday 04, 1957:
The Ford Motor Company introduces the Edsel.
Tuesday 04, 1951:
The first live transcontinental television broadcast takes place in San Francisco, California, from the Japanese Peace Treaty Conference.
Monday 04, 1950:
The "Beetle Bailey" comic strip begins.
Sunday 04, 1949:
Maiden flight of the Bristol Brabazon.
Saturday 04, 1948:
Queen Wilhelmina of the Netherlands abdicates for health reasons.
Tuesday 04, 1945:
World War II: Japanese forces surrender on Wake Island after hearing word of their nation's surrender.
Monday 04, 1944:
World War II: The British 11th Armoured Division liberate the Belgian city of Antwerp.
Wednesday 04, 1940:
World War II: The USS Greer becomes the first United States ship fired upon by a German submarine in the war, even though the United States is a neutral power. Tension heightens between the two nations as a result.
Tuesday 04, 1923:
In Lakehurst, New Jersey, the first U.S. airship, the USS Shenandoah, takes to the sky for the first time.
Tuesday 04, 1894:
In New York City, 12,000 tailors strike against sweatshop working conditions.
Tuesday 04, 1888:
George Eastman registers the trademark Kodak, and receives a patent for his camera which uses roll film.
Saturday 04, 1886:
Indian Wars: After almost 30 years of fighting, Apache leader Geronimo surrenders with his last band of warriors to General Nelson Miles at Skeleton Canyon in Arizona.
Sunday 04, 1870:
Emperor Napoleon III of France is deposed and the Third Republic is declared.
Tuesday 04, 1781:
Los Angeles, California, is founded as El Pueblo de Nuestra Señora La Reina de los Ángeles de Porciúncula (the City of Our Lady, the Queen of the Angels of the Little Portion) by a group of 44 Spanish settlers.
Saturday 04, 1260:
The Senese Ghibellines, supported by the forces of King Manfred of Sicily, defeat the Florentine Guelphs at Montaperti.
Friday 04, 476:
Romulus Augustus, the last emperor of the Western Roman Empire, is deposed when Odoacer proclaims himself King of Italy.