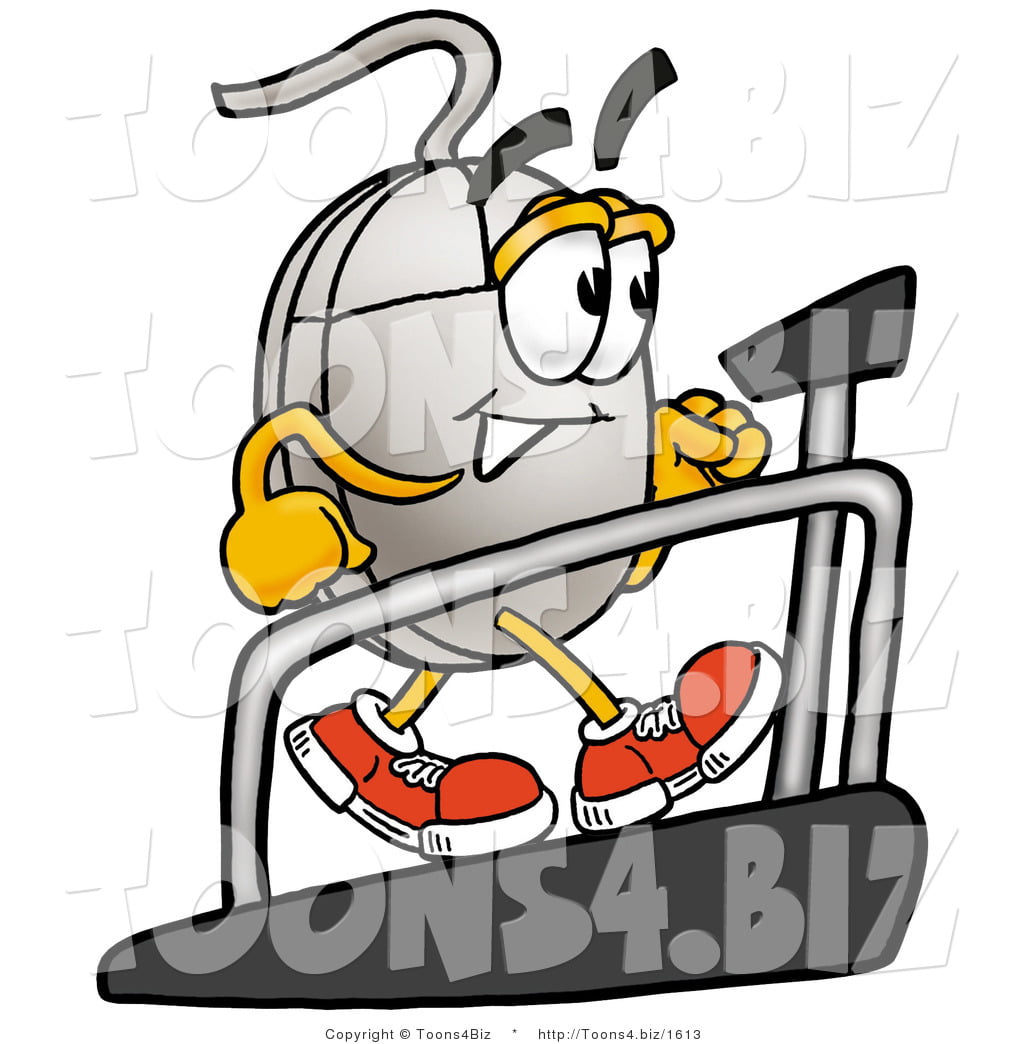 [smartads] My legs were killing me this morning, so I took the weapon away from them before they could do any real damage.  In plain, simple English, my legs were telling me that they need more exercise, so I'm going to stand up and/or walk a lot today, instead of spending most of the day sitting on my butt, either in front of the computer or in LolyKat.  Sounds like I'm going to have to take a couple of hours out of the day to go walking.  Walk, take a shower, change and head for the computer.  It would be great to have an elliptical or even a treadmill, but neither of those are in the budget at this time.  I don't really have room in here for either right now, but I'd sure make room for either of them if I had one.  Maybe I could put it behind the computer chair and have a wireless keyboard.  That way I could exercise and work the computer and I'd probably exercise longer because I wouldn't be worried about getting tired.  I would be so wrapped up in what I was doing on the computer, I'd forget to get tired.

City of Malolos
City of Malolos (mälō'lōs) (Filipino: Lungsod ng Malolos) is a first class urban component city in the Republic of the Philippines. Malolos is considered as the 115th city in the country. It is the capital city of the province of Bulacan as the seat of the provincial government. It is also the seat of the Bishop of the Roman Catholic Diocese of Malolos.
http://en.wikipedia.org/wiki/Malolos
The city is 45 kilometres (28 mi) north of Manila. It is one of the major suburbs conurbated to Metro Manila, situated in the southwestern part of Bulacan, in the Central Luzon Region (Region 3) in the island of Luzon and part of the Metro Luzon Urban Beltway Super Region. Bordering Malolos are the municipalities of Bulakan, Bulacan (the former capital of the province) to the southeast, Guiguinto to the east, Plaridel to the north, Calumpit to the northwest, and Paombong to the west. Malolos also lies on the north-eastern shore of Manila Bay.
Malolos was the site of the constitutional convention of 1898, known as the Malolos Convention, that led to the establishment of the First Philippine Republic, at the sanctuary of the Barasoain Church. The convent of the Malolos Cathedral served as the presidential palace at that time. Malolos gave birth to the first constitutional republic in Asia.
It is also one of the centers of education in Central Luzon region, it has several universities like the government-funded Bulacan State University, and privately owned Centro Escolar University at Malolos and University of Regina Carmeli. Malolos also houses the most populous high school in Central Luzon, Marcelo H. del Pilar National High School.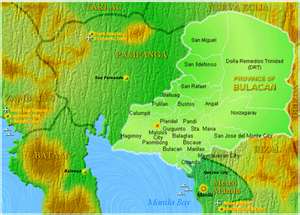 Malolos Map
I was out in LolyKat early this morning, about 0720.  It is now 0835 and Lita just went back to sleep.  I guess I'll be here for an hour or two.
I did get to turn the computer on, get rid of spam messages and check the progress of the new website.  It looks like Rich has gotten over a hurdle he was dealing with, so I'm thinking the next steps in the process, are mine.  I'm already working on the Trash files, restoring the ones I can.  After that I need to re-label the current files, move the picture from the top of the page to close to the bottom, take off the italics and add all the tags.  After that I should have a video from Rich that will explain to me everything else I need to do.  I'm sure that it will include things that I should have been doing on this site, but wasn't either because I didn't know, or I didn't know how.  It's looking like the first of April before the site will be up, unless I really get after doing things, then maybe a week earlier.
Our 32nd anniversary is coming up on 7 April, but it looks like we will not be celebrating it until more like the 27th or maybe even at the beginning of May.  I'm still worried about having enough money to get to Texas, but things always seem to work out somehow, so we'll see.
We are still going to Tambis in 10 more days for Poppa's 90th birthday.  I found out today that Grace will be traveling with us.  I hope she is paying for herself, because right now I don't want to use any extra money.  But she will be in the video I plan to make for the trip.  I've never really don't a video such as what I will be attempting, but I figure it would be good for the website.  So if I can get it on here for y'all to see, please don't be too critical of it.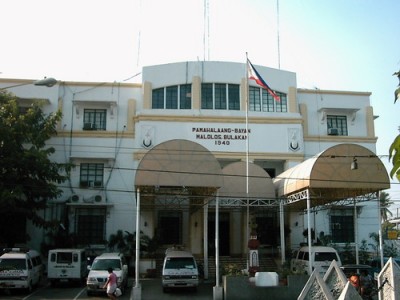 Malolos City Hall
http://www.panoramio.com/photo/6906496
Speaking of the video, I've been wondering just how much a 4G memory card can hold?  I'm thinking I should get another one or maybe a larger one before we leave.  I'm pretty sure there are larger than 4mg cards, but I have no idea of the price.  Maybe I'll just purge all the pictures on the camera and just use the 4G card.  Maybe it will be enough.  I don't plan to record everything, just the beginning, some highlights (like Hindag-an Falls & Forest Park), Tambis (including an updated look of what the landslide area (Guinsaugon) looks like these days, St. Bernard, (Catmon – where the party will be) and the trip home.  I'm sure some things in between also, depending on what I end up doing.  Usually I try to do nothing and just stay at the house, but since I'm doing the video, for y'all, I'll get out and do something.  It's only for 4 days and 3 nights.  The sleeping arrangements there are really very good for us, it's just the CR that I have a problem with because they are too small and there are spiders and rats in the area.  Although I have not had a problem with either the spiders or the rats, I don't like the fact that they are there.  We have rats here, not many anymore, but they are not in our house (just a mouse or two).  The spiders here are not so close or so big as the ones in those CR's either.
At 0933 I got to sit in front of the computer to get some things done.  Time to start back on the trash files.
By noon, Lita said she had a headache and needed to lay down.  So I'm back out here in the store and she's in there sleeping.  She did go straight to bed this time, instead of talking and doing things like she normally does when she says she's going to bed.  So I figure she really must have a headache.
Before I came back out, I did get the trash file down to 335.  It took a little longer because I had a couple of files that I really wanted to keep that I forgot to put a link on.  I had to go back on the Internet to find them to get a link to put in the article.  Those 2 articles were this one and this one.  I thought they were important enough to keep.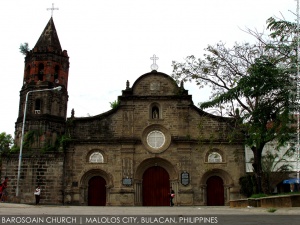 Barosoain Church Malolos City
http://www.zamboanga.com/z/index.php?title=Malolos_City,_Bulacan,_Philippines
I think that I like taking the notes in the smaller notebooks.  I'm not going to buy anymore of these big ones for note taking.  Actually, after this post, I'm going to start back using the small ones and save the rest of this big one for 'just in case'.
We closed LolyKat at 6:30pm and Lita went in to cook some fried chicken for supper.  We had fried chicken and rice, which is a favorite around here.  Chicken, rice and water is not steak, potatoes and wine (or beer), but it will do until I can get to a steak.  I hope the next one will be at the NCO Club in Korea before we head to Texas.  In Texas I'll get the BBQ, since that's the best place in the world to get BBQ (IMO).
Well I did stand up/walk most of the day so at least my leg stopped hurting.  I'm going to have to keep them moving whenever possible, but sitting here getting the site up to date is a high priority right now.
It's 10:42pm now, so I guess it should be safe to close up this post.  I need to put in some pictures and after I finish this, I need to send a birthday card to my Dad.
How did you like the name of this post?  I had a hard time coming up with something and that's what came out.  Weird yes, but it had to be called something.
Salamat, Paalam
Odd News:  Rat Eating Plant Discovered in the Philippines
http://toons4.biz/design/illustration-of-a-cartoon-computer-mouse-mascot-walking-on-a-treadmill-in-a-fitness-gym-by-toons4biz-1613 (feature picture)