[smartads]
At the end of the last post I mentioned that I have been sending out e-mails again.  The places that I have been sending them are an effort to get some American style restaurants to this area.  I figured that if we are getting all this malls and other nice places, then maybe some of the American chains might want to know about it, just in case.  I didn't bother sending e-mails to Shakey's and KFC because most likely they will be inside the Robinson Mall once it is completed (if they ever start building).  So I started out with an e-mail to Subway.  There are already 11 Subways in the Philippines, but they are all in Manila.  I figured it wouldn't be that much harder to get one down here if the deemed it would be worthwhile.  Then I sent e-mails to Pizza Hut, Popeye's and Taco Bell.  After that I just sent one to the YUM Corporation to try to cover all the restaurants they have.  Pizza Hut, Taco Bell and KFC are their Big 3, but I believe they have others.  I actually got a response from Subway.  The lady said that they would consider it if I knew someone that wanted to start a franchise here.  Well I looked it up and the franchise start up cost ranges from $108,000 to $300,000, so that for sure leaves me out.  Anyone out there got that kind of cash and want to be the owner of  a Subway?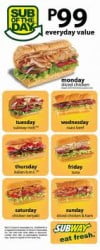 The following  is the return e-mail I received from Subway:
Dear Mr. Jackson,
Thank you for informing us about a possible location for Subway restaurant in your place. We can consider should there be an interested Franchisee in that location. In case you know someone feel free to give them my contact information.
 Regards,
Jean Gagarino Field ConsultantSubs To Go Philippines Corporation 5/F Unit E1 Electra House Building 115-117 Esteban St. Legaspi Village Makati City Philippines 1229 Email:Jean@substogo.ph Mobile.: 63 9088935580 Voicemail: 4606
 I found out on Friday that evidently there is a P40,000 limit per day at Metro Bank.  I already knew that there was a P10,000 per transaction, but this overall limit was a new thing for me.  It's okay though, this time.  I just went back on Saturday and got the remaining money that I wanted to get.  It wasn't that much more anyway.  I rode downtown with Ramil on the back of his motorcycle.  I don't like riding on the back, it hurts my leg.  It may take longer to do, but I'd rather walk instead of doing that again.  Of course I can always take a tricycle.  I'm glad I did ride with him that one time though.  I found out that I don't like it so much and I also found out that the Globe office moved to Navarro St.  I had no idea they were moving.  I just wanted to pay  my internet, but that's when I found out that they close at 4:00pm on Saturday and don't open again until Monday.  I got there a bit after 5:00pm … oops!  The last day to pay before they cut it off and charge me P300 to reconnect is Tuesday, 5 March, so paying it on Monday will work out okay.  On the way back with Ramil, we went via the Magsaysay extension, which goes to the new market.  I just had him drop me off at the other end of the market parking lot and I walked home.  I got back before he did because he had to continue down the road to the end, get on the highway and wind his way back to the house.  It took him only about 5 minutes, but I was home in 2 minutes.  I'm a bit faster when I walk by myself and I know my way through the village.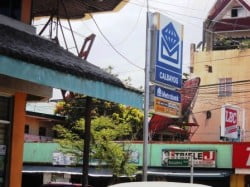 On Sunday while Lita was downtown she bought some bacon at Monterrey Meat Shop.  They didn't have any on Friday when I went there, but I suppose they must have gotten a shipment in on Saturday.  Now I can make some bacon, potato and cheese breakfast burritos.
I think I'm going to have a part time employee for this website.  I'm going to hire Juvic to go downtown once a week and take pictures for me.  She takes better pictures than I do and she knows of more places.  I'm just going to tell her to be sure to write down what street and block the places are on and try not to get too many people in the pictures, unless they are good looking women.  I have also been thinking about getting her or Grace to visit the restaurants in the area, ordering a little something and let me know what they think of the food and the restaurant in general.  A lot of the places that I took pictures of, and already put in posts, but not under the Calbayog Restaurants yet, I would not eat at.  I need someone that likes the food to try it out.  I figure maybe Grace will when she goes to school, at lunch time.  They would probably do it for free, in fact Juvic already said she would, but I would have to pay them something.  Not much, but something so they will have a little money anyway.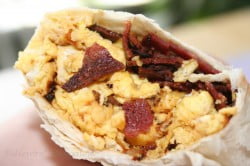 I'll have the complete update on how the restaurant did on the first day of operation in the next post.  I think it was both good and bad, but I expect it will only get better from now on.
Salamat, Y'all
Some of the more interesting sites that I have found recently.
Hitler Image on Robinson Shopping Bags (This one does not open in it's own tab unless you tell it to)
http://mylifeinthephilippines.com/ (The Killing and Eating of Miss Piggy)
On the Hitler one you need to locate the story within the blog.  It's easy to find.
On the My Life in the Philippines it would not let me put the name of the article in there so you will need to find it also.  It too is easy to find.