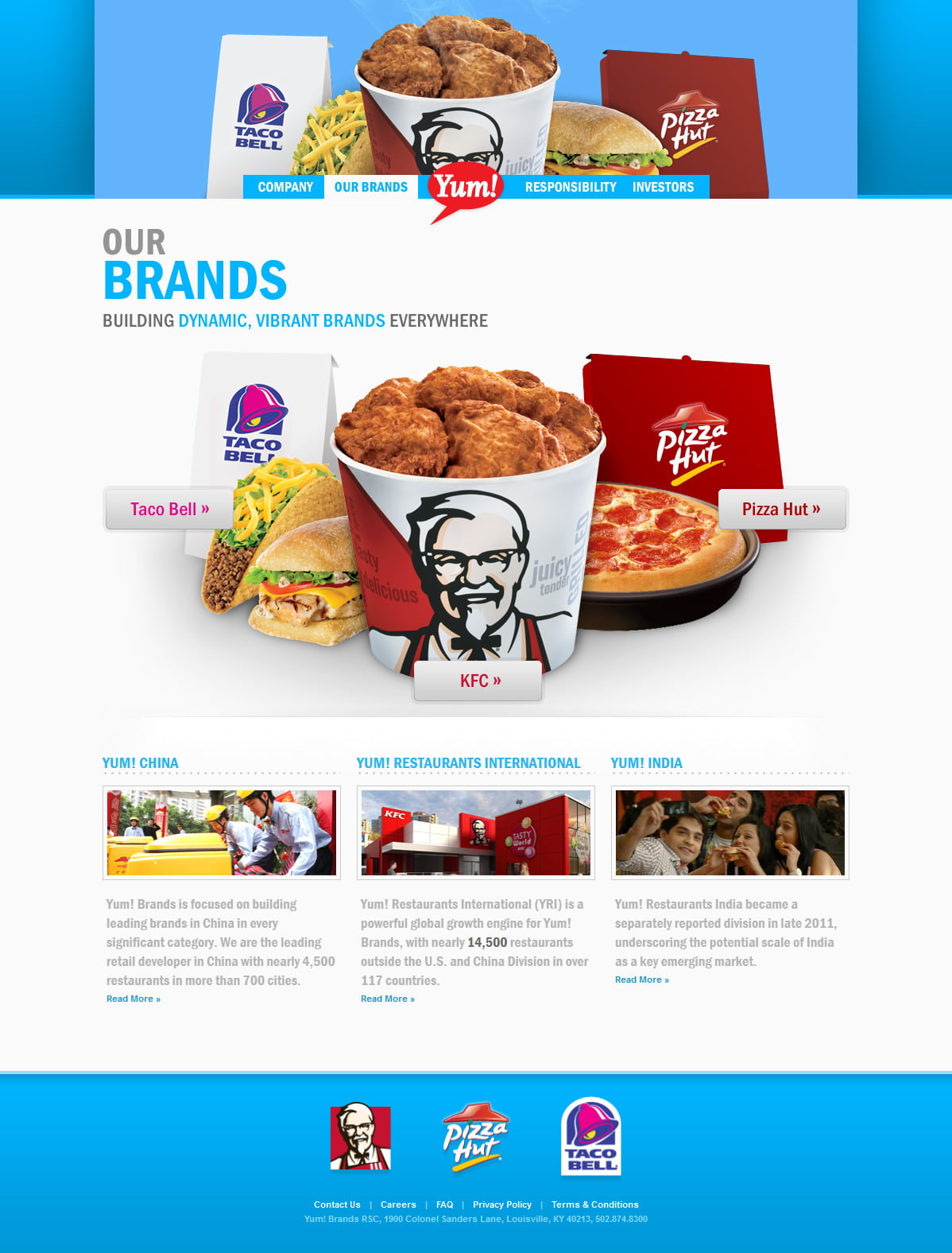 [smartads]
Recently I sent an e-mail to the YUM Corporation informing them of the mass construction going on here in Calbayog City.  Since I have now received a response from the corporation today (8 April 2013), I felt compelled to share the 2 e-mails with you.  If you too would like for a YUM restaurant to be here in Calbayog City (in addition to the KFC), please write to them and let them know your wishes.  Maybe if they see that there are quite a few people interested in it, they will give it more serious thought.    Taco Bell would be my #1 choice and then Pizza Hut.  The only reason I have Dairy Queen last is because it seems that the Dairy Queen in the Philippines is an ice cream shop ONLY, not like in the US.  I like them all, and would take any of them, as a franchise, but that order is definitely my preference.  There are a lot of pizza places here already even though they are all Filipino style pizza, I hear there are a couple of decent ones already.   If you are not familiar with Dairy Queen, here is a link to Dairy Queen Philippines.    Here is a link to the US version of Dairy Queen (DQ), to compare, and, I think, if they had one exactly like this in the Philippines, they would be crowded with customers everyday.
Here are the 2 e-mails.
From:
John W Jackson Jr. [
johnwjr7@yahoo.com
]
Sent:
Friday, March 01, 2013 3:08 AM
To:
Harper, Thomas
Subject:
New YUM Restaurant
How are you this fine day?  I'd like to start out by saying that I myself can not afford to open any YUM franchise.  I was wondering though if it would be possible to look into starting a franchise here in Calbayog City, Samar Philippines.  Our city is in the middle of a major upgrade including 2 major malls (Gaisano Grand Mall and Robinson), a couple of supermarkets and many other things too numerous to list here.  When the Robinson Mall is complete it should contain a KFC and I was wondering if it was possible to include another YUM restaurant there also.  Even just a small one, at least to start.  I don't know all the restaurants under the YUM brand, but a Long John Silvers would most likely be an excellent choice here and/or some type of wing place.  I think it will catch on quickly.  I say that because when my wife and I cook American and/or Mexican style food here, the Filipinos always have liked it.  YUM has such a wide variety of restaurants that I don't see how something could not catch on, especially for the younger generation that are always trying to copy the American lifestyle.
I know that Manila, Cebu and Davao are much larger cities and maybe it would be best to start there instead of here, but those cities are saturated with little restaurants and many American style restaurants already.  I just thought I'd give you a heads up on the major progress that is going on here and give you an opportunity to check into it.  We have no American style restaurants here at this time, but soon we will have that KFC, a Shakey's and a McDonalds.
Thank you for your consideration.  I hope that something new can be established here, it's a city begging for something new.
John
————————————-
Dear Mr. Jackson,
Thanks for your email and your recommendation for Calbayog City.
YUM owns the KFC, Taco Bell, and Pizza Hut restaurant chains.  It sold Long John Silvers a few years ago.
Our group is the Philippine franchisee for Pizza Hut, Taco Bell, and Dairy Queen.  We have not plans for Samar this year but will definitely look at it for 2014.
Best regards,
Lars Peterson
Chief Operating Officer
Pizza Hut / Taco Bell / Dairy Queen Philippines
——————————————————–
——————————————————-