[smartads] I thought I better do a post today because my notes are way ahead of my typing.  The typing is on Saturday and the notes are on Wednesday.  I'll see what I can do about doing at least Saturday and Sunday today, maybe Monday.  I'm not sure of the breakdown unless I go back through my notes.  I take 2 or 3 pages of notes everyday.  I think this post will be more words and less pictures so I can erase some of that note/typing deficit.
Hit Count:  The last hit count was at 1,761,106 on 5 Dec.  Right now it is at 1,777,946.  That makes an increase of 16,840 for 2 days.  An average of 8420 and would be 3,073300 for an entire year at that rate.
Well evidently they do not like it when you don't pay your Internet bill for 2 months.  Mine was turned off this Saturday morning.  At least it's not working and I didn't pay last month's or this month bill yet.  I guess in this case 1+1=0.  I am suppose to be heading downtown today and could bring the account up to date, but I don't know if they have a reconnect fee or not, if it indeed has been disconnected.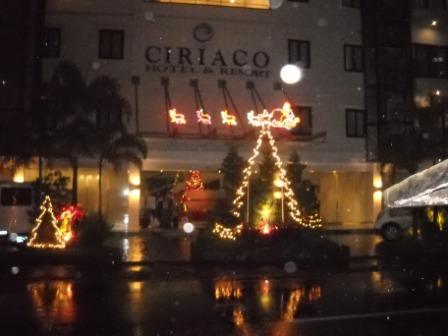 Actually, Robbie says she is heading downtown around 0900 to take Raven to the dentist and she would go by the Globe office to pay the bill for me if I just give her the money to do so.  I still plan to go downtown, but later in the day and there is no telling if Lita will want to go with me later or not.  I want this paid because I really need my Internet, it's the #1 thing that keeps me from going crazy from boredom around here sometimes.  I should have made a special trip downtown yesterday to pay it, but could of, would of, should of, I didn't.  It just didn't occur to me that they would turn it off today.  I have paid later and it wasn't turned off.  Things are inconsistent here, so there is not telling from one month, or even day, to the next.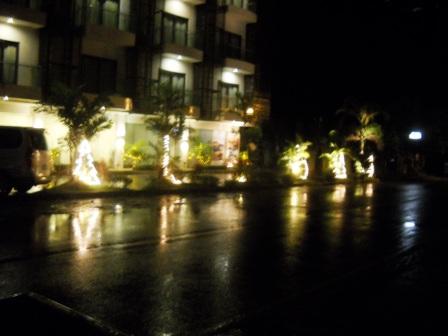 It got to be around 0930 and no Robbie or Ramil yet.  Lita was heading for Calbayog Proper (downtown) and since she had to pay the water bill anyway, she would swing by and pay the Internet also.  Also if there are any late or reconnect fees, she could take care of them.  I still need to go downtown this afternoon, but since it's Saturday, maybe the utility places close early.  I know the water company closes early on Sunday.
I think I just encountered the world's fastest water from a plastic bag drinker.  A tricycle driver stopped by to get some ice water.  Jay went in the house to get it for me.  Right before Jay got back the guy decided he wanted a cigarette too.  I handed him the cigarette right after Jay handed him the water.  I turned to get a match for him and by the time I turned back, the water was gone.  It's only approximately 350ml, but that seemed awfully quick to me.
I have got a pain in my neck, and I don't mean my asawa (wife).  It's another pain that just developed today.  I took a couple of aspirin so I hope that will get rid of it, but it doesn't seem to be working very well right now.  I want to go in the house to lay down, but I'd have to close the store to do that because Lita is still downtown.  I'll just suffer for a little while, it won't be the first or last time that has happen.
Titing stopped by to chat for a little while.  He didn't stay long because he is a busy man and can't sit around and talk all day like I can.  We might get to talk later when/if we drink tonight.
I just found out that Lita is on the way home.  Someone heard me complaining about my neck and called Juvic.  Lita usually stops by Judith's (Juvic's mom) house before she returns from downtown when she is by herself.  Juvic informed whomever called that Ante Lita was on the way home.  Jay is the one that told me, so maybe he is the one that called.  I'm going to get Lita to rub my neck with some Tiger Balm, then I'm going to try to sleep for about an hour or so.  Hopefully the pain will subside and I will be good to go more my downtown adventure later on.  I sure hope I remember the camera.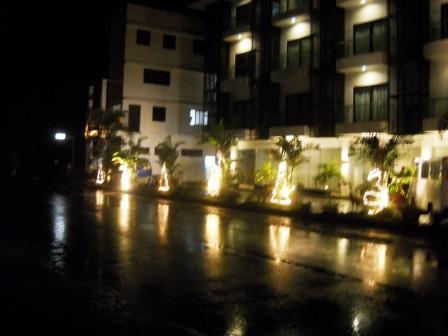 Well Crap!  That's exactly what happen, I forgot the camera.  That's too bad too because I saw a few nice places I wanted to take a picture of today.  I'm going to have to learn to put the camera with whatever else I'll be bringing downtown with me.  Since I didn't bring the camera, all I did was basically go downtown, pay what bills I needed to and walk back home.  Yeah I decided to walk home again.  It would have been another good time to take pictures. Lots of children were saying Hello today.  One lady even tried to get her baby to tell me Hello, but the baby just stared at her.  These were the kind of Hello's that I respond to, they were not the "Hey you" or "Hey Joe" ones.
Okay it's Saturday night now.  I bought 1 liter of Red Horse beer and 1 bottle of "The Bar" citrus tequila.  I used Tropicana Twister for a mix to make as close to tequila sunrises as I could.  No grenadine though.  Just for the record, it is possible for me to get drunk on just these 2 liquors.  I even shared some of the tequila and more than 1/2 the Red Horse.  I had about 10 glasses of my 'tequila sunrises', made maybe a little too strong.  Thanks to my taking a couple of aspirin before going to bed, I avoided a headache with my little hangover the next morning.  I took a couple more aspirin when I woke up just to be sure.  Doing all the drinking was mostly me, then Ramil and Jay drank most of the Red Horse.  I did down 3 bacon/tomato sandwiches for breakfast and they are not wanting to come back up, so I must be good to go.  I will be drinking a lot of water today though, I can see that already.
Useless Knowledge:  A ball of glass will bounce higher than a ball of rubber. A ball of solid steel will bounce higher than one made entirely of glass.  (I wonder from how high you would have to drop this to make this work?)
Eddie (Vicky's husband) came by this Sunday morning to cement the area around the display case on the inside.  It gets slippery there and Lita already fell once.  We can't have that, so we decided it needed to be cemented.  According to Lita, we had to pay P200 for cement and P300 to Eddie for doing the job, so that's about $12 total.  I just hope it dries before we open the store tomorrow morning.
We broke another LolyKat business hour rule.  We opened today (Sunday) from 10:00 to 4:00pm.  No other sari-sari store in the area is open on Sunday, at least I don't think so, and we did get some business.  I think that people are not use to a store being open on Sunday and didn't know to look.  We will open again next Sunday and see how that goes.  I guess the business hours are tentative until we can feel out what days/hours get the most customers.
Okay, it's Monday morning.  I weighed in today because I was getting worried.  No need.  I was at 121.55 kilos.  That is still about 63 pounds lighter than I was when I arrived here in the Philippines.
It's 1:30pm now and it's time for me to go out to LolyKat.  Lita is getting ready to go downtown to shop, so I will wait until she gets back before I eat lunch. She says she will buy me some more bacon and tomatoes.
Ado showed up for his 15-20 minute lunch break.  He really can't afford to take a longer lunch than that.  He needs to make that money to pay for his multi-cab, or he won't have it anymore.  Then those babies won't have anything to eat.
It did a lot of heavy raining while Lita was downtown.  She will probably show up wet, tired and mad.  She almost always seems to get stuck in a big rainstorm when she goes downtown by herself.  Because of the rain, I guess, we have not had very many customers today.  It's not hardly worth sitting out here, but I would just be using the light and fan in the house anyway, plus the computer or TV also.  So it's probably less expensive to sit out here and there is always a possible for a small income here, not in the house.
Well I was wrong.  When Lita got home she was not wet or mad, but she was tired.  She also seemed to be in a hurry to get to the CR.  I was happy to see that she bought me 2 packages of bacon, one American and one Canadian.  I cooked the Canadian bacon as fast as I could unload the grocery bag, but I will save the American bacon for tomorrow or the next day.
On Tuesday morning I decided to get up at just past 0830.  I stayed most of the morning in LolyKat, but at 11:30 I came in to the computer.  Lita says that she will want to take a nap around 2:00pm, but she will probably be calling me for something before that.  That would be 2 1/2 hours of no interruptions on the computer, and that rarely happens.
As it happen, she only interrupted me once before 2:00pm, but at 2:00pm she was ready for that nap, so I took my turn in the store.  I played about 7 games of cribbage solitaire, but my first game was my best (102 points).  I may play again later, it's a game that keeps me busy when I'm bored.
One of the Grand Tour vans had a flat tire and he is stopped in front of our gate.  I guess the guy didn't have a jack or something, because it was taking so long.  The passengers all left.  They either walked or got in a tricycle to go where ever.  I think some of them were going to the Grand Tour office to get on a van going to there final destination.  No one bought anything in the store though.  One guy asked about something for a headache, but we don't sell any medicine. When the Grand Tour van left, he forgot to lock in the thing that holds the spare tire in place, because it was bouncing on the road as he was going down the road.
Just so y'all will know, in case you are ever in the area, we do sell the Tropicana Twister and Premier purified drinking water (bottled water) now.  Both are only P10 each.
Well there's something you don't see much of around here, a black American.  He came out of the Ciriaco with 2 Filipinas, got in a tricycle and headed towards the downtown area.
We have some cookies here called Cream-O, they are made by Jack n' Jill.  We have to charge P7 to make a profit on them (so we won't get those anymore), but there are only 3 cookies in a package (but that standard for cookies here).  They do taste pretty good, but in my opinion, Oreo would have nothing to worry about in a taste test against them.
Lita came out of the bedroom and outside, but she has not yet volunteered to take over watching the store yet.  I wish I was hungry so I could tell her I needed to make something to eat.
There has not been an abundance of people buying food today, but the ones that have been buying, have been buying in bulk.  It's only 5:00pm and we are just about out of food.  We will probably shut it down after the next sale or two.  I guess the word is finally getting around.  The food served here has a more superior flavor than any other food in the area.
Okay time to stop.  That was about 4 pages of notes.  I will still put the Philippine History and some pictures in.  Maybe even a Useless or Useful Knowledge. Thanks for reading and hope this was some interesting reading for you.
Salamat, Paalam
Today in Philippine History
1594 – Spanish colonial Catholic prelate Msgr. Domingo de Salazar, O.P., responsible for erecting the Manila Cathedral in the colony the Philippines, 
is dead
; Salazar had f
earlessly defended the
 Filipinos against the abusive encomenderos and Spanish officials who had inflicted much 
injustices and suffering
 during the early decades of Spain's colonial rule over the Southeast Asian archipelago, and had led to a 
rapid depopulation
 trend among the natives.
1899- Exactly 10 months into thePhilippine-American War (1899-1914), Filipino freedom fighters led by Gen. Manuel Tinio y Bundok attack the imperialist American garrison at Vigan, Ilocos Sur but were severely repulsed, leading to the death of around 100 native freedom fighters; eight days earlier, Vigan fell into the hands of the enemy invading American forces as United States warships U.S.S. Oregon, U.S.S. Samar, and U.S.S. Callao began to bombard the province on November 26, 1899; about two years earlier, the Americans deceptively began positioning  themselves as "ally" to the Filipino cause of  independence against the yoke of Spanish  colonization, which eventually led Philippine leader Emilio F. Aguinaldo to stupidly allow the infamous Mock Battle of Manila that falsely showed  to the world that it was the Bald Eagle forces and not the Filipinos that have defeated the colonial Spaniards  in the Southeast Asian islands.
Photo credit: http://philippineamericanwar.webs.com/ilocosandcagayan1899.htm
1899 – Imperialist American President William McKinley claims with such wicked-level gall that the Philippine Islands belong to them by
force of law and equity while addressing
 the Congress of the Bald Eagle nation; McKinley's Republican administration earlier conned the United States Congress into voting for the annexation of the fledgling Philippine Republic by 
manipulating news of 
what was really a U.S. military orchestration of the provocation of the 
Philippine-American War (1899-1914)
; the address of McKinley came more than a year after he ridiculously and blasphemously defend his annexation of the newly declared Southeast Asian Republic (that earlier waged a successful revolution) by way of claiming that he heard the
"voice of God"
 in the middle of the night of October 24, 1898 supposedly telling him that there was
"nothing left for us to do but to take them all…"
Photo credit: http://philippineamericanwar.webs.com/