[smartads] Lita and Vicky just finished making up a fresh batch of ice candy to put in the freezer.  After that Vicky cleaned up whatever dishes were left in the sink and then she headed home.  She will be back at about 0530 in the morning though.  We let her borrow one of our umbrella's to go home because it is raining again.  This is at least the 3rd time it has rained today.  I'm talking full stop rain, sunshine, then rain again.  It's hard to predict when it will rain around here.  One minute it raining and the next it's raining and cloudy.  I thought the weather in Texas was weird.  Well it is, but not this weird.
South Cotabato (Filipino:Timog Kotabato) is a province of the Philippines located in the SOCCSKSARGEN region in Mindanao. Its capital isKoronadal City, and it borders Sultan Kudarat to the north and west, Sarangani to the south and east, and Davao del Sur to the east. To the southeast lies Sarangani Bay.
General Santos City, on the shores of Sarangani Bay, is the largest and most important city in the region, and is a major seaport. The province of Sarangani used to be part of South Cotabato until it was made an independent province in 1992.
http://en.wikipilipinas.org/index.php?title=South_Cotabato
http://www.southcotabatonews.com/2011_02_01_archive.html
Hit Count:  Yesterday the hits were at 1,777,946.  Today they are currently at 1,786,070.  That is an increase of 8124.  At that rate we would have 2,965,260 in a year.
I made a small sign and hung it above the window out front.  It tells of all the soft drinks we have available for sale.  We have recently gotten the Tropicana and bottle water and I wanted to be sure that as many people as possible new about it.  I put all the prices on it also so maybe that will stop a few questions about that.
We have another cat hanging around here.  This is a young cat, but not a kitten really.  More like an adolescent cat.  Lita named it "Di".  Di is the name that Filipinos use when talking to young girls that they don't know the name of.  For young men they use the name "Dong".  Yeah, I know, but I don't pick the words, I just rely them.  So know there are 3 cats hanging around.  I may have forgotten to mention "Cal".  He is a calico, hence the name "Cal".  They all like to meow too much.  If they would catch any of the few rats/mice we have left around here, I'd let them meow (within limits) and even help them.  I'd also let them stay without fussing about it (outside).
http://www.flickr.com/photos/allanbarredo/3147566548/
The Ciriaco Hotel has many Christmas lights hanging all on the trees up and down the road (on their property).  I have already posted a few pictures of these lights (the last 2 posts), so you should have seen them already.  While they have the Christmas lights on, they do not light up their Ciriaco Hotel and Resort sign.  You can see that in the picture from the post yesterday.
Well it is Wednesday morning now (7 Dec) and I got literally volunteered for the LolyKat watch.  Lita and Vicky were both busy and the customers were at the store waiting.  It actually looked like to me that they could have handled it and no one asked me to stay, but after almost 32 years of marriage I "usually" know an implied situation by the tone of her voice.
They have cooked something this morning that my nose does not like.  I think it's some of the corned beef.  I never liked that stuff, not even in the US.  I don't know, I just never liked the taste of it, although I've only tried it a couple of times.  Maybe if I come across some fresh corned beef again, and I'm not that hungry, I'll try it again.  Damn, that made me think of Subway sandwiches.  I need to get to Manila to one of those.  I guess I'll stop in Pampanga either going or coming back and go to the sausage shop there.  I'll have to look up the name of it again though.
http://philtourismspots.blogspot.com/2010/05/lake-sebo-south-cotabato.html
There is another fine shower of rain coming down.  All this rain has evidently kept some of the mountain folks from bringing their vegetables down to sell at the market this morning.  Lita left about 0430 to be sure to get some of the fresher stuff, but they didn't show.  Since she didn't have to shop much, she said she just caught up on some Chez-mez (again, I'm unsure of the spelling).  Chez-mez means gossip.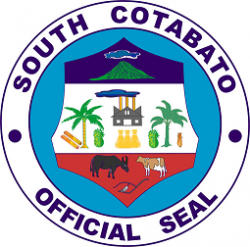 I have been trying to figure out which one of these dishes they serve here, the customers like the best.  I have it down to 2 dishes.  It's either the pancit or the eggplant salad.  It's only 0800 and they are almost gone.  Lita says that it is like that everyday and she decided to increase the amount of those things. I hope people continue to buy it after she increases the production of it because I don't eat either one of them.  I like pancit, but the one they sell has things in it that I don't like.  Lita makes it different for me when that is what we are going to have to eat.  Again, that almost 32 years of marriage coming into play.
http://www.panoramio.com/photo/1545894
Useless Knowledge:  In the Declaration of Independence as first written by Thomas Jefferson, there was a clause abolishing slavery.  However, because of pressure, he was forced to delete the clause.  (That is probably because most of the people on the committee were slave owners, including Jefferson, but he is known to have had an affair with one of his slaves)
http://beautifulmindanao.blogspot.com/2010/06/punta-isla-lake-sebu-resort-in-south.html
I was just sitting here thinking about water.  I was wondering if other countries tell their citizens that when you go to the US, Don't drink the water.
I found out today that Vicky's daughter's, the one that I always refer to as "Little Vicky" on this website, real name is Evelyn.  I'm going to try to remember to use her rightful name in future posts.  So if you see the name Evelyn, then that's who I am talking about.  Since she is the only Evelyn I know, then most likely it couldn't be anyone else.
A guy came by today selling some Pantene conditioner.  He wanted P40 for a dozen packets.  That is actually not a bad price, but I don't order things from people on the street.  If I did, I would try to talk him down.  I'm sure it would not have been that hard to do so.  Sometimes these guys try to sell you a fake brand name item.  Like instead of Pantene, it would be Patene or something like that.  Also sometimes some of the packets are empty (I've gotten one before), so you have to check each packet to make sure there is something in it.  I went to get Lita, but she was sleeping, so I told the guy to come back another time.  He didn't understand (or at least he acted like he didn't understand) what I was saying.  Vicky came out and told him to come back later.
http://www.zamboanga.com/z/index.php?title=General_Santos_City%2C_South_Cotabato%2C_Philippines
I guess Lita was tired from getting up at 0400, going to the market and then working preparing food all morning.  In case you are wondering why she does that, when she is suppose to be retired, it's because she likes it.  She likes to do it, but she just gets more tired, faster now, so she has to limit herself.  Beside I consider it more of semi-retirement anyway.
I took some initiative and folded 5 plastic bags.  Lita likes for them to be folded in little triangles.  You know, like you fold the US Flag.  We were running out of them outside, so I went into the house and got those 5.  Don't tell Lita I did it though because she will expect me to take the initiative again and I don't do it very often.
I got that electronic keyboard (organ) out.  I was unable to find any instructions in or on the box though.  I guess I will have to learn by trial and error if I want to learn it.  So far the only thing I really know how to do is play the demo songs.  Of course if I knew how to play, I could do that.  I let it run through all 60 of those demo songs.  It doesn't play the whole song, just a portion of it and the portions are of different lengths.  I guess I could learn the keys of the keyboard later.  I suppose I could kill less zombies and learn that instead.
http://www.thingsasian.com/stories-photos/all/33079
One of the American's staying at the Ciriaco stopped by the store with his lady today.  I'm not sure if it was his wife or girlfriend.  He came up to the window and I asked, "What can I get for y'all".  He was a little taken back and wanted to know where I was from.  He said that he wasn't prepared to hear that word (y'all) on the other side of the store while he was here.  He didn't have much time, they were on the hunt for something, but he said that they would be staying at the Ciriaco for a week and they would stop back by.
At 1:00pm Lita was kind enough to let me go into the house for a little bit.  I don't know for how long yet though.
http://www.pinasbackpackers.com/2011_07_01_archive.html
While I was in the house, sleeping, that guy with the conditioner came back.  She ended up buying some of it.  The thing is though, when he told her the price, he told her P35, not P40 like the told me.  She of course talked him down to P30 and she bought 1 dozen from him.  Later another guy came by selling the same thing and she bought 1 more dozen for P30.  So that's 2.5 pesos each and we will sell them for P6 each.  I think the Pantene conditioner is hard to sell, that's why it's so cheap.  The Pantene shampoo now, it sells fast.  I told her not to buy anymore until this is sold.  She agreed.  We have the Head & Shoulders shampoo with the Pantene conditioner now.  It did say Pantene on them and all of those packets were full.
Okay, that's enough for this post.  It's after midnight (so it's 9 Dec now) and I still have to put the pictures and the history in.  I hope you find something within this post that made you smile and/or was interesting.

http://www.flyphilippines.com/cotabato-pacificheights.php
Salamat, Paalam
Today in Philippine History
1888 – Filipino patriot and polymath Jose  Rizal  writes his Austrian friend Ferdinand  Blumentritt that he is sending a  Dutch-authored book he  describes as far  better than his own Noli Me Tangere (Touch  Me Not); the book referred to is thebook of  Multatuli's (=Eduard Douwes Dekker),  which resembles the Noli but of a less  virulent tone; Rizal also briefly mentions  about his election as director of a  Madrid-based Filipino periodical.
1896 – The trial of Filipino polymath and patriot Dr. Jose Mercado Rizal for charges of sedition, rebellion and conspiracyby a Spanish military court commences; Rizal was implicated in the Philippine Revolution against Spain that erupted in August 1896 led by Kagalanggalangang Katipunan  nang  manga Anak nang Bayan  Supremo Andres Bonifacio y de Castro; Rizal will plead innocence, disowning the Katipunan himagsikan, but will still be found guilty of all charges.
1898 – Debates in the Senate hall of the  imperialist United States begin on the issue  of American 'authority' to acquire territories  and the right of the people of the fledgling  Philippine Republic to live independently and  freely;  a day earlier, William McKinley claimed with evil-level gall before the US Congress that they own the Philippines by force of law and equity ; some two weeks earlier, the government of Gen. Emilio Aguinaldo y Famy appointed a diplomat "to seek official  recognition of the independence and  government of the Philippines and to prepare the establishment of relations with  them" but as Felipe Agoncillo y Encarnacion found no signs of the Bald Eagle moving to recognize the sovereignty of the country, he helped form a Commission that would travel to Washington and work at seeking American recognition of Filipino independence.
Photo credit: http://senorenrique.blogspot.com/2008_10_01_archive.html